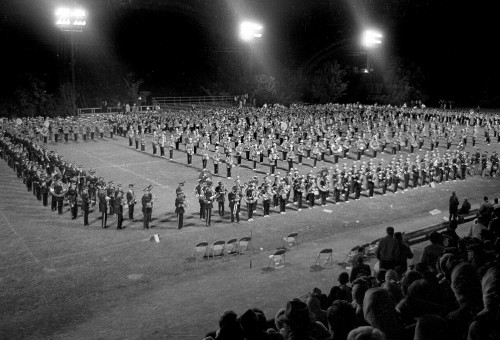 Somebody will have to tell me what brought all these bands together. I saw high school logos from Cape Central, Jackson, Advance, Valle, Kelly, Sikeston, "D" and one uniform sporting "Official All American Lover." I'm not even sure where the photos were taken. I thought it was Houck Stadium, but it might have been at Jackson High School.
This was one of my rolls of coffee can film and it was in really bad shape. I think it might have been processed in the darkroom at The Jackson Pioneer, one of the most primitive facilities I ever had the displeasure of working in, and that includes darkrooms I set up in motel rooms while covering hurricanes.
A lot of the frames weren't fixed nor washed properly, so they have amoeba-like shapes on them that were too big to even think about spotting out. So, look around the dust spots, scratches and amoebas, please.
Bands from all over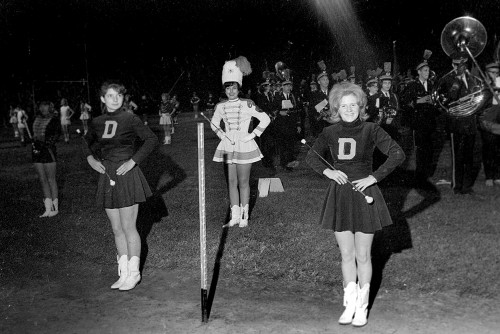 This shot has "D" girls in the foreground, but Central High School majorette Della Heise is behind them.
UPDATE
Thanks to Lois Seabaugh, Terry Hopkins, Linda Suedekum, Phil Lewis and others who were more awake in the 1960s than your photographer, the event has been identified as the annual Jackson Band Festival.
Band photo gallery
You are welcome to try to put names and schools to faces. Click on any photo to maker it larger, then use your arrow keys to move through the gallery. Again, please overlook the flaws.