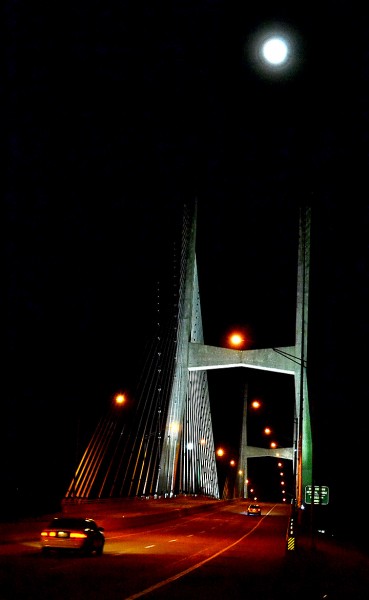 When we were getting close to Cape, I told Friend Jan, "The Cape bridge is really pretty at night. You might want to be ready to shoot a photo when we get closer."
She started waving her cellphone around, making little squeals of what I hope were pleasure.
I had already called Mother to tell her we were about home and asking her if she wanted us to pick up anything from Hamburger Express. She did.
I had just made the right turn at River Campus to go work my way down William when Jan hollered "STOP!! Turn around! Look at the moon!"
She used up a whole day's worth of exclamation points in 12 seconds.
So, minutes after entering Missouri, we were exiting Missouri, to go back into Illinois to go back to Missouri. You can see how this has been a long trip.
Day started off with ice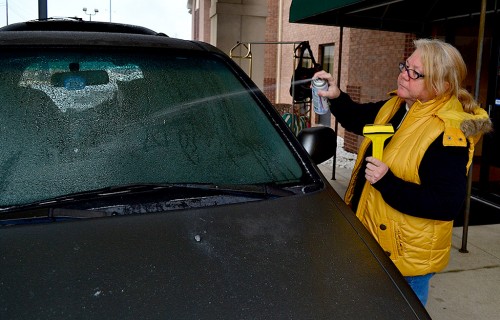 We spent too much time sightseeing on Thursday (pictures to come) to make it all the way from Athens, Ohio, to Cape in one shot, so we stopped on the west side of Louisville. The weather report didn't look good, so I wanted to be on the west side of town so we wouldn't hit morning rush hour and snow at the same time.
When I went to load the car, my head and feet almost swapped places. The whole parking lot was a shiny sheet of ice. I've never seen an ice sheen that perfectly smooth. The whole car was coated, too. It was time to give Jan a new experience: ice removal.
I handed her a can of spray deicer and a scraper and told her to have at it.
She handled that spray can like a well-trained riot cop with Mace.
"You need a smaller car"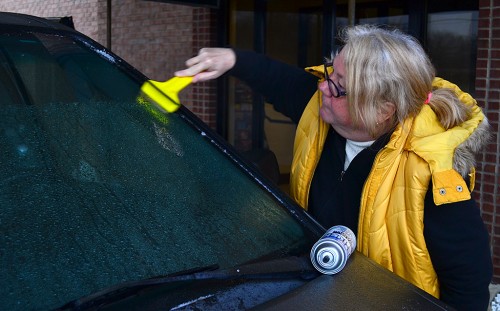 When it came time for the scraping, she said, "You need a smaller car. I can't reach all the way to the middle."
"No, I need a taller passenger."
That's when I came clean: "The deicer speeds the process up, but the car's defroster would have had the windshield warm enough for the wipers to slide the ice off," I explained.
I should have waited until she put the can of deicer down before I broke that news.