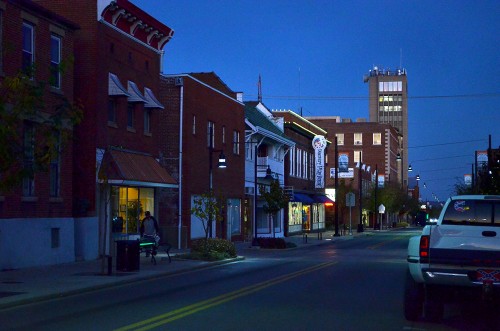 I like roaming the streets at night. Maybe part of it is that I don't like to get up early. Even most of my bicycle riding was done as the sun was going down and later. The streets were quieter. People weren't in as much of a hurry. It was fun cruising through neighborhoods chatting with people walking their dogs, pushing baby strollers or rolling their garbage cans to the curb.
If you saw a flickering light in a darkened room, you knew the residents were watching TV; if the light was steady, they were on their computer. If their windows were open, you could smell their dinners cooking, and maybe even guess what part of the country or world they were from by those fragrances.
After I dropped off my late-night meeting or sports photos at The Missourian (so I wouldn't have to get up early in the morning to do it), I'd roam up and down the streets and alleys listening to police calls, talking to the night watchmen or just enjoying a city asleep. The cops all knew my car, so they never stopped me to see if I was up to something.
View from Fort A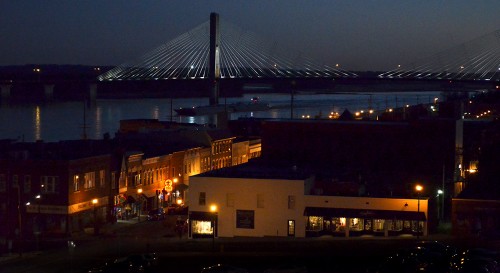 The view from what had once been Civil War Fort A at the end of Bellvue is arguably the prettiest view of Cape Girardeau. I wish I had been there 15 minutes earlier so the barge would have shown up better in the reflections of lights on the river. Of course, had I been there 15 minutes earlier, the boat would have been below the bridge, and it wouldn't have mattered what the light level was. As it turned out, I had to wait about five minutes for it to get where it is here.
KFVS antenna farm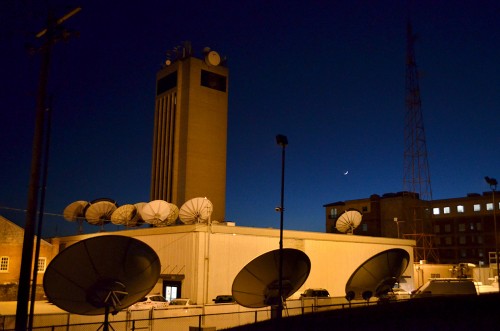 Coming down the hill from Bellvue on North Lorimier from Fort A, my eye was drawn to the KFVS tower and the antenna farm behind it. I drove past, wondering if it was worth a shot. When I saw the crescent moon over the Marquette Hotel. I circled the block and was lucky enough to find a parking spot just about where I needed to shoot. (You can click on the photos to make them larger, by the way.)
A car pulled in across the street just about the time I got out of mine. The driver must have wondered what I was up to, because I could sense he was watching me. Finally, when I opened the door to get back into my van, he got out and walked across the street. I didn't stick around to see if he went into KFVS or walked down the hill to what used to be the the N'Orleans, the brick building on the left.
The antenna on the right is a twin to the iconic one on the last hill on Highway 61 coming into Cape from Jackson.