I was fighting off mosquitoes while walking around New Lorimier Cemetery in Cape this week looking for graves of people who died in the 1918 flu epidemic, while also keeping an eye out for military graves.
On my second or third pass down a row, I spotted a familiar name on the back of a stone. It had a strange inscription: "REMAINS REINTERED AND BURIED HERE JULY 24, 192?" (I can't be sure from the photo what the last digit is.)
The name was familiar because the local American Legion Post 63 has taken his name. (Although, I was surprised not to find any of his history on the post's website. Maybe I missed it.)
The front of the stone tells the story
LIEUT. LOUIS K. JUDEN
R.I.O 120TH INFANTRY
30TH DIVISION
BORN AUG. 11, 1890
DIED OCT. 28, 1918
IN HOSPITAL AT ETRETAT, FRANCE
FROM THE EFFECTS OF GAS RECEIVED
IN FRONT LINES.
HIS REMAINS ARE "OVER THERE."
HE GAVE HIS LIFE HELPING CRUSH THE HUNS.
Nurse who was with him wrote his grandmother
The nurse who cared for Lieut. Juden in France wrote a letter to his grandmother, Mrs. L.F. Klostermann. Unfortunately, the microfiche copy of the letter is almost illegible in The Missourian's archives.
Parents visit grave in France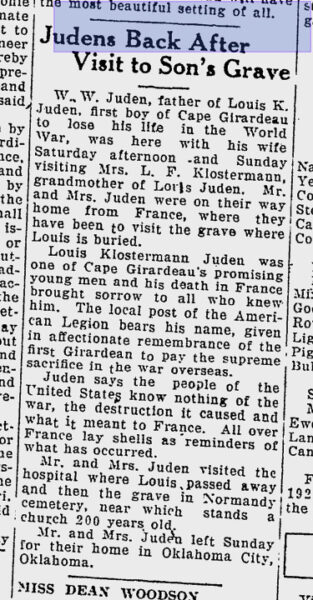 Mr. and Mrs. Juden visited their son's grave in France in 1920.
Biography in The Fort Sheridan Association History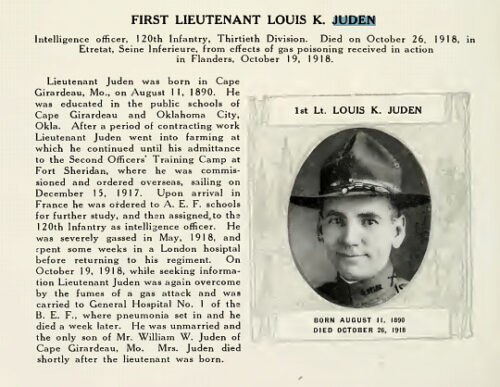 The Green Fields of France
While editing the photos, a song, The Green Fields of France, came up in my playlist. These words hit me hard when I looked at the portrait of a young man.
Well how do you do, young Willy McBride?
Do you mind if I sit here down by your graveside
And rest for a while 'neath the warm summer sun
I've been walking all day, and I'm nearly done
I see by your gravestone you were only nineteen
When you joined the great fallen in nineteen-sixteen
I hope you died well
And I hope you died clean
Oh young Willy McBride, was is it slow and obscene?
[Chorus]
Did they beat the drums slowly?
Did they play the fife lowly?
Did they sound the death march as they lowered you down?
Did the band play the Last Post in chorus?
Did the pipes play the Flowers of the Forest?

Did you leave here a wife or a sweetheart behind?
In some faithful heart is your memory enshrined?
Although you died back in nineteen-sixteen
In that faithful heart, are you forever nineteen?
Or are you a stranger without even a name
Enclosed then forever behind a glass pane
In an old photograph torn, battered, and stained
And faded to yellow in a brown leather frame?