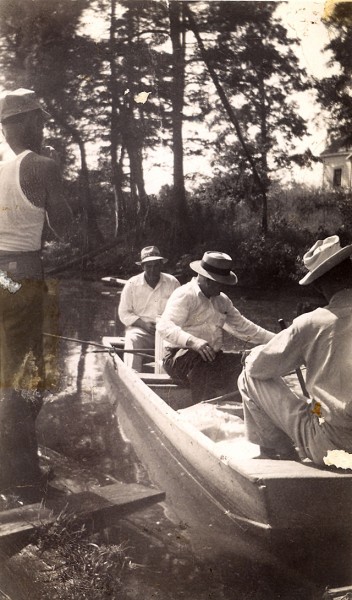 Fathers and fishing just seem to go hand in hand.
My grandfather, Roy Welch, would have been content to spend his whole life on a creek bank with a cane pole and his ever-present Roi Tan cigars. I've told the story about how I asked him why he read murder mystery books instead of my fishing magazines. His heath was failing and he was living with us at the time. His answer: "If I read about fishing, I'd want to go fishing. I can read a murder mystery without wanting to go out and kill someone."
I'm pretty sure the man in the center middle seat is my grandfather.
Dad and Grandfather in 1942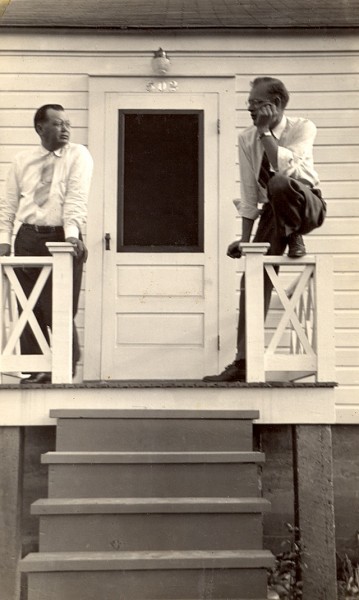 This photo was taken of my Dad and Grandfather in Rolla in 1942.
Caption says they're talking fishing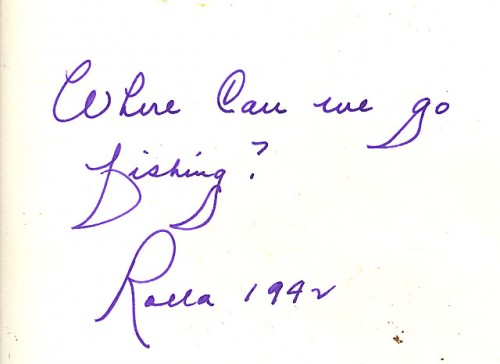 The caption on the back of the photo, in my Dad's distinctive handwriting, asks, "Where can we go fishing?"
Radio of death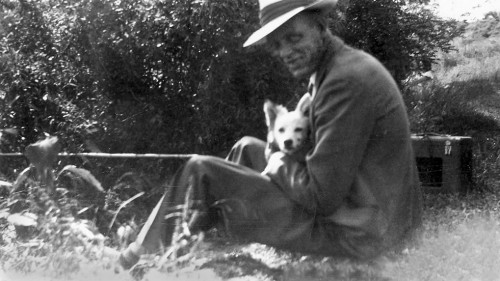 The "portable" radio behind Dad would operate on a huge battery or on AC power. The only catch was that if you happened to touch any metal on the radio when it was plugged into the wall, you'd get a taste of what the guy in the electric chair must have experienced. The thing is still up in Mother's attic. I'm afraid to get near it. I think it's still looking for me.
Fishing was fun until you caught one
When I was a kid, I loved to fly fish. I loved that feeling when you dropped a fly in just the right spot and a fish hit it like he was a tennis player returning a serve. It was all the stuff that happened after that I wasn't keen on.
When I was working in Athens, Ohio, the other photographer, Bob Rogers, lived in a house with a nice pond in his front yard. On a slow day, I'd park my car close enough that I could hear any radio calls, then get in a little fishing. If I caught anything, I'd leave a note on Bob's door telling him there was a stringer of fish waiting for him. Catching was more fun than cleaning.
Looks like Brothers David and Mark share my enthusiasm for skinning and preparing catfish.
Tentative touching going on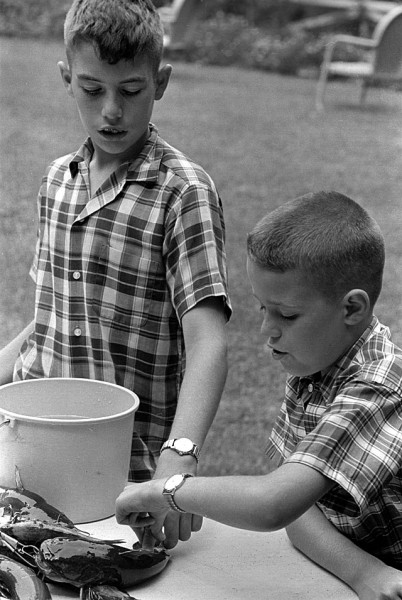 I don't know that Mark ever warmed up to fishing, but David got to be quite an accomplished fish killer. You saw how Son Matt reacted to fish when Dad introduced him to one. He still has that reaction.
So, how many of you associate fishing with your father? Was it a mostly guy thing or was there some father / daughter bonding done on the creek bank, too?
Stories about my Dad