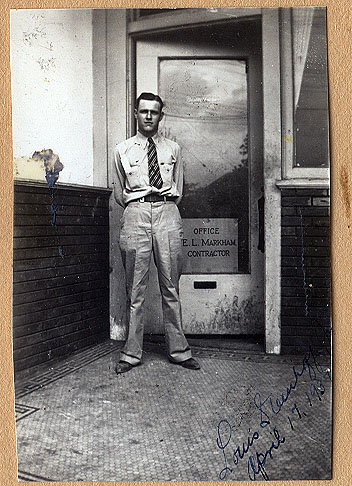 When I ran across one of my Dad's scrapbooks, I was immediately drawn to this resolute-looking young man on his 20th birthday. He had a signature, even then, that was unique. I tried to emulate it for years, but never came close and eventually adopted an illegible scrawl to sign checks and memos.
Here's a guy not even old enough to vote who is going to leave his literal mark on the world in the form of roads, bridges and airfields.
Who needs Tonka Trucks?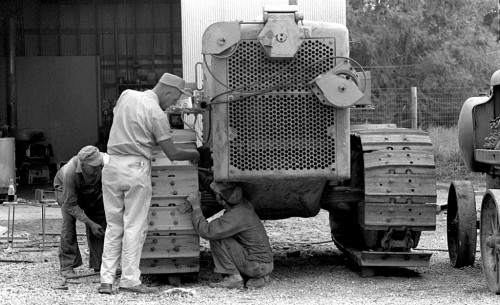 My Dad had the greatest toys in the world. While other kids were playing with toy trucks, I was riding on bulldozers, hanging onto the sides of draglines and sniffing the magic smell of freshly-turned earth and diesel fumes. When I catch a whiff of that half a century later, I can close my eyes and hear the clack-clack-clack of the steel tracks, the throaty roar when a diesel engine cranks up and the slippery sound steel cables make when they play out over massive pulleys.
OSHA would freak out today, but he gave me a basic set of safety tips and trusted me to have the good sense to follow them. When I hadn't even reached double digits, let alone my teens, I separated debris from gravel going up conveyor belts, climbed up crane booms and crawled under railroad cars. (You can read about that here.)
The family was involved in his work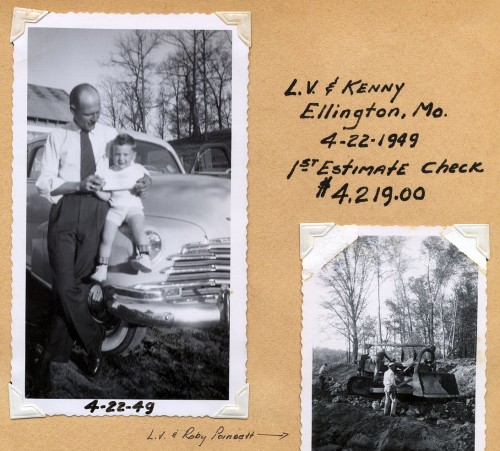 One of the first pictures in his Steinhoff, Kirkwood and Joiner scrapbook was two-year-old me holding a $4,219 check for road work done on Route SB in Reynolds County at Ellington, Mo.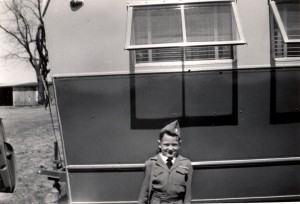 Because Dad's work took him all over the state, he was away from home a lot. When I was about a year old, Mother told him that this wasn't going to work out unless we were able to be with him. They bought a small trailer that moved from job to job about every four months.
Mother was telling me this afternoon that it was a great life. She met lots of interesting people and made a lot of friends. We lived in the trailer until I started school. For years, the trailer would be what I'd turn in when teachers told us to draw a picture of our house.
Dad was a handsome man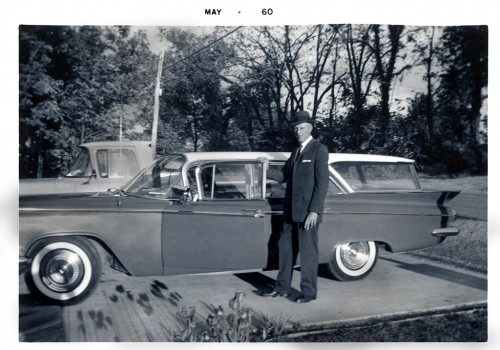 For a man who spent most of his time pushing dirt around, he could put on a suit and look quite dapper. Here he is in 1960, posing with the family's 1959 Buick LaSabre station wagon that we took on our epic vacation to Florida.
Everybody got involved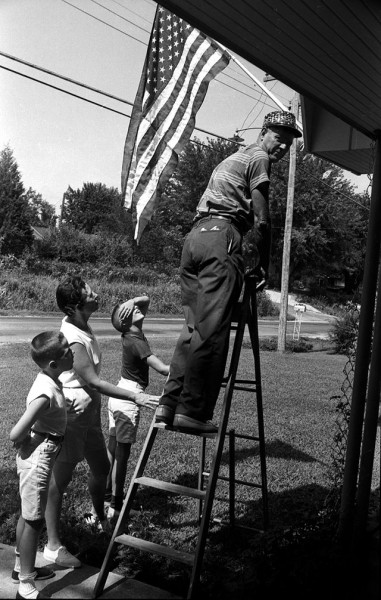 No matter what the project, it was likely the whole family would be involved, even if it was (in my case) shooting photos of it.
Dad and Mother in the back yard in Cape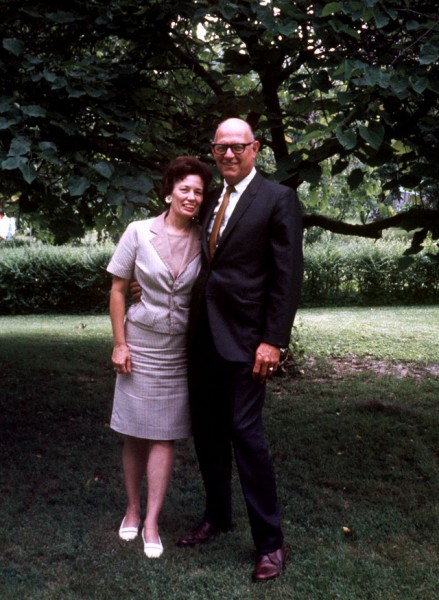 By the time I went away to college, Dad was starting to think about retirement. He and Mother bought a trailer over on Kentucky Lake. Dad got more and more involved in Scouting activities with my brothers and all of them traveled for fun, rather than to figure out where the next construction project was going to be.
No good thing lasts forever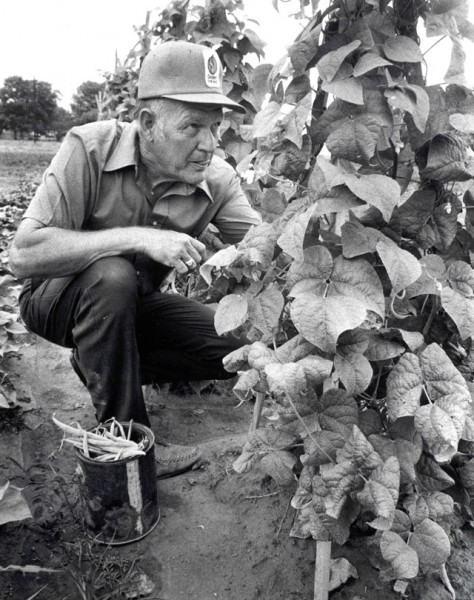 Dad and his partner, Jim Kirkwood, were in the process of winding down the company in the summer of 1977. Dad was looking forward to his garden in Dutchtown and to spending time on Kentucky Lake.
I had postponed my summer vacation for a couple of weeks to get my first photo department budget done after being named Director of Photography at The Palm Beach Post. I was punching away at the adding machine late one night when I looked up to see Lila and John Lopinot, my best friend, standing in the doorway of my office.
I could tell from their expressions that this wasn't a social call. They cut to the chase.
"Your dad suffered a heart attack this afternoon at Kentucky Lake. Mark was there and tried CPR, but it was too late. He was already gone. He had been carrying sandbags to build a sandbox for Matt to play in when we came home." He was 60 years old.
The next few days were a blur. The world will remember that week, because it's the same one in which Elvis died.
I don't miss Elvis.