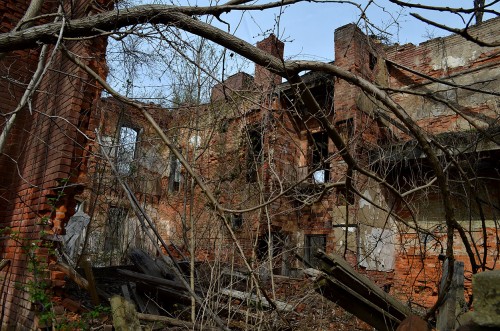 You're probably wondering how a town with only 36 people left in it can generate so many posts. Well, this is the last one until I visit the place again, but I think it's one of the most interesting. Curator Jessica told me to turn right one road too early to get to Rendville proper, but we didn't much care. Jessica is a lot like Mother: always looking for the road not taken.
Part-way up a tall hill, a huge, falling-down building came into view. We'd never have seen it in a few more weeks when the leaves are all out. There was a pickup truck with its window rolled down parked in a little turnoff leading to the building. I figured that must mean somebody was around. There were no no-trespassing signs around, so we hoofed up the path, noting fresh footprints in the soft ground.
Click on the photos to make them larger.
Marvin filled us in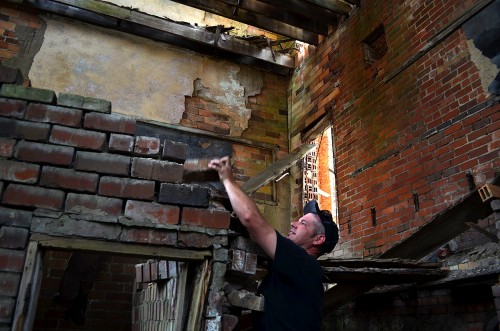 Nobody answered my hail, so I went to the front of the building while Jessica prowled around back. Before long, I saw Jessica and Marvin, who said he grew up near the building, which turned out to be a school. "When it closed, it was left just like they were going to have classes the next day. There was even a bell, but someone made off with it."
As I mentioned in an earlier post, Rendville had a sizable black population: "That's how Rendville came about," Marvin recalled the local lore. "They ran all the colored out of Corning."
Interestingly enough, though, both races attended the school, which dated back to the 1880s.
Convict bricks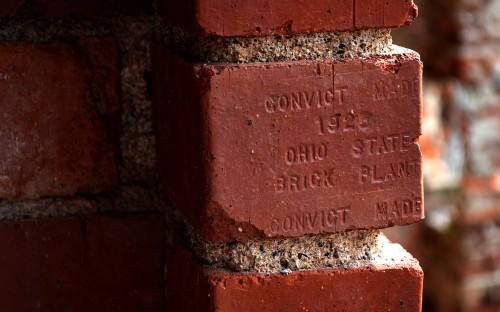 Marvin pointed out that some of the walls were made of "Convict Bricks." They were stamped "Convict Made; 1926; Ohio State Brick Plant; Convict Made." They were a "hard brick," unlike most of the older parts of the building that were "soft brick."
Jessica, who is a bit of a brick expert, said she had never seen any like this before.
Like something from Gone With the Wind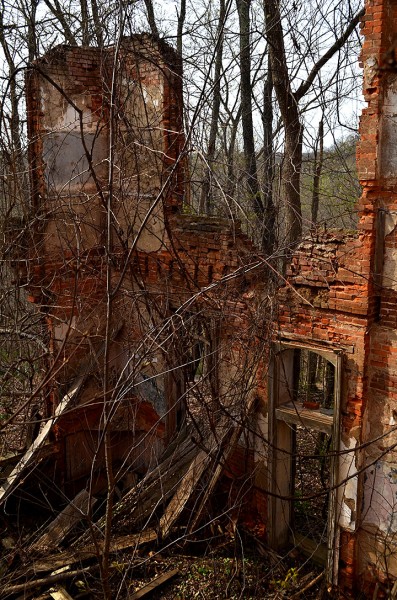 I had the feeling I was in a movie set for General Sherman's Atlanta urban renewal project (minus the fires).
Long hoof up the hill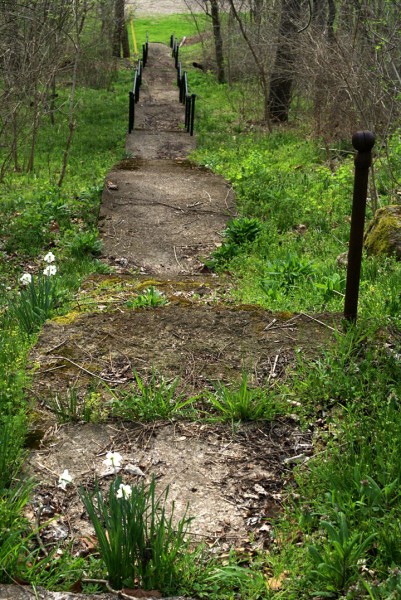 Miz Jessica, a triathlete, is one of those people who runs even when nobody chases her. She volunteered to walk down this sidewalk that connected the school to the town, shooting photos along the way. I volunteered to pick her up at the bottom of the hill in my van.
Note the arched window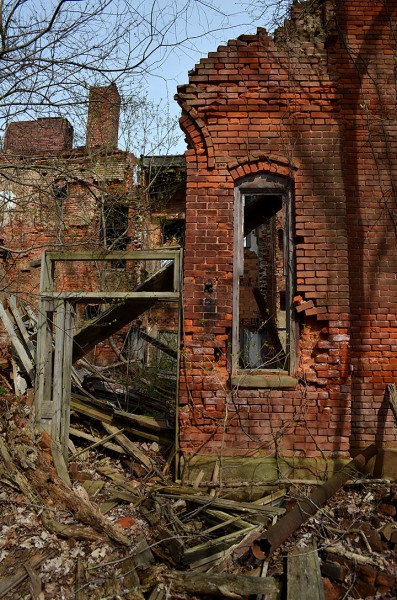 I asked Jessica to dig up some information about the school. The Little Cities of Black Diamonds archive has a photo of what the Rendville Public School looked like. The Corning High School had a building that looked so much like this one, I thought maybe someone had mislabeled the photos.
She squinted closer than I did and determined the window shapes and the bell tower were different.
Look for the blackboards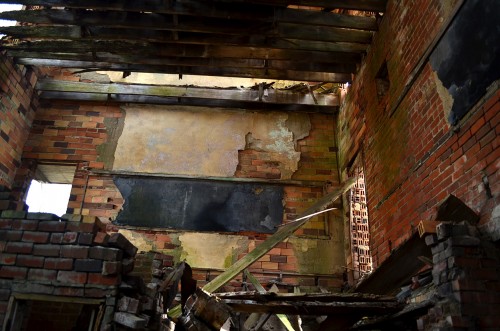 The easiest way to determine if an old building was a school or not is to look for the blackboards.
Disembodied voice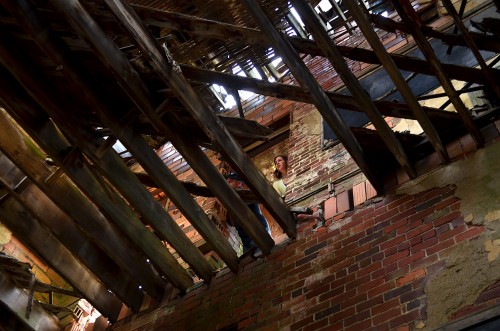 I was down in the boiler room when a disembodied voice said, "Hey, Ken."
I peered around to see where the sound was coming from and said, "Holy Bleep!" when I saw Jessica and Marvin peering down from above. When I followed them, I found it was less scary than I thought. There was a good poured cement set of stairs between two convict brick walls that was perfectly solid.
Earlier Rendville stories
If you are interested in old coal towns (many which have disappeared), stories about labor and railroads, swing over to the Little Cities of Black Diamonds website for some interesting reading and pictures.