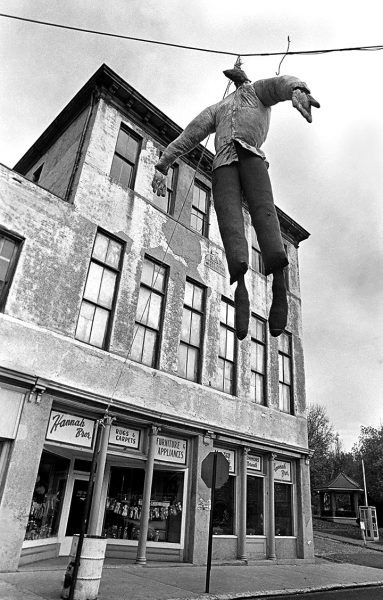 Way back in 1969, I stumbled across a dying coal town in Perry County, Ohio, that looked like something out of a Western movie set. Many of the buildings had wooden balconies overlooking Main Street.
Most unusual was an effigy hanging at the main intersection in town. I was told that some in town thought it was supposed to represent the mayor, but I couldn't confirm that.
I needed ten more hours to graduate from Ohio University, so I convinced an architecture prof to let me earn six hours of credit for documenting the town. I spent about 20 hours and shot over 400 photos. I didn't think I had exhausted all the possibilities the town had, so I took an incomplete to keep working. Riots, a job offer in another state and circumstances kept me from getting the hours and the degree.
I spent almost a month recently digitizing the negatives, improving their quality and repairing dust spots and scratches. The result will be a series of exhibits in concert with the Little Cities of Black Diamonds and the Southeast Ohio History Center. The first showing will be at the Second Saturday celebration in Shawnee on June 9, 2018.
The first will center on Shawnee High School. The only thing left of it today is the gymnasium.
Gallery of Shawnee High School in 1969
Click on any image to make it larger, then use your arrow keys to move around.