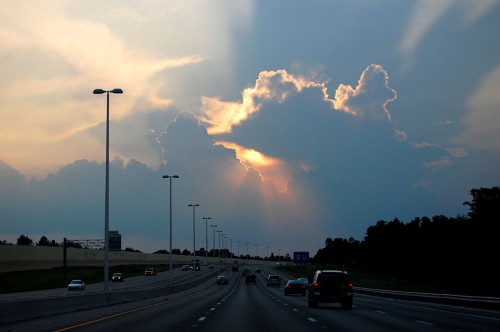 I got a late start getting out of West Palm Beach because of auto repairs. Wife Lila always says that Florida does good clouds, so I snagged this shot of a brush-fire-enhanced sunset somewhere along the Florida Turnpike.
Advantages of traveling alone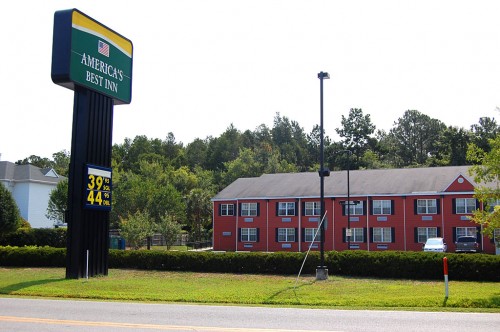 Wife Lila has discovered that she'd rather be trapped on board a flying aluminum cigar tube than spend 2-1/2 days on the road with me. In fairness, part of it is because she's found out that I can't ever leave on time and she's ended up flying back home to get to work. Since she's operating on a tighter schedule than I am (and would rather do lots of short trips instead of fewer long ones), flying makes sense for her.
That means I can spread out all of my junk food on the passenger seat next to me, play whatever I want on the radio, stop if I want to stop or drive forever if the mood hits me. My motel standards are lower than hers, too. All I ask for is for the room to be clean, to have AC in the summer, a decent shower and sheets that aren't still warm.
Room was broiling hot
When I started getting tired long about the Florida line, I was delighted to see the prices on this hotel. The desk clerk looked a little sketchy, but the lobby seemed clean. When I got to my room, though, it was broiling hot. I went back to the clerk and asked, "What are the odds that little window AC unit is actually going to get the room cooler than the surface of the sun?"
He said he'd upgrade me to a double on the first floor where the air had been running. He did and I had a good night's sleep for a reasonable price. (That's a relative term. I stayed in a room in the Ozarks for two bucks a night. Motel 6 and Super 8 got their names from the amount of money they charged for a room.)
Fires and floods in Georgia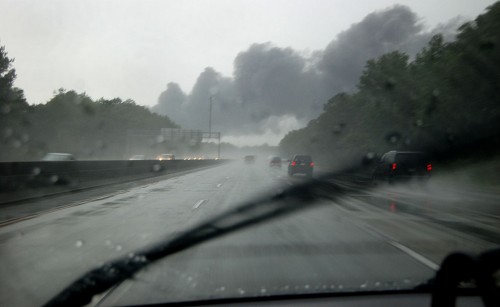 My good weather luck ran out on this trip. I saw on the radar that there was a chance I was going to hit rain going through Atlanta, but I had pretty much clear skies about 90 miles south of there. I passed a section of road where a whole section of trees were snapped off and blown down by this spring's storms.
About an hour south of Atlanta, just about the time I crested a hill, I saw all kinds of debris blowing across the road. It was a good thing traffic was light, because I got hit with a crosswind that blew me all the way over to the next lane. There was no rain yet, but the wind was spectacular. I decided to take the next exit to see what the storm was going to do. After about 20 minutes of torrential rain, it looked like it was slacking off, so I headed off again.
Signs warned of structure fire
Just south of Atlanta, highway advisory signs warned of a large structure fire on the west side of I-75. They weren't kidding. There was a major column of jet-black smoke rising high into the sky, then blowing off to the east.
The combination of rain and rush hour made Atlanta one huge parking lot. I let the GPS send me off on an alternate route through the countryside that probably didn't save me any time, but was a lot nicer than inching through the traffic.
Back in the old CB days, we were running northbound with a bunch of truckers when we got word of a jam like that. One of the drivers said, "Follow me. I'll get us around it." The next thing we knew there was a huge convoy of 18-wheelers and my little Mazda blasting through a raft of small George towns. I bet some of their stop lights are still spinning.