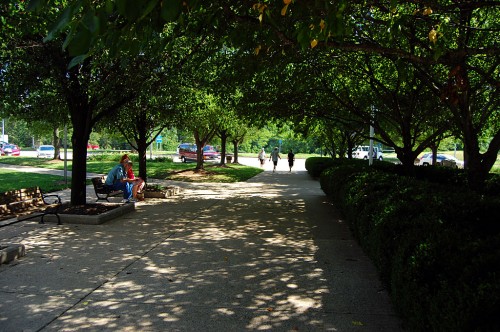 Right outside Nashville, I hit a torrential rainstorm that lasted about 10 miles. I was glad that it waited until the outskirts of town instead of adding poor vision and hydroplaning to city traffic. By the time I got to the Tennessee / Kentucky line, I was feeling a little sleepy, so I pulled into the Welcome to Kentucky rest area near Ft. Campbell for a 22-minute nap. ( I set the alarm on my Droid for 25 minutes; it usually takes me about three minutes to fall asleep.)
It's a nice stop with clean restrooms and friendly people working in it. I've shot it in all seasons and it's pretty no matter what time of year. I KNOW I have some spring and fall pix, but couldn't find them.
Winds were gusting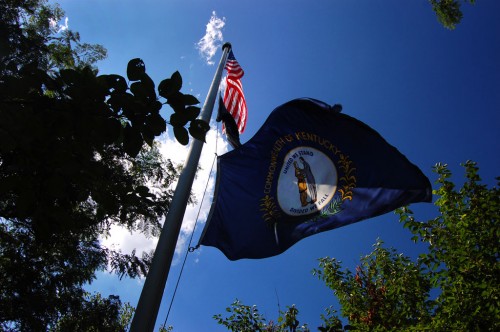 The winds weren't as bad as the ones that nearly blew me off the road south of Atlanta, but they were gusty enough to keep you on your toes. I was glad I had the nap so I was sharp.
Ran across tired biker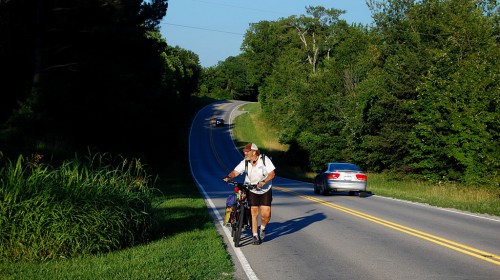 Cutting across 146 east of Anna, I saw a cyclist pushing his bike up a steep hill. When I got closer, I could tell he was a tourist by the BOB trailer and the stuff he was carrying. I pulled over at the top of the hill to shoot his picture and see if he needed help. This is a stretch of road I wouldn't like to ride: traffic is fairly light, but it's fast, there are no shoulders, some of the hills are steep and it was the time of day when windshield glare could hide a rider.
We introduced ourselves – he was David "Laughin Wolf" Edwards – and I asked where he was headed. "You mean tonight or at the end? I'm headed home to Washington State, but I was hoping to make Cape Girardeau tonight. The way things are going, I'm going to be lucky to make it to Anna."
"I don't want to hurt your feelings by asking, but do you want to throw your bike on the rack? I'm headed to Cape." His legs hurt more than his feelings, so he quickly stripped off his gear and piled it into the van. His next stop was St. Louis and the KATY Trail, so I suggested he take Rt. W, go through Altenburg, Frohna and then drop to to the Mississippi River flats to Chester.
Free-camping to save money
When we got to Cape, I asked where he wanted to be dropped off.  He said that bad weather and flooding had caused him to spend all his lodging budget by May, so he was free-camping on the side of the road to save money. He defined "free-camping" as finding any place he could spread out a ground cloth and sleeping bag. Cemeteries and church yards were good places, he said. He tries to be gone before anyone even knows he's been there.
Almost all of the places that I thought might work have been victims of development. We stopped at Jones Heritage Farms on Rt. W where a very nice woman called the owner to see if he could camp there, but he was turned down. "Maybe if he had called in advance…"
I finally left him off near the bridge over Cape LaCroix Creek on Rt. W, where he unrolled his sleeping bag onto some soft grass.
He called me this morning to say that he had stopped at Heritage Farms on his way out of town, got permission from the owner to camp on the grounds and had planned to take a rest day and listen to a band at the place Friday night.