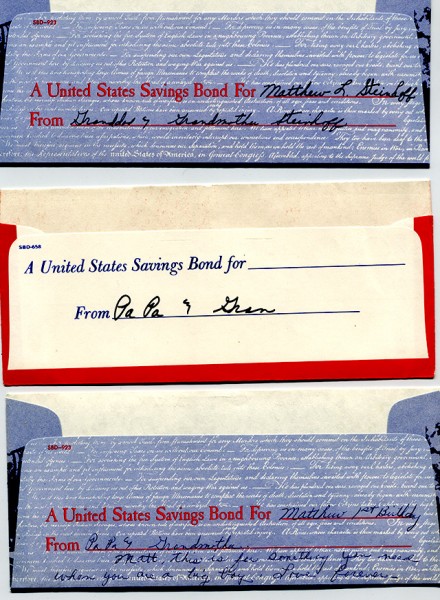 Wife Lila has been doing some major reshuffling of her office since she retired in November. Part of it is moving all the DedicatedIT  business records and stuff to Son Adam, her co-owner's, care. One of the things she's finding is that your kids may move out, but some of their stuff lingers behind "so it doesn't get lost."
One of the things that lingered was a envelope with two U.S. Savings Bonds and the gift envelopes they and other bonds had lived in. Dad and Mother gave Son Matt bonds when he was a baby, and Mother made some out in memory of her parents – my grandparents, Roy and Elsie Welch.
"For when you are a big boy"

This one was for his first birthday. "From Pa Pa and Grandmother: Matt, this is for something you need when you are a big boy. Love forever."
For his 4th Christmas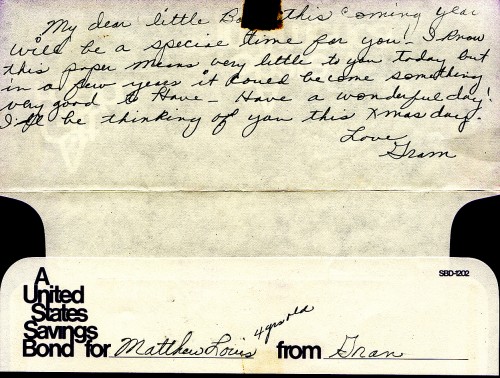 Mother wrote "My dear little boy, this coming year will be a special time for you! I know this paper means very little to you today, but in a few years it could become something very good to have – Have a wonderful day! I'll be thinking of you this Xmas day. Love Gran."
 $25 DID grow over the years
Matt sent this note: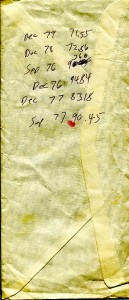 The back of the envelope shows when the bond was purchased and the amount for which it was exchanged. I'm pretty sure every bond was $25 face value and each was purchased for $18.75. Those bonds were
redeemed in December 1998.
The two remaining bonds are worth…
October 1975…  $133.15
December 1975… $134.75
Both stopped earning interest in 2005. You can calculate their value here…
I would have sworn those bonds paid for part of my Stidham house furniture but, given the 1998 date, those bonds probably paid for my Kirkman apartment furniture… which is still in use in my Camellia house 14 years later. So, many thanks to Pa Pa and Gran."
Three generations of furnishings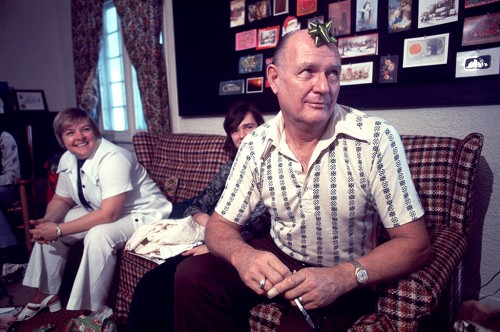 We're going to use the proceeds of those last two bonds to open a savings account for Malcolm. I'm sure he'll need to furnish an apartment in a few years and it seems only fitting that his great-grandparents buy him a sofa since they bought me and you both a sofa.
Three generations of furniture from those two, right? Didn't they buy your original fold-out sofa?
He was right. When Lila and I got married, the only things we had in our living room were some concrete block and board bookcases and a twin bed mattress Lila had covered with corduroy, plus a few cushions, that served as a couch.
The first time Dad and Mother came for a visit and had to sleep on the floor on the "couch," he pressed $300 in my hand and said, "Before we come back, make sure you have a hide-a-bed sofa for us to sleep on."
Here Lila, Brother Mark and Dad sitting on the sofa in our first house in West Palm Beach. The Cape Steinhoffs had come down to Florida for Christmas.