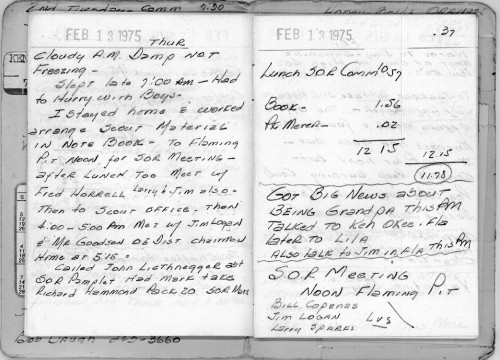 Dad was born April 17, 1917. That would have made him 95 this year. He had an interesting quirk. He'd make up small pocket diaries or journals that he'd carry in his shirt pocket. The covers were made of cut-up manila folders and the pages were of paper cut and stapled inside. He had a rubber stamp that he would use at the start of every month to date every pair of facing pages. (Click on any image to make it larger.)
He was meticulous about recording every penny (literally EVERY penny) he spent every day. Generally there would be some mention of the weather and a brief accounting of what he had done during the day. By February, 1975, he and his partner, James Kirkwood, were beginning to wind down Steinhoff & Kirkwood Construction, so he had a lot more time to spend on stuff like Scouts. (SOR stands for ScoutORama, for example.)
Uncharacteristically, he set off a section: Got Big News about being Grandpa this PM. Talked to Ken Okee. Fla (I must have been in Okeechobee) later to Lila. (Then reverting to company business, he finished up by saying that he talked to Jim in Fla this PM.)
December second was big day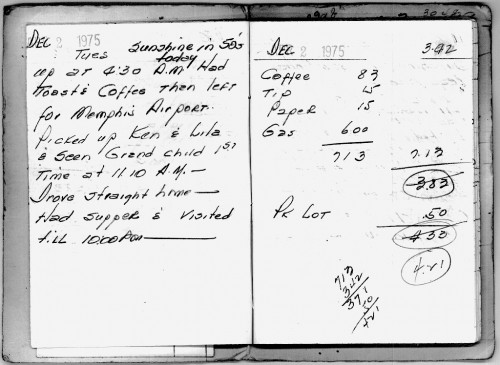 On December 2, 1975, we find that the day had sunshine in the 50s; he got up at 4:30 A.M., had toast and coffee, then left for Memphis Airport.
Picked up Ken & Lila and seen Grand child 1st time at 11:10 A.M. (He consistently used "seen" for "saw" and "too" for "to," but otherwise generally used good grammar and spelling with lots of abbreviations. His penmanship was precise.)
Along the way to and from Memphis, he had coffee for .83 (with a 15-cent tip), bought a paper for 15 cents and put six bucks of gas in the car.
Here's the first meeting with Matt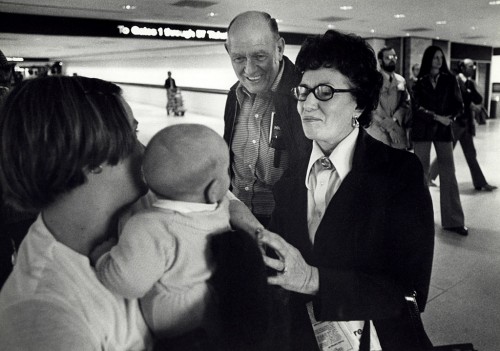 Matt was born September 27, 1975. (Matt's the one who scanned these for me about 10 or 12 years ago. He was disappointed that his birth wasn't mentioned in the journal, probably because Dad was over at Kentucky Lake on the day.) Here is Mother, Wife Lila, Dad and Matt getting together for the first time at the Memphis Airport. It's the same airport we would fly out of in 1977 after Dad's funeral.
Matt got a cold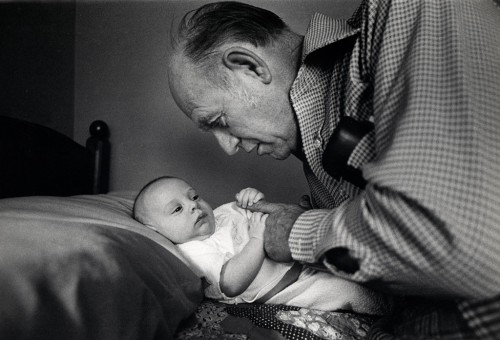 December was cloudy, cold and damp. Dad got up at 6:45 and went to 7:30 church by himself, where he took Communion. When he got back home, he built a fire in the fireplace and watched Cardinal football until 1:45. Took 13 of us to dinner, including Lila's mother, brother and sister; my grandmother, Elsie Welch, Mother, Brother Mark and Mark's date. (The Cardinals beat Dallas, in case you were interested.)
The final note for the day said that Matt got cold. Nose stopped up. Call Dr. Kinder. [Matt doesn't know how lucky he was that Dr. Herbert had probably retired by then. That's why Matt can still eat Popsicles.]
Headed back to Florida
December 11 – Clear, sunshine and warmer. Got car checked over for trip to Florida. Left Cape for Lake and Florida 12:30 PM – arrive at trailer at 3:00 PM. Matt didn't sleep too well tonight. He threw a real cry buster at Joe Summers. Had his nose cleaned out.
December 12 – Sunshine clear. Up at 5:30 because Matt up since 3:00. Lila back to bed. Got Matt to sleep for abt 1 Hr 1/4. Left Lake for Florida at 9:15 AM. Ate at Cracker BL Manchester 12:30. Drove to Macon Ga. by 8:00 PM. Matt feeling better today – was really good.
December 13 – Clear sunshine – left Macon, Ga., at 9:15 ate at Shoney's. had blueberry pancakes – No Good – Drove to Wildwood & ate at Union 76 at 3:00 PM – then on to WPB arrive at 8:00 PM. 1093 miles. Matt real good on trip. [Editor's note: I have two routes I take from FL to MO. Both of them are within a dozen miles of being 1,100 miles. I find it interesting that Dad's trip was 1,093 miles.]
Another interesting thing I had forgotten was that while Lila and Matt were parked in Cape, I flew down to Corpus Christi, Tex., for a job interview. I had been at The Post for almost exactly three years, generally about as long as I was comfortable anywhere. While the Texas paper and I were talking about the move, I was offered the job of director of photography at The Post. I took it and spent the next 35 years in photo, as editorial operations manger and as telecommunications manager. I discovered that I didn't have to move to a new town every three years if I took on new responsibilities at the same company.
Other stories, pictures of Dad
This picture was taken before we left for my Trinity Lutheran School eighth grade graduation ceremony. They weren't sure how many more graduation ceremonies there might be, so they dressed for the occasion.