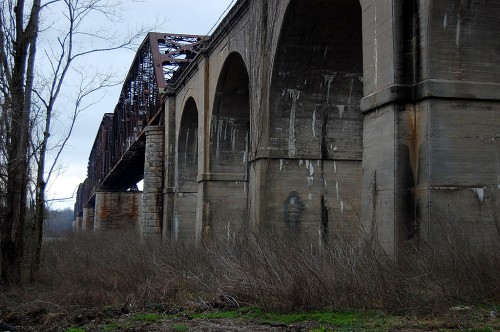 Southeast Missourian webmaster and bridgehunter James Baughn had a piece on photographing the world's largest operating steam engine when it crossed over the Thebes Railroad Bridge in 2004. That got me to rooting around for some of the photos I've shot of it over the years.
Thebes in 2010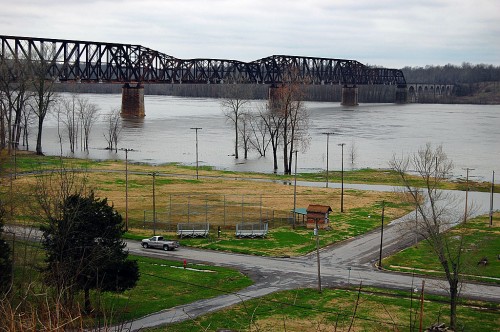 It's hard to get a feel for just how massive this bridge is from a distance. This photo was taken this spring when the Mississippi River was above flood stage. What used to be downtown Thebes has been reduced to a few roads, some foundations and some park structures.
Thebes in 1966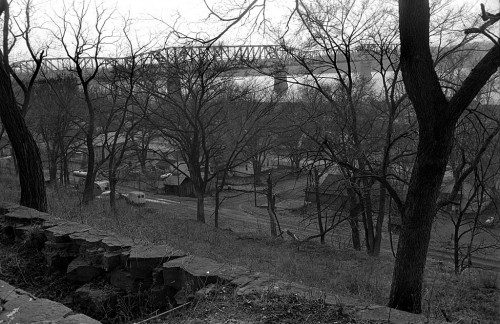 This shot of the bridge from the Thebes Courthouse in 1966 shows the same area before the floods of 1973 and 1993 took their toll on the town.
Railroad Bridge and Thebes Courthouse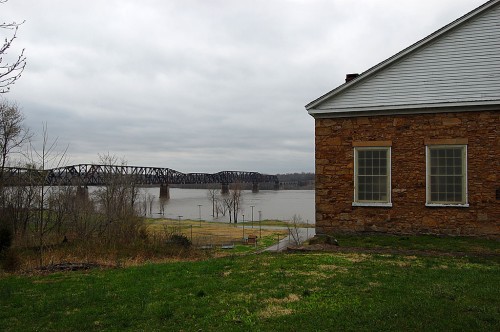 I'll have more photos of the Thebes Courthouse when I run across a few more. The courthouse was built in 1848 out of local sandstone, hewn timbers, hand-sawed boards, plaster and with a split shingle roof.
Dred Scott was imprisoned in a dungeon below the courthouse.
Bridge built in 1905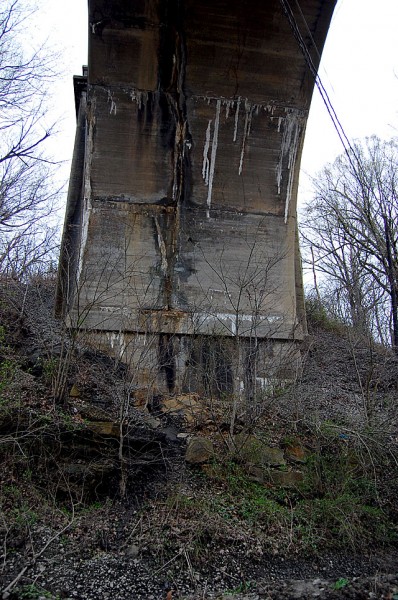 James' BridgeHunter site has additional photos, including some of it under construction. His information says it was built in 1905 by a consortium of five railroad companies.
The massive structure is beginning to show its age. I can't remember ever seeing it when it was freshly painted. It still carries a lot of Union Pacific rail traffic on its two tracks. I've read that there was talk about the bridge carrying automobile traffic as well as trains, but the Cape Girardeau Traffic Bridge killed off that idea.
Pier stone weighs 6,000 pounds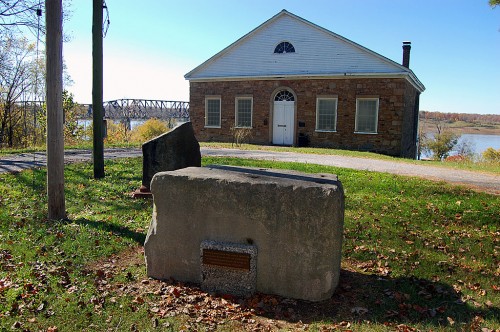 To give another idea of its size, the plaque on this stone says it is "Original handhewn pier block from the Mississippi River Bridge at Thebes built in 1905. Recovered from the river in 1990. Block weight 6,000 lbs."
Piers dwarf Honda Odyssey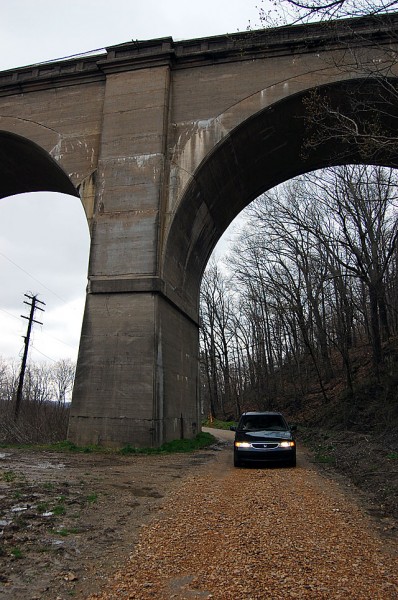 The huge piers on the Illinois side of the river dwarf my Honda Odyssey.
I left a comment on the Bridgehunter site:
As the cub reporter fresh out of high school, I ended up writing an awful lot of obits for The Southeast Missourian.
One, in particular, stuck out in my mind. The singular most exciting thing in this woman's life was that she was on the first train to cross the Thebes RR bridge. I thought it was sad that that was the high point of her life.
What does it say about the arc of my life and career that I would remember that woman four decades later?