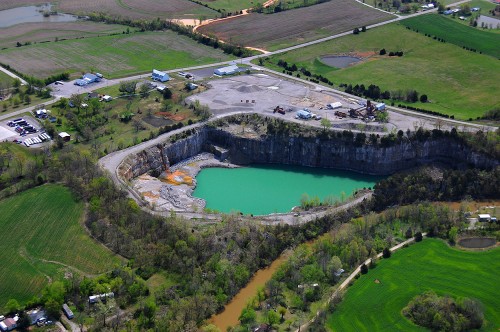 You don't realize how many quarries there are in Southeast Missouri until you fly over the area in a small plane. When Ernie Chiles and I went on a photo mission that took us up to Perry County in 2011, we passed over Old Appleton on the way home.
There is one HUGE pit on the west side of Hwy 61 at the intersection of State Hway KK just south of Old Appleton. The brown water in the foreground is Apple Creek.
I couldn't find much information on the quarry. There are still piles of gravel around, so it may still be active.
When I searched for quarries and Old Appleton, the only thing that popped up was a vague reference to Martin Marietta Aggregates, 224 State Hwy KK. A website not affiliated with the company (so far as I could tell) said that it has an estimated annual revenue of $2.5 to $5 million and employees 10 to 19 people.
Quarry photo gallery
Here some views of the quarry from other angles. Click on any photo to make it larger, then use your arrow keys to move through the gallery.