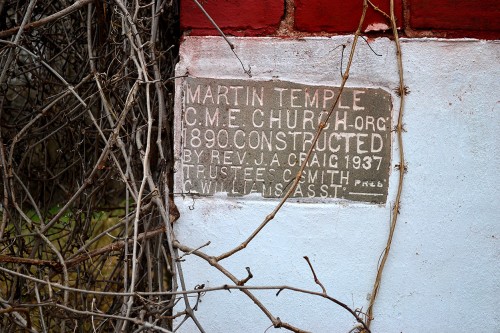 The Martin Temple C.M.E. Church is across the street from the Mt. Moriah Missionary Baptist Church I wrote about a couple of days ago. It is located at the intersection of 25th Street and Poplar Street in Cairo.
I'm glad I shot these photos in January 2013 when all the vegetation (and critters) were dead. I struck dead end after dead end trying to find some references to the church.
The only story that popped up was a Southeast Missourian brief in the January 22, 1955, headlined "Woman Bass Singer Plans Final Series."
"Mrs. Louise M. Braxton, Negro woman bass singer, will give her last series of concerts in this area this week. She will give a concert of sacred music at the Martin Temple Methodist Church in Cairo, Ill., this evening. A special concert, sponsored by the First Baptist, South Side Baptist and Red Star Churches, will be given at 7:30 Thursday evening at Red Star Church, and Mrs. Braxton will speak on "The Problem of the Colored People."
Shot the correspondent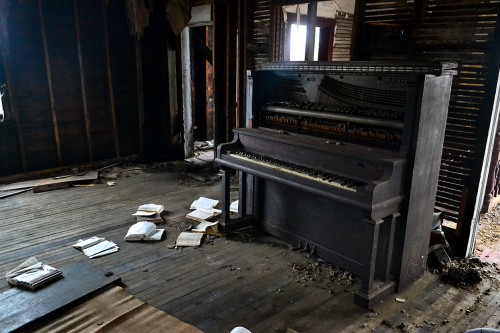 I was rooting through the back copies of The Cairo Citizen trying to find references to the Martin Temple Church when this story caught my eye:
Thursday, 3 Jan 1895: Shot the Correspondent. Howard Perdue, an alleged correspondent of the Kansas City Sunday Sun, at Paducah, was shot by an estranged Kentuckian named Monroe Bouyou, Sunday, whom the paper had maligned, and died Tuesday. Such is the fate of the correspondent of that disreputable sheet. By the way, it is sold on the streets of Cairo in the most open and flagrant fashion. Is there no way to rid our city of this miserable post?
I'm going to be more careful about what I write about Cairo citizens. They prove to be harsh critics.
Older Cairo stories
I've photographed Cairo since the 1960s. Here are some older stories and photos.
Martin Temple photo gallery
Click on any photo to make it larger, then use your arrow keys to move through the images.