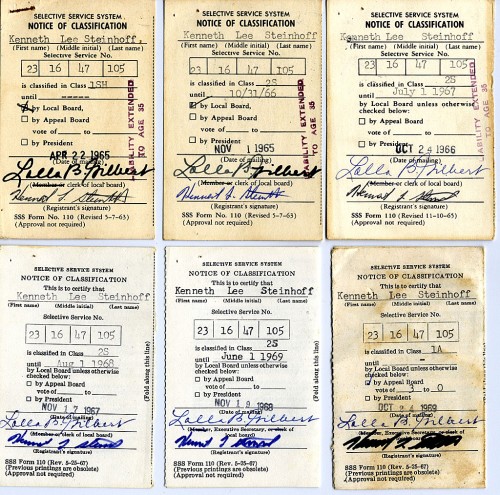 I ran across a box with a bunch of my old press cards and other credentials. Stapled together was a stack of my old Draft Cards. I wrote earlier about my first meeting with Lola B. Gilbert when I went to register for the Draft. I'm pretty sure I didn't make a good impression.
For those of you who have forgotten or were female or who are too young to remember the Selective Service, the most important thing on the card was the two or three letters that showed up at the end of the line, "is classified in Class ______."
Draft Classifications
1SH – My first classification. Student deferred by statute (High School). Induction can be deferred either until graduation or until reaching the age of 20. (As soon as you took an educational deferment, your eligibility was extended to age 35. That sounded like forever. You'd be in a wheelchair by that time, you thought.)
2S – Registrant deferred because of collegiate study. Deferment lasted either until graduation or until the registrant reached the age of 24.
1A – The next letter would be to schedule your draft physical. Depending on what happened there, you could get a letter that started out "Greetings" from the President of the United States telling you that you were the lucky recipient of an all-expenses-paid vacation in Southeast Asia.
1Y and 4F cards are missing
Two critical cards are kicking around, but weren't with these.
After I showed up at my draft physical with a note from a doctor, I was given a temporary 1Y classification. That meant that I was available for military service, but qualified only in case of war or national emergency. It was usually given to registrants with medical conditions that were limiting, but not disabling. (My doctor said I had a possible ulcer and was being treated.)
(I used to repeat the old joke that I held a 4P classification: in case of war, I was a hostage.)
Before I was called back for a follow-up physical, the first Draft Lottery was held in 1969. For once, I held the winning ticket. My birth date was drawn as Number 258, which all but assured that I wouldn't be called.
The board, recognizing that, classified me as 4F. At least, I HOPE that's why. The 4F classification had carried some stigma because it meant that you didn't meet established physical, mental or moral standards.
Me and the National Guard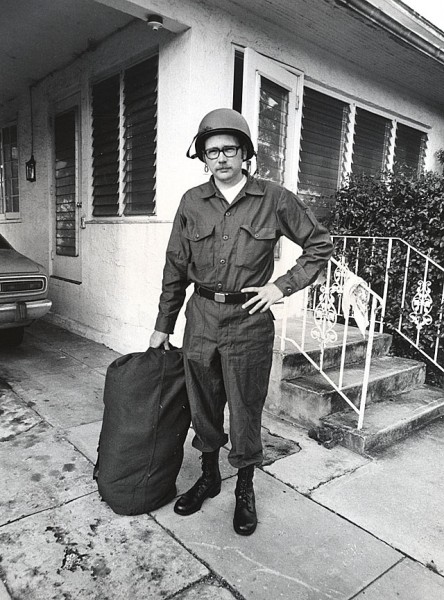 I eventually ended up in uniform, anyway.
I wanted to do a story on the local guard unit going to Camp Blanding for summer training. The company commander gave me his blessing and I thought I was all set. A couple days before we were to leave, however, I got a call from the Master Sergeant, who said that the Higher Ups ruled that I couldn't ride in the convoy. I'd have to get there POV (privately owned vehicle).
"We can work it out"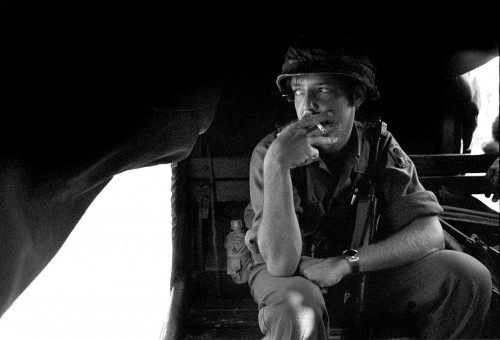 I expressed disappointment. That's when I learned that there's The Brass, and then there's the guys who get 'er done.
He said, "I've got it all worked out. Come on by and get fitted for a uniform. You'll look like everybody else. Nobody'll know."
"Sarge, I worked really hard to NOT wear a uniform. I REALLY don't want to wear a prison uniform. How much trouble can I get into if I'm caught?"
"Don't worry. You won't get caught."
So, I showed up, drew my uniform and an instant promotion to E6. "That's high enough that nobody will mess with you, but not so high somebody will salute you and get you all confused," he explained.
As soon as the jeep stopped rolling, I jumped back into civvies for the rest of the week. I DID get to keep everything but the helmet, though.
Click here to see photos from National Guard camp. There are a few I really like.