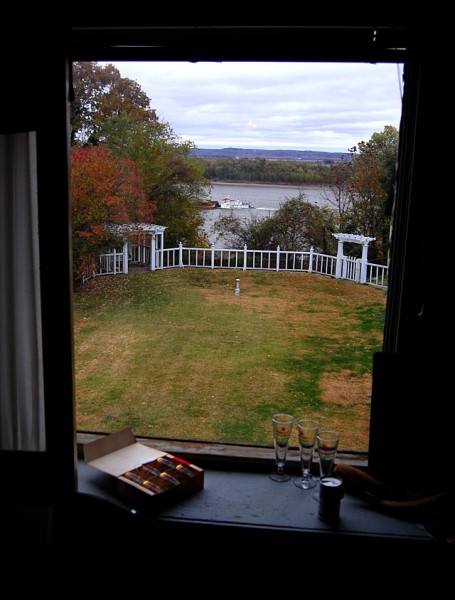 Cape has entered The Ugly Season. I've been living in Florida too long. Sure, we have torrential rains almost every day during the wet season, but they start and stop in about 15 minutes. Your side of the street could be getting pounded, but your neighbor across the street is perfectly dry. Florida rain knows its place and stays in it.
I woke up Thursday morning looking out the window at something that was between rain, mist and fog. The temperature was well above freezing, but I wasn't as I ran around town taking care of some errands. It was like that when I woke up; it was like that when the sun went down. It's probably going to look like that until about May.
330 N. Lorimier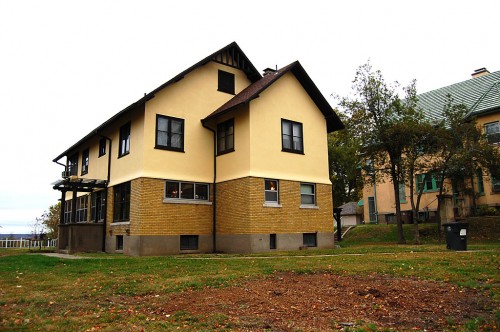 One of my stops took me over to see Laurie Everett, Wife Lila's niece, and proprietor of Annie Laurie's Antiques. She and some other folks in the shop INSISTED that I had to go up a few blocks to an estate sale at 330 N. Lorimier.
After the emotional tailspin I had last weekend at a home auction, I wasn't sure I was ready to hop back on that pony. Besides, it was cold and rainy and they said I'd have to park and walk a fair distance. The thing that sold me, though, was Laurie insisting the house "had the best view of the Mississippi River of anywhere in Cape."
She was right.
First private pool in Cape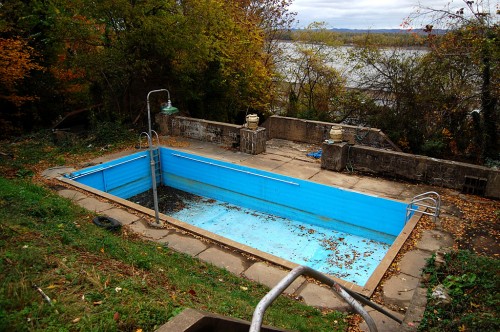 Cash box custodians Heather Meyer and Melanie Wood filled me in on some of the house's history. It was built in the "19-teens" by the W. H. Harrison, the Harrison part of the H & H Building, one of Cape's early tallest structures.
The Harrison family owned the whole block and built what was thought to be the first swimming pool in Cape Girardeau on a terrace below that white fence. Below THAT was a grass tennis court. The pool, another man said, needs some work, but was filled as recently as 1-1/2 years ago.
The tennis court "was a bit of a jungle," but it's been cleared up now.
Dr. Gibson came next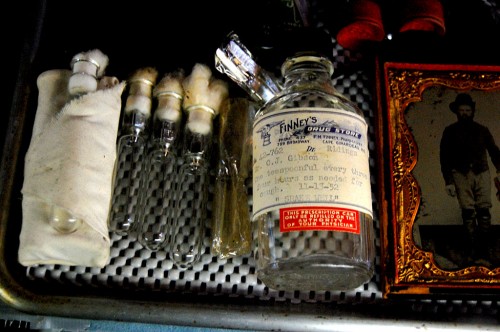 Dr. Gibson and his wife were the next owners. They passed it down to their son, Jim Gibson, a lawyer, and his wife Nancy. When Jim died, Nancy decided to move to a smaller place.
The estate sale will continue through Saturday, November 5. Here's a link describing some of the items for sale. I don't know how long the link will be valid.
Servants had the best view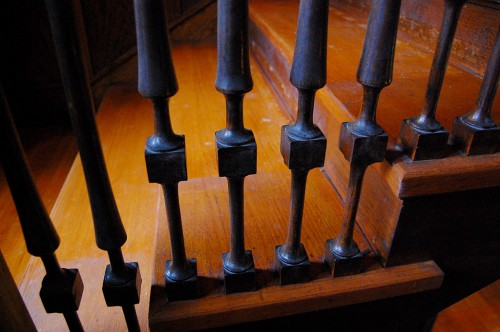 The photo at the top of the page was taken from a second floor window. The servants lived on the third floor. They had a smaller window, but an even better view. The door to that area was closed off, so I couldn't see for myself.
The house appears to be well-maintained. I've been in so many depressing and falling-down buildings of late that it felt good to be in one that had been taken care of.
330 N. Lorimier Photo Gallery
Here's a selection of photos showing the house and the items for sale. Click on any image to make it larger, then click on the left or right side to move through the gallery.