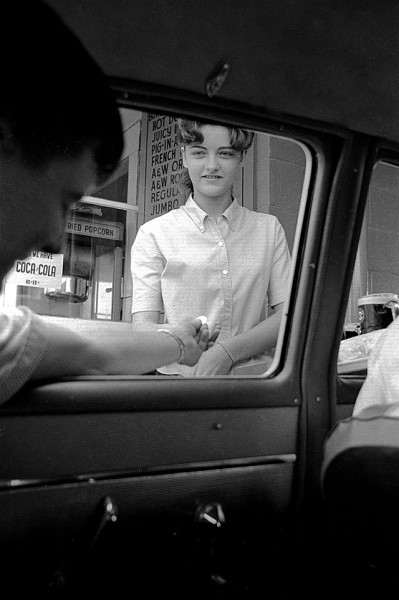 Here's a semi-mystery photo. It was taken at an A&W Root Beer stand, but I'm not sure if it was in Cape or not. It was on the same roll of film as the Barry Goldwater rally in Cairo, but I don't think Cairo had an A&W.
Cape's A&W was on the west side of Hwy 61 just before Arena Park. The fellow handing money to the carhop sorta, kinda looks like Lee Dahringer, but I wouldn't bet the ranch on it.
The A&W wasn't as popular as Wimpy's or Pfisters. Maybe there wasn't as much parking or it wasn't as easy to get in and out of.
A & W Root Beer founded in 1919
A & W's website says Roy Allen sold his first frosty mug of root beer in Lodi, Cal., in 1919. It went over so well that he opened a second stand in Sacramento featuring what is believed to be the country's first drive-in. By 1933, more than 170 franchised outlets were operating in the Midwest and West. By 1950, that had grown to 450. It's still the world's top-selling root beer.