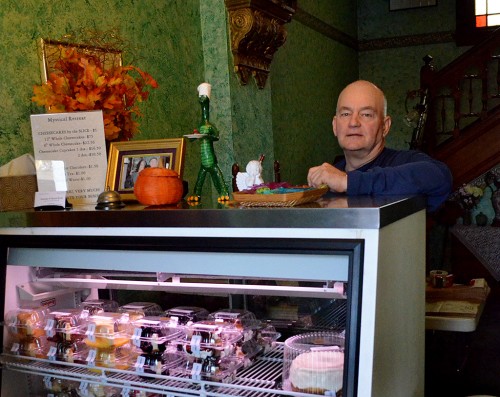 Curator Jessica and I decided to take the old two-lane U.S. 50 from Athens west so she could see what it was like to make the drive in the old days. We saw lots of great old buildings that had been lovingly restored in a lot of towns a shadow of the size of Cape.
I thought I had to do a lot of U-turns when Friend Shari spotted antique shops. I think Jessica and I averaged about 12 miles per hour during the first 75 miles because of stops, meanders and backtracks. Actually, I like that kind of traveling.
World's greatest cheesecakes
I especially liked it when she made me turn around to visit the Cheesecakes at Mystical Retreat ("Possibly the world's greatest cheesecake" said the sign). Co-owner and "Maker, Baker and Taker" Rod Thompson gave us a choice of flavors to sample. I had the Coconut Cream Cheesecake. I thought the $5 per slice price was a bit high until I felt the heft of it and found I could hardly eat half a piece when I got to the motel.
If you go by 107 West Main Street on U.S. 50 in Bainbridge, OH, do a U-turn. It's worth it.
"There's a train!"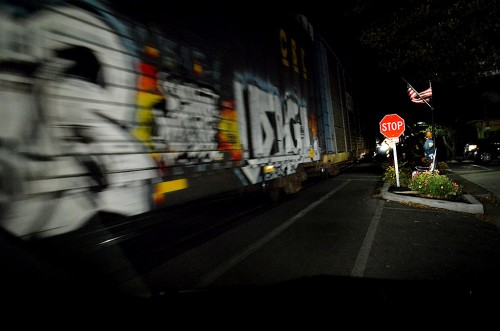 Despite our slow start, we made pretty good time to LaGrange, KY, just east of Louisville. I stayed there on my trip to Ohio last week. We elected to get something to eat and stop early where the rooms are cheaper than going on to Louisville.
She thought she saw a listing for something on Main Street that sounded good. It had changed hands and was closed, so I pulled sort of close to the curb while we both pecked away at keyboards for alternate eating establishments.
Suddenly, Jessica exclaimed, "There's a train right there."
Indeed, she was right. A freight train was passing uncomfortably close to my side of the car. Neither one of us had heard it sound a warning. I guess the engineer saw he had plenty of room (by his standards) and didn't bother. While we were waiting, we saw the flashing lights of some emergency vehicles delayed by the train. I hope somebody's house didn't burn down because of the wait.
It made me think of a recent Facebook thread about the Missouri Pacific (previously Houck) railroad tracks that ran down Independence in the old days. It was quite a shock to new drivers to look up and see a train coming at them.