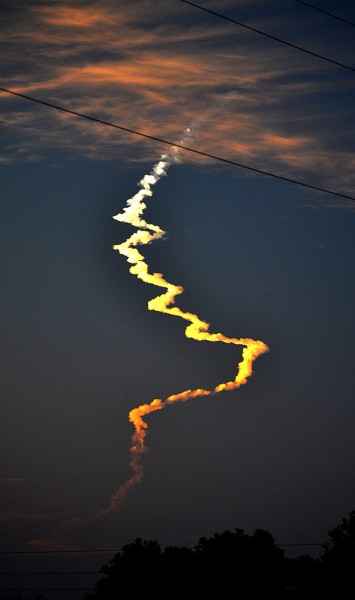 The Road Warriorettes and I had a great day touring Florida. I'll be sharing some of those stories and some neat things we discovered in Georgia in the future. Getting along toward sunset, I said we should take a look for gators at Nubbins Slough on the northeast corner of Lake Okeechobee.
When we got to the top of the dike, we met a pickup truck parked looking east, but didn't think anything of it. Curator Jessica got out to shoot the clouds turning orange on the north side of the lake. When I went to swing the van around to get it out of the road, I froze.
Flashback to January 28, 1986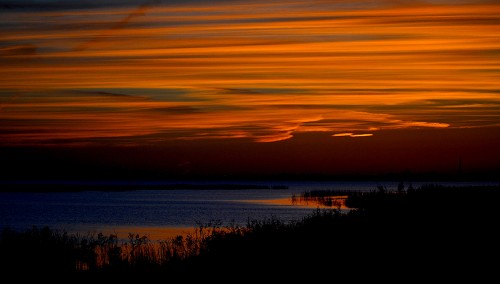 In the rearview mirror, I saw a contrail that brought back that cold morning on January 28, 1986, when I climbed on the roof at The Palm Beach Post to see the corkscrewing smoke left over from the Challenger explosion.
I called Wife Lila in West Palm Beach to ask if she knew if there had been a rocket launch at The Cape. She said one was supposed to have gone off at 8:03, but she didn't know if it had any problems.
My photo was taken at 8:07, assuming the time programmed into my camera was correct.
It wasn't until I got home that I read that a United Launch Alliance Delta 4 rocket carrying a $245 million Global Positioning System satellite was launched into space Friday after a 24-hour weather delay.
Shortly after I turned my attention away from the rocket trail, the sky came alive.
Warriorettes are leaving me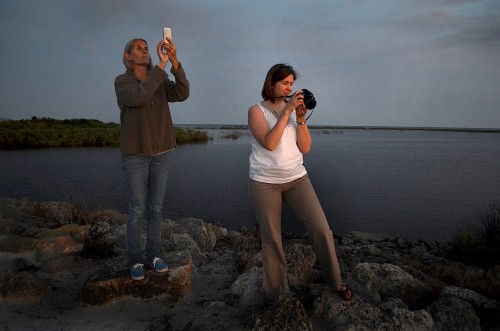 Anne Rodgers, Texan, former newspaper colleague and bike riding partner, is moving back home to Texas early in June. Curator Jessica Cyders, from the Athens Historical Society and Museum, will be heading back to Athens, Ohio, next week to her husband and cat. She hopes that neither has starved to death in her absence.
I hope the pictures they shot at Nubbins Slough this afternoon will bring back fond memories of our meandering.
Y0u can click on the photos to make them larger.