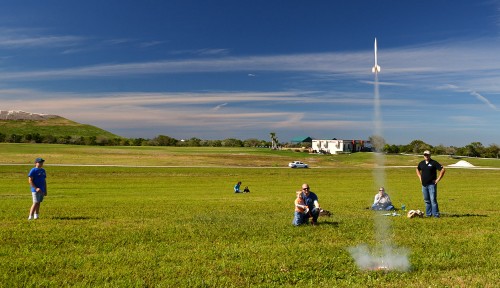 Grandson Malcolm needed to launch some rockets for a school science project. There's something about the possibility of seeing something blow up that is deeply embedded in the Steinhoff genes (check out Dad blowing up a bridge), so Son Matt, Son Adam, Carly, and Grandsons Graham and Elliot assembled on what passes for a hill in South Florida – a landfill that has been turned into Dyer Park. Across-the-street-neighbor Cheyenne came along. She and her sisters practically live at Malcolm's house, so she is almost an honorary Steinhoff by osmosis.
Highest altitude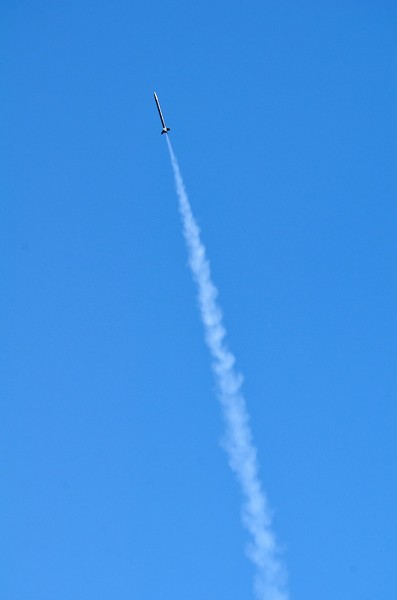 These rockets aren't the cardboard tubes that my buddies and I stuffed with gunpowder: the engines are made to produce consistent results. An Estes A8-3 engine, for example, produces eight seconds of thrust, pauses three seconds, then sends a blast out the other end of the engine to cause the nose cone to come apart, pulling out a parachute.
 Returning to earth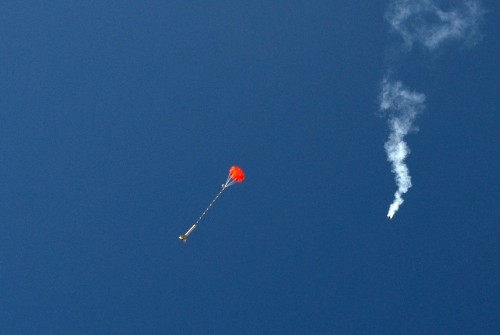 Instead of an old-time fuse you lit with a match, these have electrical igniters to set off the explosives. That's where I came in. When I climbed to the top of the hill, I found the launch team deep in contemplation after several failed launch attempts.
When they said they had run connectivity tests to make sure there was loop current, I suggested that there might be juice present, just not enough. Of course, there was no spare battery.
Then it came to me that I had left a camera bag in the van that contained 9-volt batteries for my wireless mike. That solved the problem. I refrained from swaggering up and growling, "Failure is NOT an option."
The white smoke in this photo was caused by a burning piece of wadded-up paper towel that served as wadding to protect the parachute when the backblast blew off the nosecone.
Recovery team in action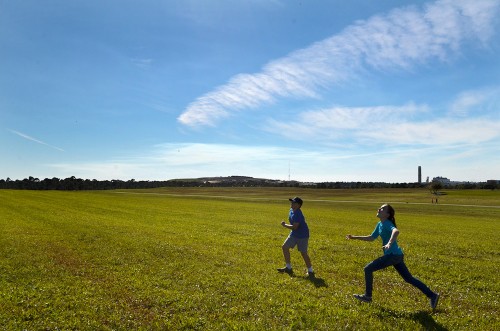 Malcolm and Cheyenne race to recover the falling rocket. Well, Cheyenne races to recover the rocket.
Malcolm isn't the kind of guy who feels the need to demonstrate his alpha maleness if it involves the exertion of energy. That's another Steinhoff trait.
Wife Lila informed me that Malcolm isn't loafing: he's conserving his energy for a soccer match. He didn't want to take a chance on pulling a hamtwitchit or whatever it is that causes athletes to get carried off the field.
Another Cheyenne capture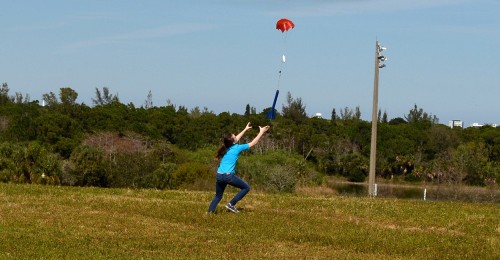 That gal has serious wheels. She was great at getting under the rockets.
Record the results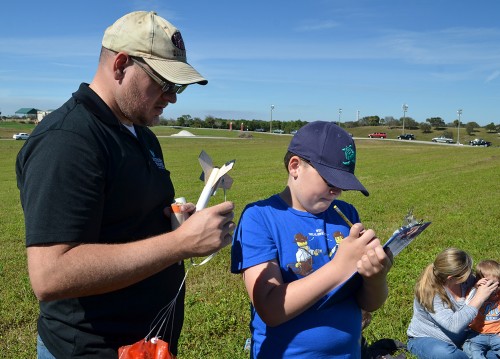 After each launch, Malcolm would write down the stats recorded by a gizmo that blasted into space inside the rocket. It tracked all kinds of variables.
For example, I'm pretty sure it was the rocket on the pad in the photo below that set the record for the day: 264 feet altitude; 83 mph top speed; 26.3 seconds of flight time.
Busted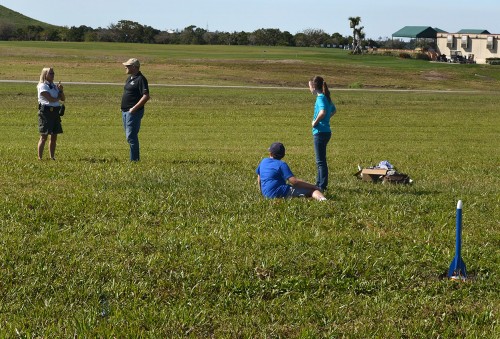 I saw a park ranger car pull over at the bottom of the hill. Somehow or another, I got the feeling that the ranger wasn't there to enjoy the launch event.
Sure enough, a very nice woman ranger came up and said that rocket launches weren't allowed in the park "because the air space over the park" was controlled by a model radio-controlled club on another hill a tenth of a mile away.
Matt explained the science fair project and said they needed to do three launches of three different rockets to get the results Malcolm needed, and there were just two more to go, with one rocket ready on the pad.
Go for launch, then get gone
She said to go for launch on the last two, then get out of there.
After it was over, Matt said he had checked to make sure the FAA wouldn't have problems with the location and altitudes, but he never thought they would run into a problem with "controlled air space" in a park sitting on top of gigatons of garbage.