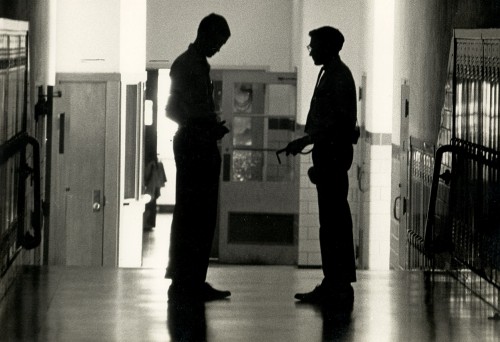 I've been going through a box of old and fading photographs. Most of them are forgettable, but there were two shots that just happened to have been taken in the same general area, and they have in them someone I haven't seen in the mirror in many years.
The character on the right is me. I think the shadow on the left might be Jim Stone, but there's also a chance the silhouette might belong to Steve Folsom. Bill Hampton's name was stamped on the back of the print, so I'm going to guess what happened.
The object dangling from my left hand is the power cord to a Honeywell Strobonar 65D strobe. I probably unhooked the flash, handed the camera to Bill and said, "Why don't you try shooting a silhouette of us?"
We're in the hallway leading to the west parking lot. The music department is down the steps, and a ticket booth is the little outcropping on the left. There was also a phone booth down there, on the far side of the ticket booth, I'm pretty sure. (More about the phone booth in a minute.)
Pretending to buy a ticket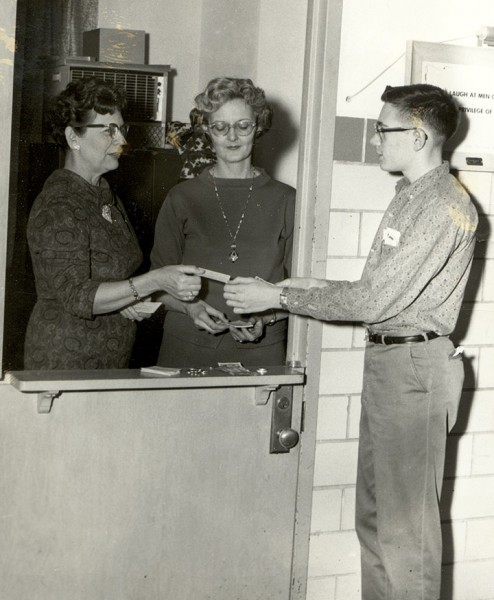 I don't know why I was pretending to buy a ticket from these women. I also don't know who they are, so I can't apologize to them for not washing the print long enough to keep fingerprints and brown spots from showing up.
Confession of a no longer young man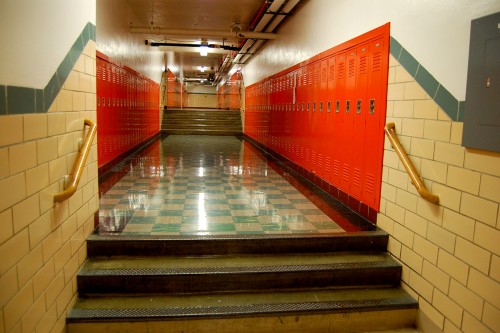 I mentioned the phone booth earlier. I debated telling this story because it shows a little bit about how the teenage boy's mind works, and it's not always pretty.
I was standing at a discreet distance from the booth waiting for the person inside it to finish a call. When the door opened, a cute girl that I knew only slightly because she had dated a buddy stepped out, visibly distraught.
I asked if something was the matter, and she jumped into my arms and held on like a drowning person clutching a life preserver. I don't remember the details, but I think she said she had just gotten some bad news about a family member. As I was trying to come up with something comforting to say, I felt some claws grab into my left shoulder and heard my Evil Angel whispering in my ear, "She's vulnerable. She is REALLY vulnerable. You could take advantage of that."
Oh, no, here come the Good Angel
Before I could react to that advice, there was a flutter of wings on my Good Angel landed on the other shoulder. "That would be wrong, and you know it," he whispered in my ear. "Your Mother taught you better than that."
I extracted myself from the young woman's grasp, we chatted for a few minutes while she calmed down, she declined my offer of a ride home, and she walked up these steps and down the hallway. I don't know that I ever talked to her again.
Just as I was congratulating myself for doing The Right Thing, I heard my Good Angel say to the Bad Angel, "You know, you're right. She looks pretty darned good from this side, too."
Funny how things like that will pop into your head when you walk the halls of your old high school. (You have to admit the old building has really been well maintained. I think the walls and floors are shinier now than they were in 1965.)