I'm going to go out on a limb here and say that this is Al Spradling, Jr., commonly known around Cape as Senator. Spradling was the youngest person to be elected to the Missouri Senate in 1952, when he was 31. He retired from the Senate in 1977, after a 25-year career. He championed mental health programs and helped pass the state's open meetings law.
He died in 2004 at 84. The Missourian's obituary contains some interesting tidbits about Al Spradling Jr. that I didn't know.
Al Spradling III
Al was in the class of '65. It was a scary thing when I heard that he was actually Mayor of Cape Girardeau. People you grew up with don't have any business running towns and the country. There are more photos of Al III (I don't recall anybody ever calling him that in high school) in some negatives Jim Stone had squirreled away.
Al Spradling III and Andy McLean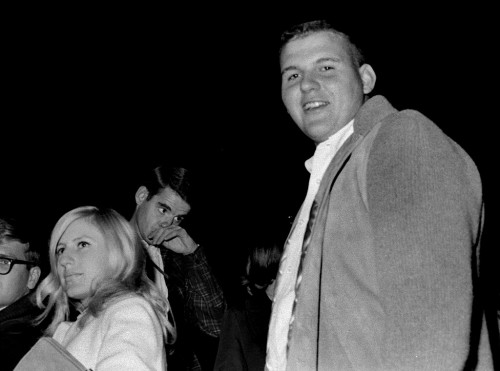 I shot this photo of Al Spradling III at some event at SEMO, probably a football game. The fellow with his hand brushing his nose is Andy McLean, the best man at my wedding in 1969. I met Andy, another photographer, at SEMO. We ran around together until I transferred to Ohio University.
Sometime in the 80s, long before Google, the newspaper bought a collection of CD-ROMS that had telephone numbers for everybody in the country on them. Of course, we all spent time in the newspaper morgue (that's what we called the library before political correctness) looking up old friends and relatives.
When I got a chance, I searched for Andy, who had lived in the St. Louis area.
"May I speak with Andy McLean?"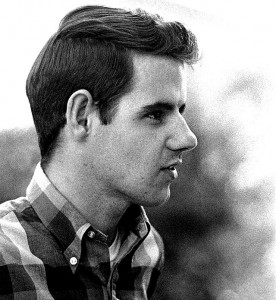 "Hello," I said. "May I speak with Andy McLean?"
"He's dead," a male voice on the other end of the line said matter-of-factly.
Somewhat taken aback, I stumbled on. "The Andy McLean I'm looking for was the best man at my wedding in 1969. I got a letter saying he had been drafted, then nothing else. Are we talking about the same one."
"OK, I'm not dead." Andy McLean fessed up. "You'd be amazed at how that cuts down on telemarketing calls."
Now that I think of it, that was the last time we talked. I guess I should see if he's still Not Dead the next time I visit Bro Mark in St. Louis.