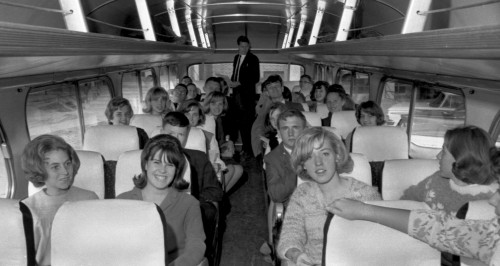 I see debate coach Calvin Chapman counting heads or checking for stowaways or whatever activity advisors did when they had a bus full of students heading out for mischief.
Looks alike most of these students are from the Class of 1966; I don't recognize anyone as being from the Class of '65.
Headed back to Cape
If I get van back from the repair shop tomorrow, I'll hit the road to another visit to Cape. It's a little early for a return, but I have three or four projects to work on before Fall. I'll fill you in when things firm up a bit.
So, things may be a little light for the next few days. I won't have Mother with me on this road trip, so I won't have an excuse to stop for Elvis or Abe Lincoln or any of the things we saw in April.