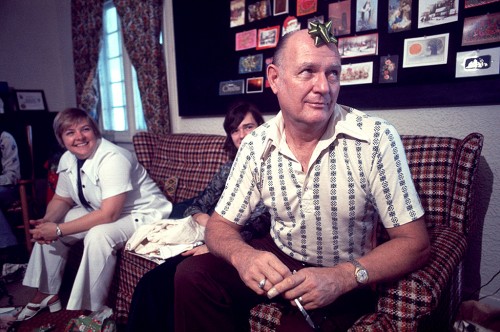 I pulled a few slides at random from some slide trays I had just put into sleeves. None of the pictures are particularly significant, but they all brought back memories from 1961 when most of them were taken. This was an exception. It was taken in West Palm Beach at Christmastime 1973. That's Wife Lila, Brother Mark and Dad on the couch. (You can click on the photos to make them larger.)
A couple of things catch my eye. The ring on Dad's right hand belonged to my grandfather, Roy Welch. My grandmother, Elsie Adkins Welch, kept telling him that some of the help was tapping the till in their Advance inn and tavern. Roy, who always thought the best of everyone, said that was impossible – he'd notice it. So, over a period of time, she'd dip into the cash register when he wasn't looking. Eventually, she had siphoned off enough to buy him that ring. When my grandfather died, Grandmother gave Dad the ring.
Ring passed down to me
When Dad died in 1977, Mother passed it on to me. When it's time, Son Matt will get it. (Son Adam will get my Palm Beach Post 20-Year Rolex.) I don't look down at my right hand without thinking of Dad and Grandfather. I hope Matt and Grandson Malcolm will carry on the tradition.
When Lila and I got married, we were furniture poor. Our second domicile was a huge basement apartment with a living room that had little in it except a couple of twin bed mattresses that Lila had covered with corduroy material. They served as a place to sit and a place for overnight guests to sleep. After Mother and Dad paid us their first visit, Dad handed me a check and said, "Please, buy something for us to sleep on before we come back." The couch / sleeper bed came from that check.
Comic books and watermelon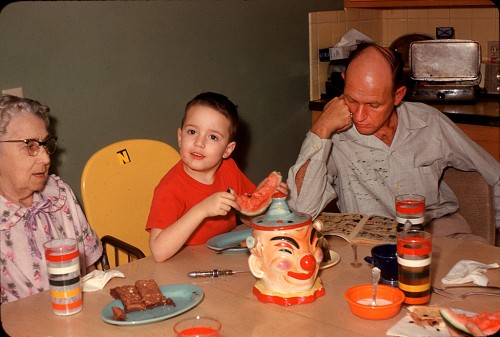 I learned to read from comic books. Dad would pick one up from time to time. His favorite was Scrooge McDuck. I can't quite see which one he's reading here at the kitchen table.
The slide had "Winter Watermelon March 1961" on it. That's my grandmother on the left. Mark is making short work of the melon. (We shot a lot of pictures of him at that age because we weren't sure how long he'd be cute.)
The clown cookie jar is still kicking around. I'm not sure, but those glasses may have been giveaways from a service station promotion from the days when you actually got service and not just gas. The sandwich toaster is open on the counter, so that probably means we had barbecue sandwiches. Desert was always a big deal at our house. That's why you can see watermelon, brownies and a bowl that probably contained ice cream.
Dad was a smoker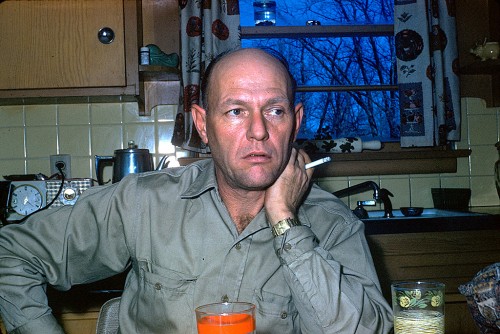 Dad looks tired in this shot. It was hard to shoot a picture of him without a cigarette in his hand.
I think it was New Year's Day my sophomore year that Dad chewed me out for staying out late the night before. In the days before I worked for Missourian, it was understood that I would be home at what they considered a reasonable hour. I wasn't THAT late, so I was surprised that Dad jumped me.
A few weeks later, he explained. At midnight that New Year's Eve, he had tossed all his cigarettes in the fireplace and had quit smoking cold turkey. He didn't tell anyone until he was sure that he could do it. I remember him saying that it was easier than he thought it would be. "I got to the point where I was disgusted with myself. I'd have one cigarette smouldering in the ashtray, have one in my mouth and be pulling out a new one to light. I got tired of burning holes in my clothes. It was time."
As far as I know, he never took another puff. It sure made it a lot harder to buy him a present, though. I new pipe or some smoking paraphernalia was always a fall-back gift.
Napping in my room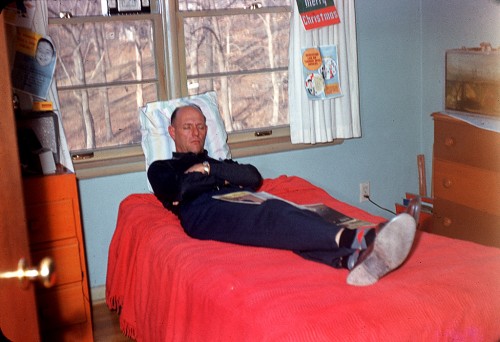 One thing I inherited from Dad was an appreciation for a good nap. Here he is nodding off my my bedroom.
There are some interesting memory touchstones here, too. Hanging from the curtains are motivational flyers The Missourian would put on our bundles of papers. Cynical even at our young age, we carriers called them "sucker sheets" and wondered why they couldn't take the money they spent on the flyers and pay us a little more.
The black object on the top of the window is a barometer that belonged to my grandfather. I still have it on our mantle here. Just over the top of Dad's toe, over in the corner, is a magazine rack with my initials on it that he built in his basement workshop. I still have it and a set of bookends he made for me. Mother has taken over this room for her bedroom. She likes to be able to sit and look out the window while playing with her iPad.
Missourian Achievement Edition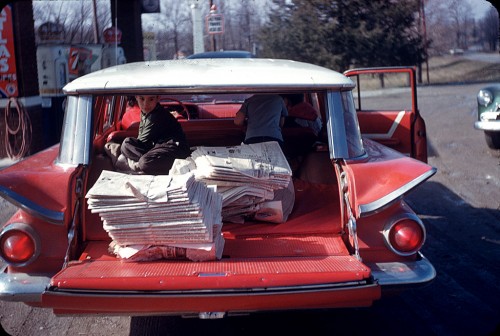 We paperboys hated The Missourian's Achievement Edition, the biggest paper of the year. Looks like Mother came to pick me up at the station where the truck dropped of my papers. That's Brother David on the left; Mark's on the right. I can't make out who the front seat passenger is.
Dad was working some jobs around Cape during the last year or so I was a carrier. He'd help me roll my papers, then we'd head off in either the station wagon or his pickup. Once he got to know my route, we made it a game to see how quickly we could get all the papers delivered. If it hadn't been for half a dozen or so customers who insisted their papers be put on their front doors, I swear that the first paper would still have been in the air when I threw the last house.
Earlier stories about Dad