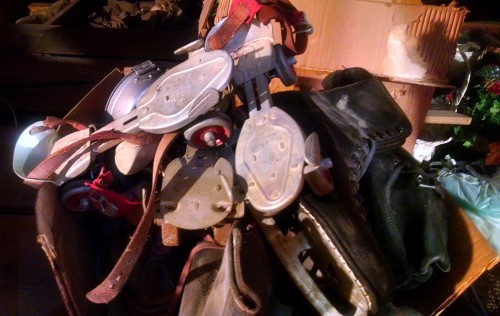 I took advantage of a relatively cool day to venture up into the attic. Brothers Mark and David are coming to town the week of September 20 to, as Mark euphemistically puts it, "declutter the house."
I'm going to ease off a few days to give me more time to root through and set aside stuff that I think has sentimental or historical value. It's hard to realize, but this'll be the last chance I'll have to do that.
We're not putting the house on the market until the spring unless something changes, so, except for a couple of quick trips back to Florida, I'll be in Cape for the duration. When the house sells, it'll probably mark the end of my Cape chapter, and maybe my Cape book.
Bring your own skate key
I'll be posting more photos of treasures like these as we come upon them. Niece Laurie Everett of Annie Laurie's Antique Shop is going to work with us, so you will have lots of opportunities to own some Steinhoff Originals.
You will need to find your own skate key, unfortunately. I didn't see one in the box.