In another of an infrequent series of posts about how living in Florida in the wintertime isn't bad, I invite you to a birthday party for Son Adam and Wife Carly's boys this weekend. Both of them have birthdays in February – Graham is 4 and Elliot is 2 – so they have a combined party for now.
Back up to September: Wife Lila's niece, Laurie Everett of Annie Laurie's Antique Shop fame, had a toy tractor that had come in from an estate sale. Lila said I should pick it up for the boys and haul it 1100 miles back to West Palm Beach.
Tractor made it to Florida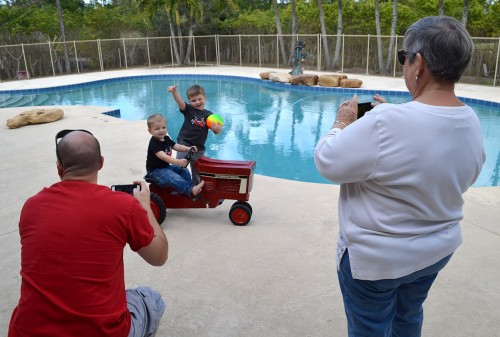 We decided that Christmas had so much going on that we'd hold the tractor until Birthday Season. It was well received.
Is this a good idea?
Graham was all about the bounce house, but he wasn't convinced that going down the slide was a good idea. I remember that feeling the first time I climbed onto the high dive at the Capaha Park Pool.
Dad comes to the rescue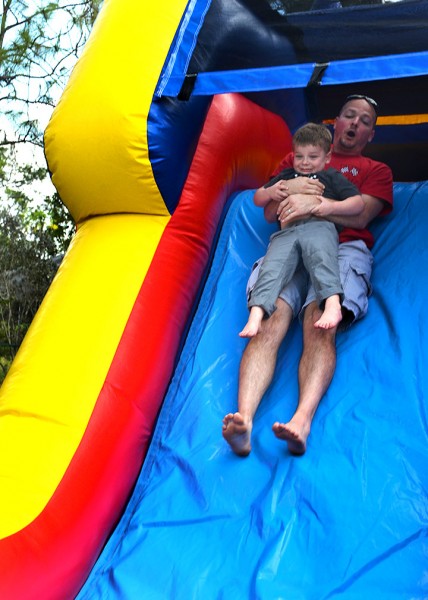 Dad Adam was a little more sympathetic than the pool lifeguard who growled, "Kid, those are one-way steps. There's only one way back, and that's off the end of the board."
Graham remained unconvinced. He's going to be the conservative kid in the family. I remember him complaining at last year's party "That music is too loud."
I'm alive to see 5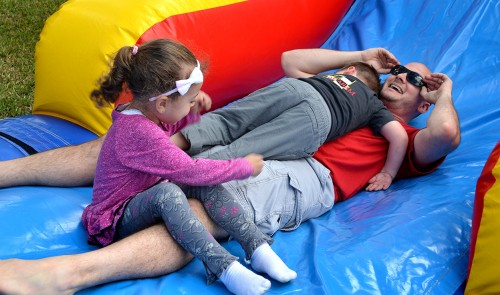 THERE'S a kid who is limp with relief that the experience is over and there's a chance he'll be alive to see his fifth birthday.
Here's trouble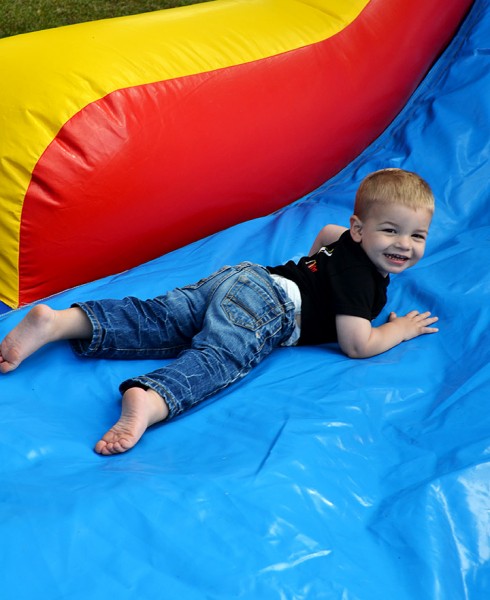 Elliot is going to be the one who, like his dad, will try anything at least once. As soon as he figured out how to climb up to the top of the slide, he was beating feet to do it again and again.
A gift of love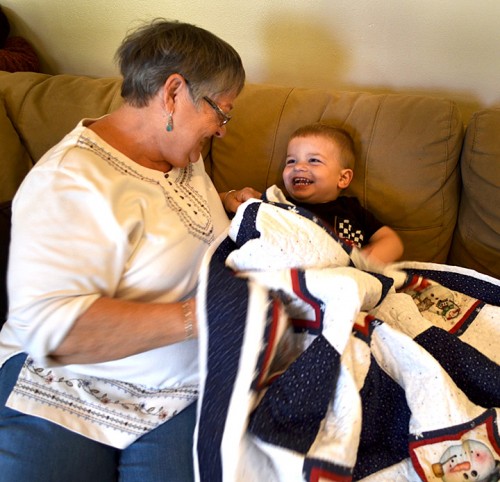 Lila is a quilter. Not one of those machine quilters, but an real old-time hand quilter. She made a snowman quilt for Matt and Sarah's Malcolm, and a similar one for Graham.
She presented Elliot's to him today. When you are two, it's probably not as cool as a tractor, but he'll appreciate it over the years.
Graham and Elliot are expecting a brother to come along in a couple of months, so Lila better get busy.
Graham with his quilt
Graham knew right where to find his quilt in his bedroom. (You can click on the photos to make them larger.)