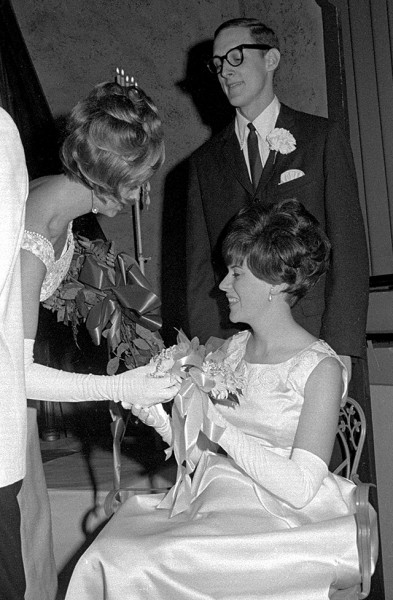 This has to rank as one of the three worst queen crownings I ever shot. When two out of three of the main players have their eyes closed and you can't even SEE the eyes of the third person, then you should hang it up.
The April 10, 1967, Missourian caption under this photo said Mrs. Steven (Janet Brasier) Curtis, daughter of Mr. and Mrs. Kenneth E. Braiser of Robertsville, is pictured as she was crowned Sagamore Queen in festivities Saturday evening at the annual Sagamore Ball held at the Arena Building. Officiating at the coronation was, at left, Miss Sandra DeClue, daughter of Mr. and Mrs. Thomas DeClue of Hazelwood. Miss DeClue has been editor this year and last of the Sagamore, college yearbook, in which Mrs. Curtis will be featured. At right is the queen's escort, her husband.
Convoluted Missourian style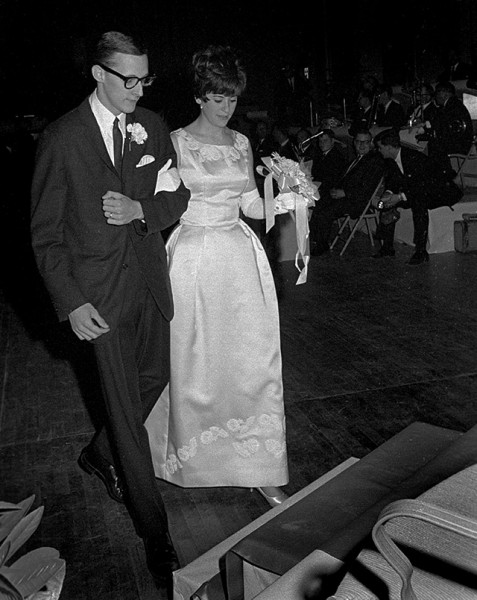 Married women usually didn't didn't have first names in The Missourian: they were always Mrs. Steven Curtis, never Janet Curtis. I'm sure it threw the society editor for a loop when she had to figure out what to call a married college woman. Even as a married woman, she was still identified as the daughter of Mr. and Mrs. so-and-so. Notice that her husband didn't have his lineage traced.
The shot of them approaching the steps is a nicer picture, but I guess you had to have the actual moment of coronation.
Photographer usually tipped off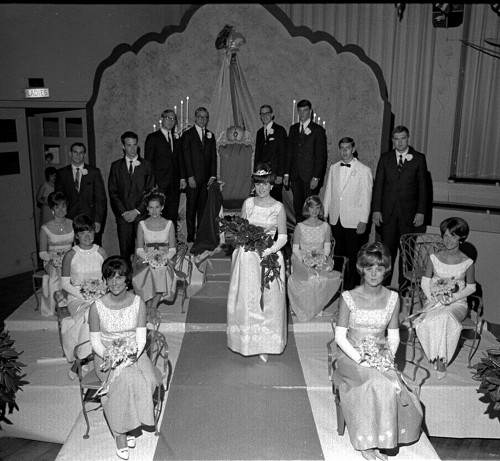 Someone generally came up to the photographer in advance to let him know who the winner was going to be so we could be in the right place. We had to do it without being obvious. In this case, I wonder if I didn't get the advance warning. That would be odd, because I shot for both The Sagamore and The Capaha Arrow while I was working at The Missourian.
Women with crowns