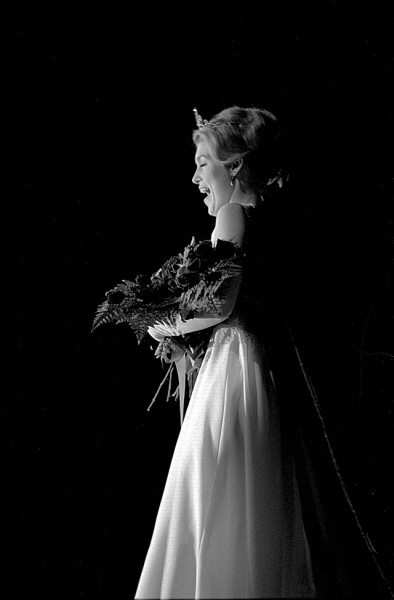 Miss Judy Mullins, a State College senior won the 1967 Miss Cape Girardeau title, The Missourian reported May 6, 1967.
Shoving modesty aside, I'll have to mention the headline that ran directly beneath the Miss Cape piece: "Missourian Named Best Daily Newspaper in State." Some kid named Kenneth L. Steinhoff won first places in News and Feature Photography, a second place in Sports Photography and two honorable mentions to help the paper score the points needed to capture the overall award.
Judy led from the very start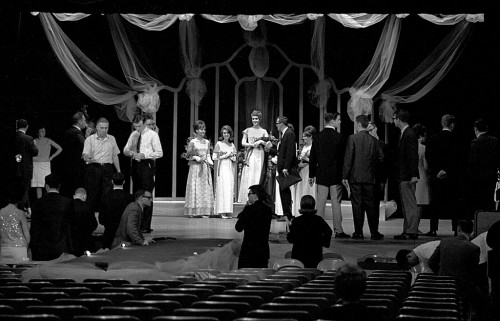 She was selected over 10 other contestants.
"Judges said Miss Mullins began gaining points at the very beginning during evening gown competition. They said her poise and posture came through strongly.  Next, in swimsuit competition, Miss Mullins appearance again won her even more points, judges said. They judged her first in that." [Where was I for the swimsuit competition?]
Did pantomime dance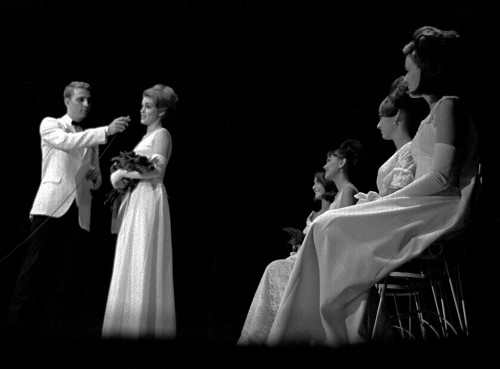 "Following swimsuits, Miss Mullins did a pantomime [The Missourian spelled it "pantomine] dance in talent competition. And after becoming a finalist, she was questioned on her role in a recent College Theater production "Anything Goes."
"'Give us some idea of the work that went into that production,' said Master of Ceremonies Jim Walling.
"Miss Mullins, whose measurements are 35-23-34, is the daughter of Mr. And Mrs. Russell M. Mullins, Jr., Farmington."
I like the sidelines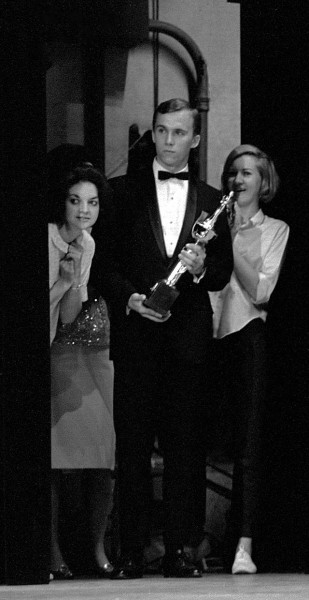 Very seldom did my favorite photos make the newspaper, which, for some silly idea, wanted "news" photos. I liked stuff like the folks watching from the curtains. If you were in tight with the contest officials, you might get tipped off who the winner was going to be so you could be in the right position.
I put coronations and weddings in the same class: these are things you do NOT want to screw up. Brides and queens aren't forgiving if you botch their big day.
Official newspaper photo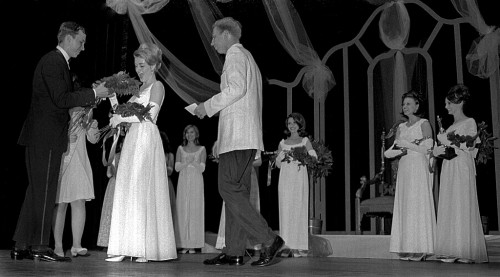 Here's the photo that ran in the paper.
Miss Judy Mullins of Farmington, the first Miss Cape Girardeau, accepts a bouquet of roses from John Heskett at her coronation Friday night in Academic Hall Auditorium at State College. Jim Walling, master of ceremonies, is at right. Miss Cape Girardeau candidates pictured are, from left, Miss Jean Siemers of Cape Girardeau, Miss Mary Ann Rice of Fredericktown, Miss Vickie Boren and Miss Tana Austin of Cape Girardeau.
The court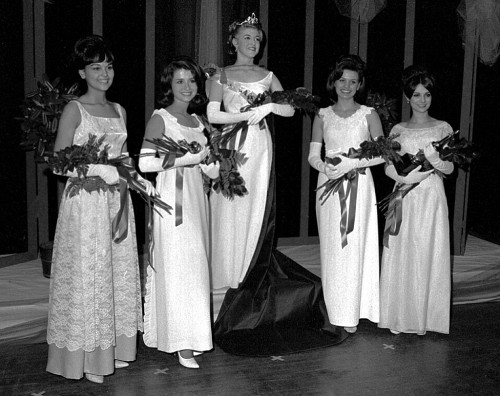 "First runner-up Miss Mary Ann Rice, a state college freshman, won the talent competition. The Fredericktown co-ed sang "One Kiss." Miss Rice recently was selected Miss Beautiful in the 1967 Miss Beautiful-Ugly Man contest as State College. She is the daughter of B.G. Rice.
"Miss Vicki Boren, daughter of Mr. and Mrs. Leo Boren, 1747 Oakley, is a senior at Central High School. She sang a number from Central High's recent production of 'Bye Bye Birdie.'
"Miss Kathryn Slinkard is a freshman at State College. The daughter of Mr. and Mrs. Dennis Slinkard, she sang a French medley."
Tana Austin was Miss Congeniality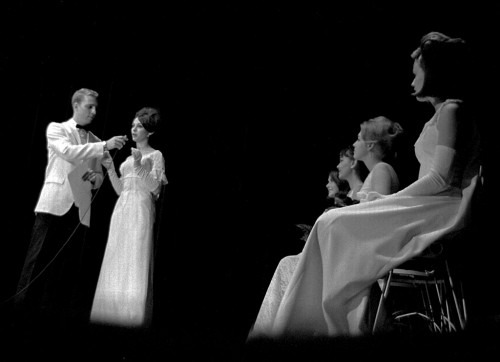 "Miss Tana Austin not only was chosen for the queen court but was also selected as Miss Congeniality. The daughter of Mrs. Opal Austin is a sophomore at State college and sang in talent competition.
"Other contestants were Miss Linda Young, State College sophomore from Little Rock, Ark.; Miss Rosemary Young, Central High School senior; Miss Jean Siemers, State College freshman.
"The 5-foot, four-inch blonde from Farmington will now represent Cape Girardeau in the Miss Missouri Pageant at Springfield this summer.

"Miss Mullins won a $250 scholarship, $100 in cash, a complete wardrobe and an expense-paid trip to Springfield."

How much longer do we have to stick around?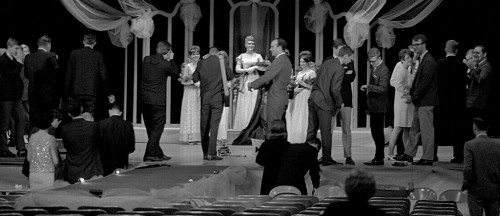 I can identify with the guys on the right side of the stage checking their watches.
Photo Gallery of Miss Cape Girardeau contest
Click on any picture to make it larger, then click on the left or right side of the image to move through the gallery.