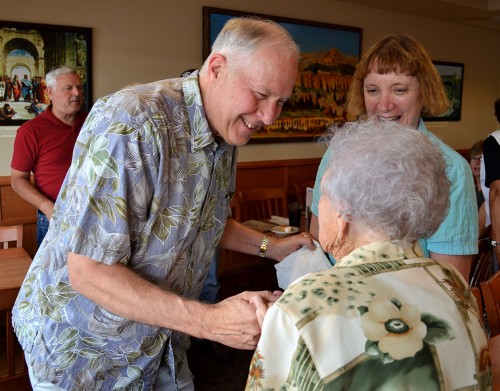 I hadn't planned to go to the Class of '66 lunch when I was in town. I had too much going on, the '66ers are young whippersnappers, and the affair was being held at a place where I swore I'd never spend another penny after two bad experiences.
Then, I got this Facebook post from Jane McKeown Neumeyer: Ken, ask your Mom if she would like to be my guest at Monday's Class of 66 Luncheon. I could swing by to pick her up. She is definitely an honorable member and more honorable than most of us. If not, maybe, you could drop by with your Mom during lunch sometime so that those of us who only know her through your blog could meet her. Oh, and we could see you, too. LOL!
Marilyn Maevers Miller puts on the pressure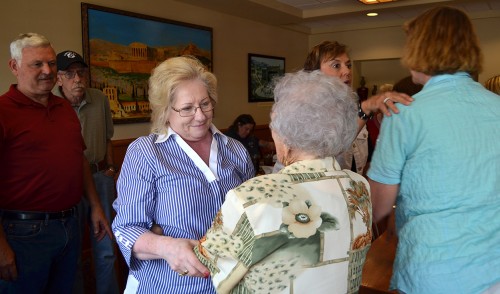 Marilyn Maevers Miller weighed in: Thank you Jane, what a lovely idea!!!! By the way….she is so much fun!!
Wife Lila and Mother went down to Marilyn's joint in Charleston one time and I understand that there was much hooting, hollering, hijinking and hilarity at the meeting. They laughed about it for days.
Marilyn, in the striped outfit, was on her best behavior today so I'd trust Mother to go down to Charleston for another play date.
Sally Wright Metz tugged on her arm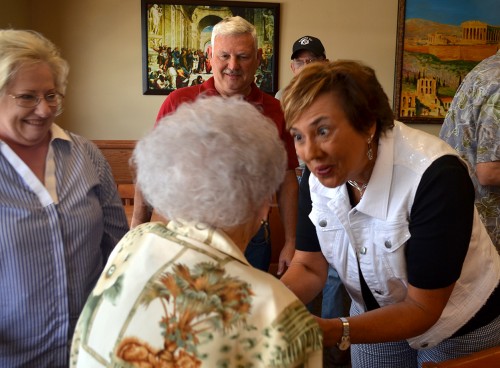 Sally Wright Metz tried to figure out which of Mother's arms was the fake. She gave them both a pull, I think, but they stayed on.
Bob and Dick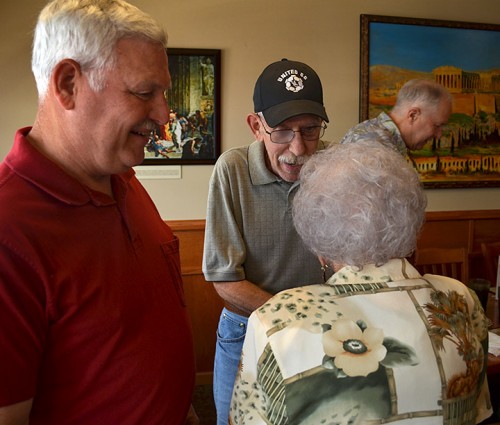 Dick McClard, left, wonders how such a delightful woman could turn out a commie pinko son. Bob White is less judgmental.
Jane wouldn't let go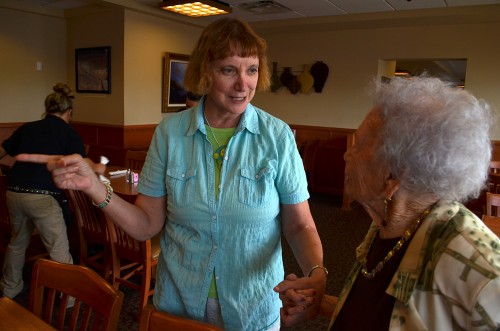 I didn't know if Jane McKeown Neumeyer was pulling a Sally Wright Metz arm check or what, but I didn't think she'd ever let go of Mother's hand. I'm glad she pressured me into bringing Mother, though, she enjoyed the celebrity treatment.
Brune Standard Time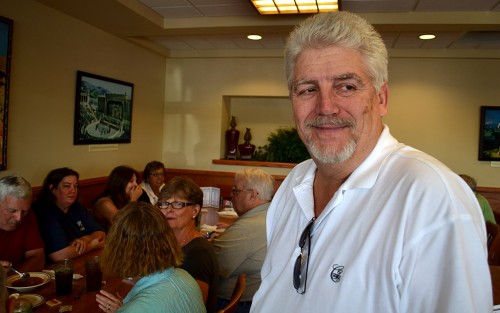 Brad Brune, operating on his normal Brune Standard time, arrived late and after the group photo had been taken. He always likes to make a grand entrance.
The Group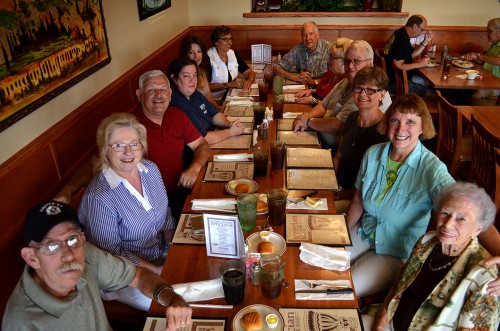 Here are the folks who showed up (minus Brune). It looks like Mother has been accepted into the Class of 1966. I just hope they can keep up with her. (Her October Birthday Season is approaching. She'll be 93.)