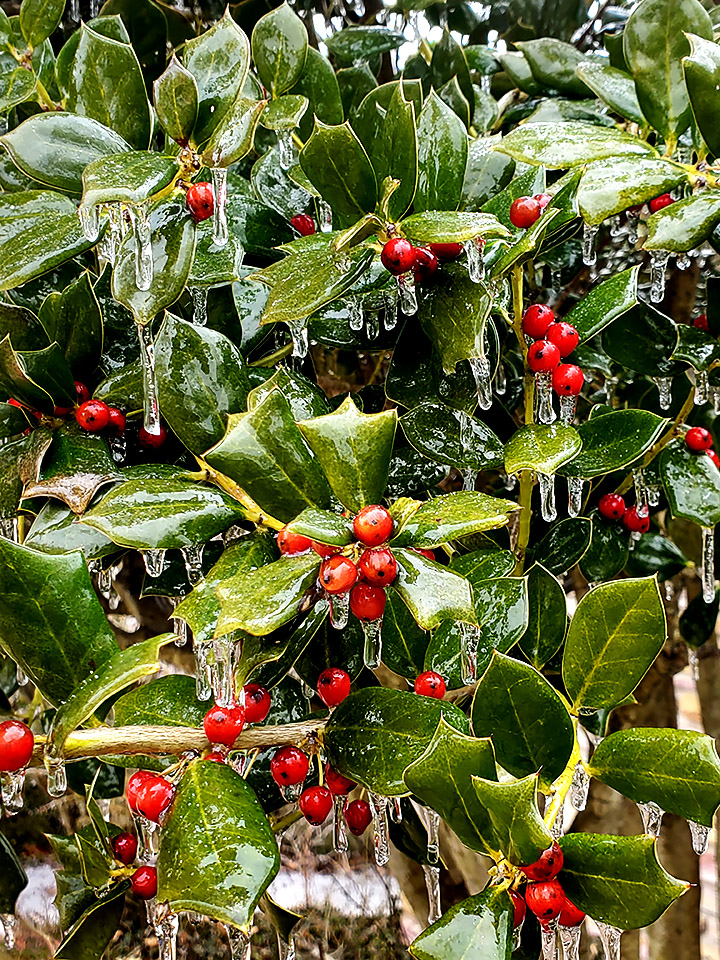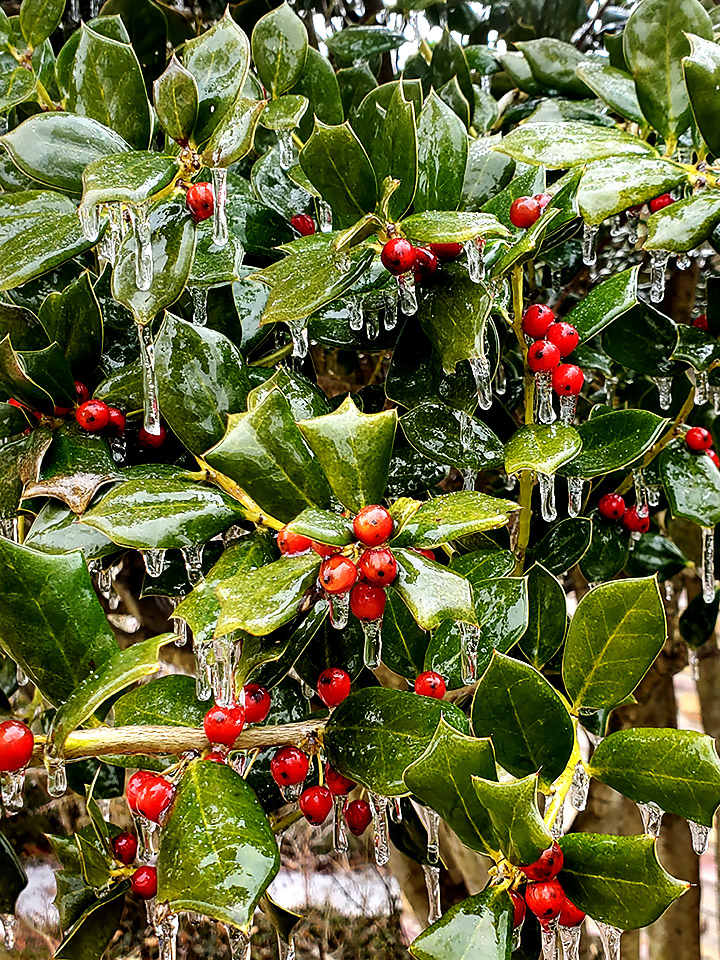 Weather forecasts for SE Missouri had something for everyone in a week's time. We had warm temps, single-digit temps, 4 inches of rain, thundersleet, freezing rain and snow.
There were reports of trees down and power outages scattered all around, but 1618 Kingsway dodged a big bullet (so far). Trees and bushes got a beautiful decoration of ice, but wind that could have caused serious problems didn't materialize.
Frozen flag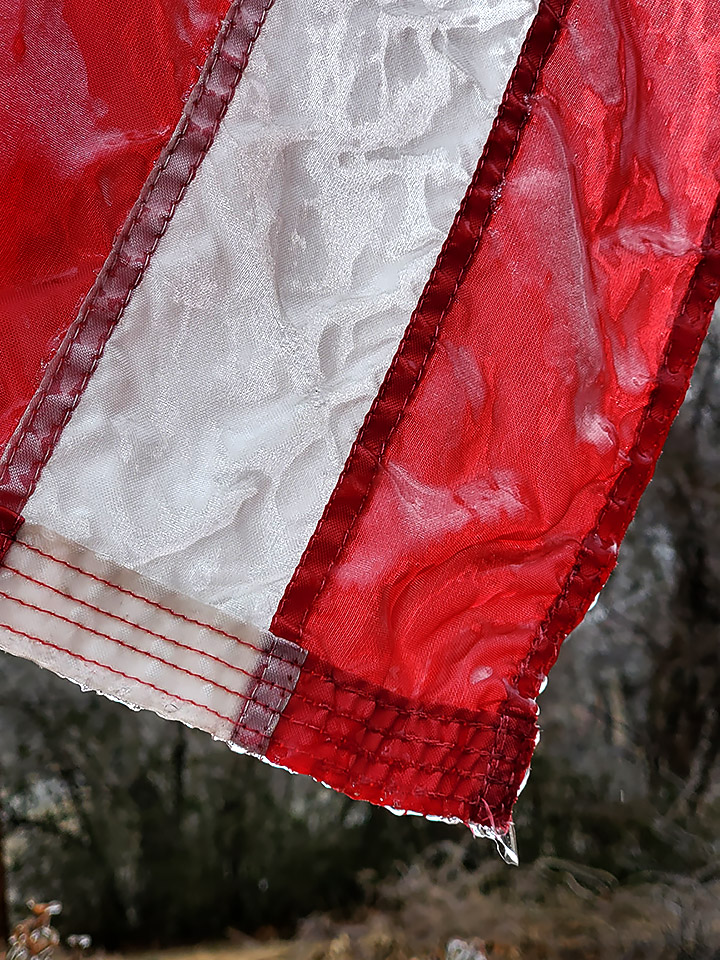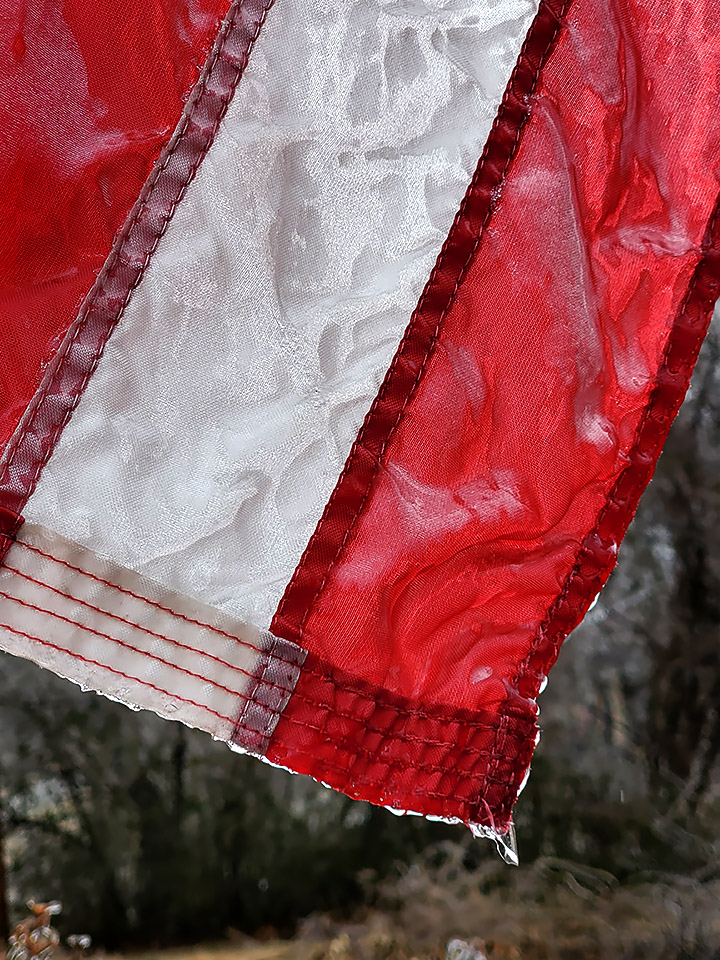 When I looked out the front window the night the rain was freezing, I was surprised to see my American flag looking like it had been starched, then ironed flat. It was frozen into a solid sheet.
By the next morning, it was still mostly frozen, but there had been enough wind to create cracks in the coating.
The only casualty (so far)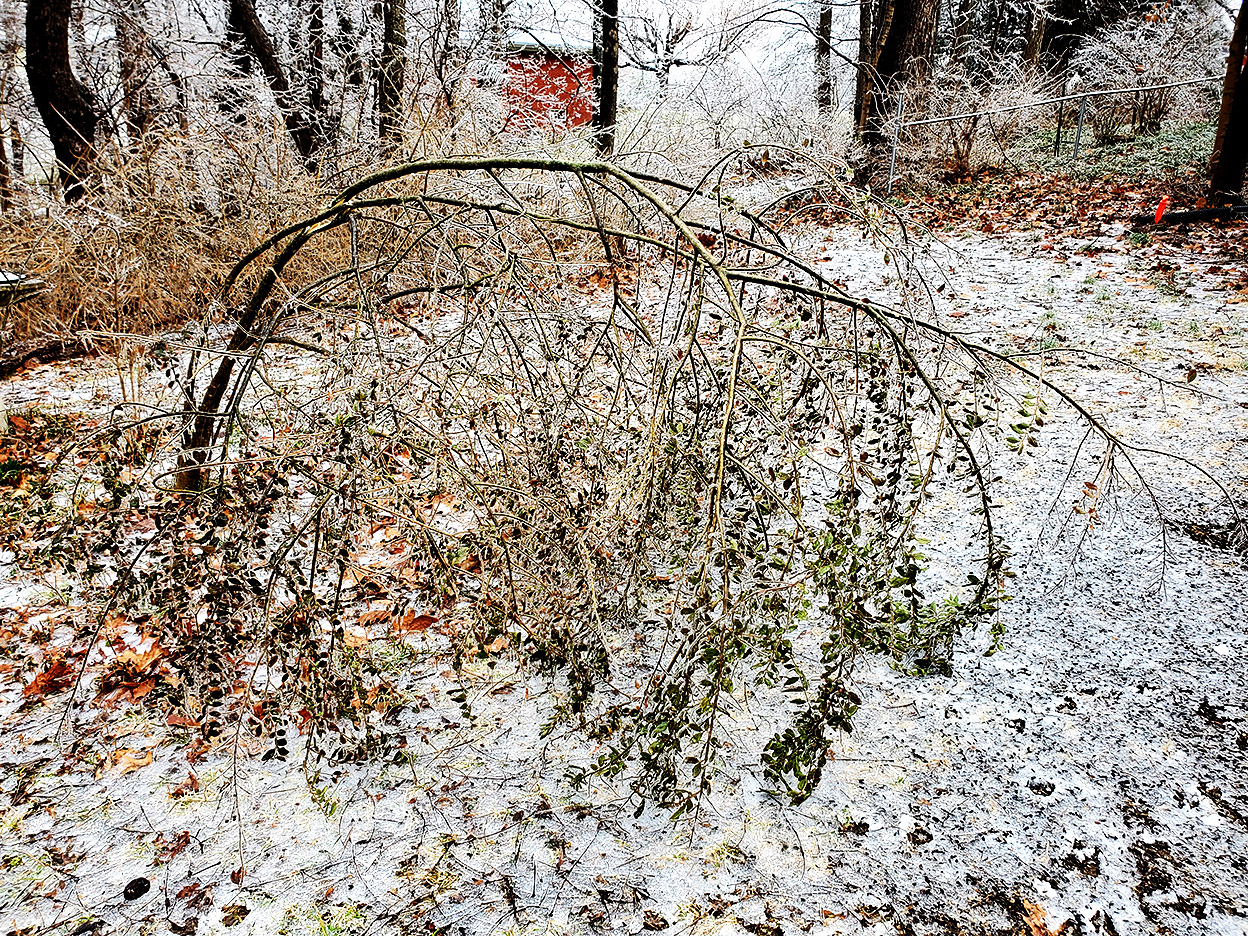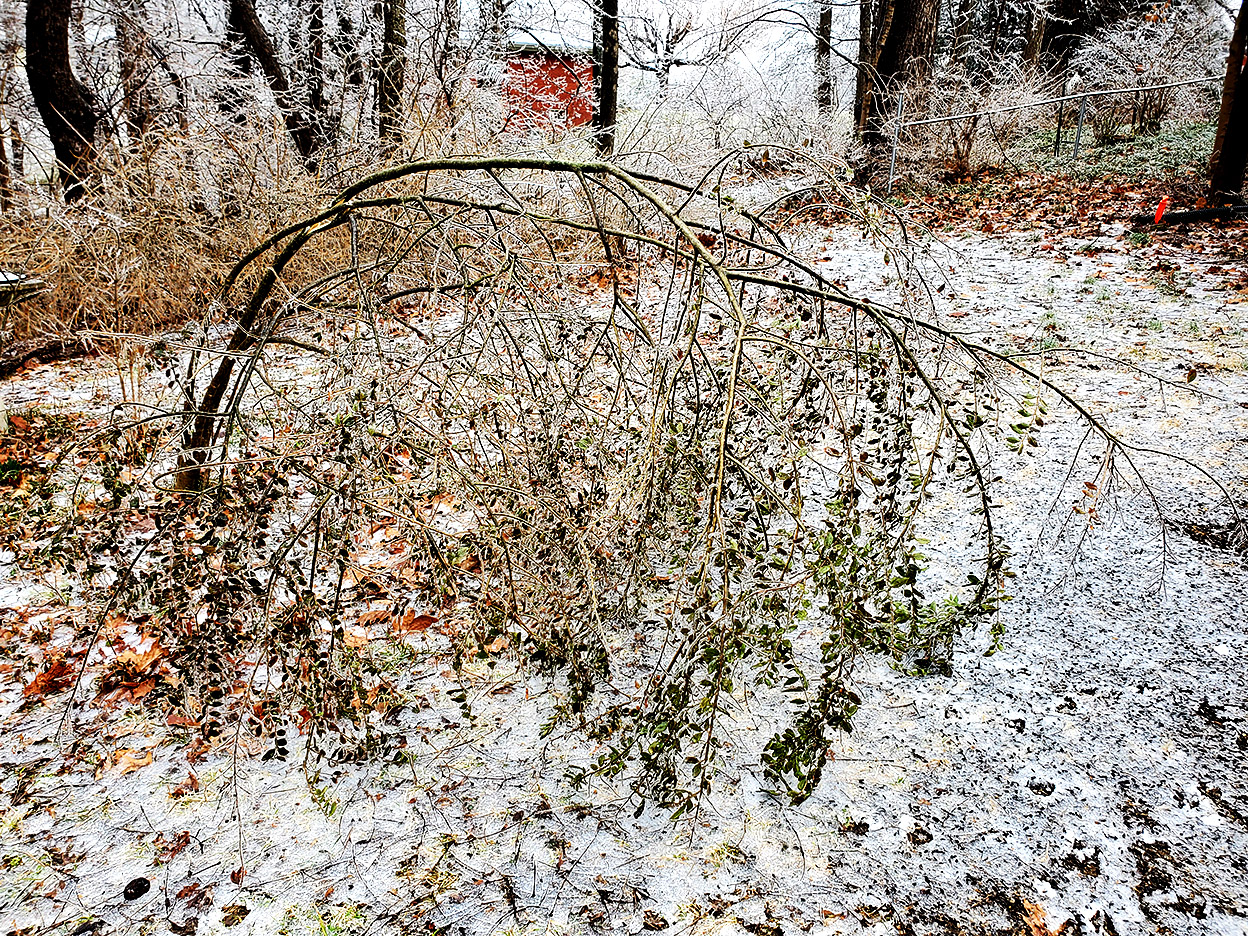 I did a quick walkaround and saw a few small branches down, but this bent-over bush with the split trunk may have been the only fatality.
Still, though, the temps will be below freezing for another day, so there may be other trees and bushes that'll crack under the continued strain.
Green covered with ice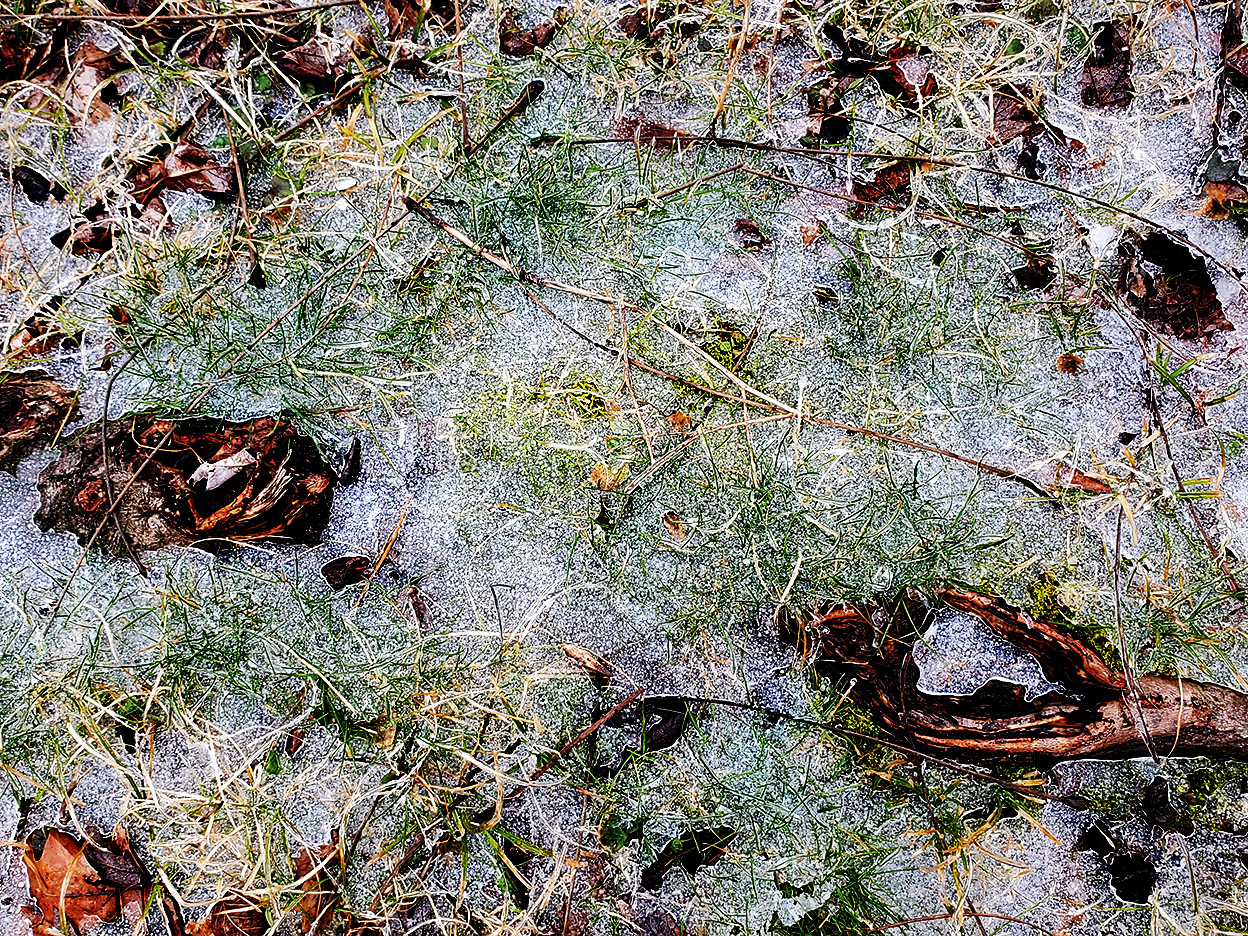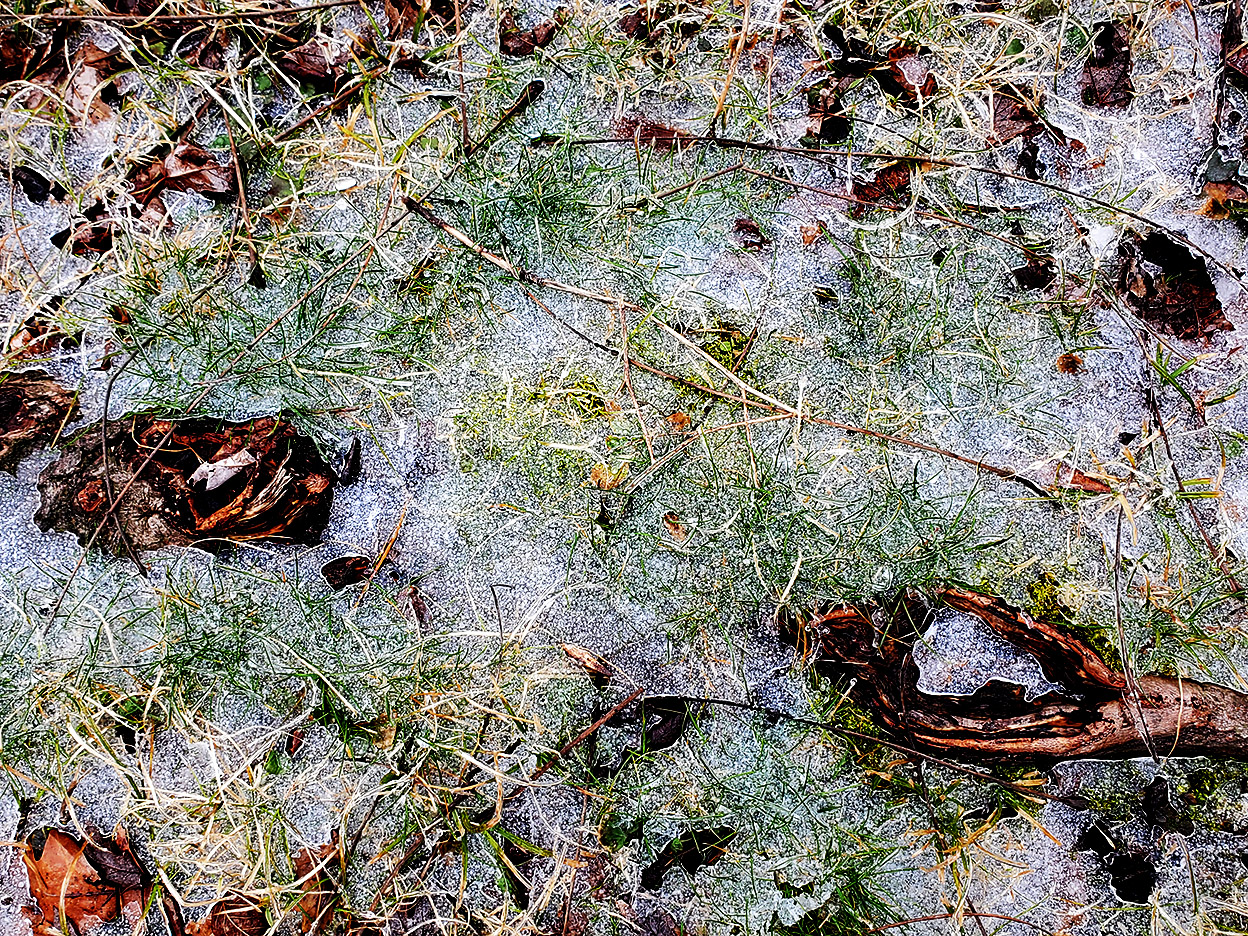 Some grass and mosses were turning green under the warmer than usual winter, but they got a serious shock when they were covered with sleet, snow and ice.
I was surprised to see half a dozen robins wading in my front yard the day when the rain was coming down the hardest.
I ordered a generator
I bought a 3000-watt generator after Hurricane Hugo in 1989. It sat in my backyard shed unused except for annual test firings until the 2004 hurricane season when three storms passed over us, leaving us without power for multiple days.
After the first storm of the series, I ordered a 7,500-watt generator and added a kit that would allow it to run on gasoline, propane or natural gas. I also put a tap on our electrical service panel that would let me power most of the house.
Florida hurricane supplies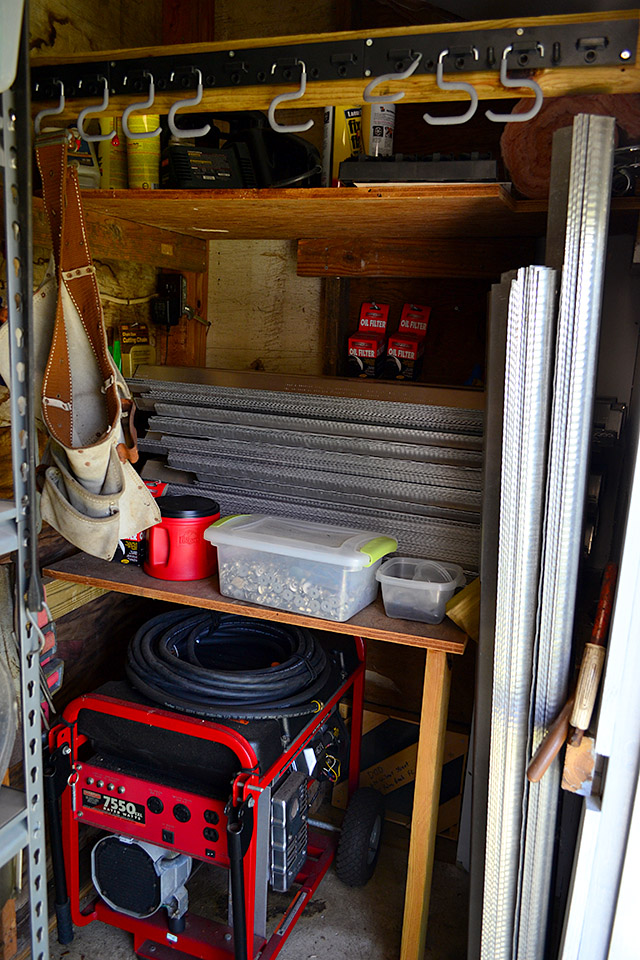 We keep all our hurricane supplies in a shed in the back yard. They include aluminum panels to go over the doors and windows, the generator, spare oil and filters, mounting hardware, and tarps (up to and including 30-footers).
Here's a link to more detailed disaster planning that might be helpful even if you aren't in the tropics.
We've been through the drill enough times that we can have the house battened down in an afternoon, with the help of Matt and Grandson Malcolm.
The smaller Hugo generator went to Son Matt, who used it at his house.
He rewired his house and bought a bigger generator, which made the old one surplus again. I reclaimed it and have it parked under my basement stairs in Cape "just in case."
I had the electrical panel in Cape house upgraded from a four-fuse 60-amp box to a modern service panel. That started me thinking about a generator big enough to feed the whole house, if I was careful to balance my load.
Tri-fuel generators are hard to find
I dithered for months, but the ice storm caused me to pull the trigger. Once capable of running on gas, propane and natural gas are hard to find. I'm going to have to drive to Marion to pick one up the first week of March.
Even if it sits silent for as long as the Hugo generator did, it's worth the comfort of knowing its there. (I think I paid $300 for the 3,000-watt unit. Three hundred bucks spread out over about 10 years was painless.)
Pretty ice photos
You can take a tour of my yard by clicking on any image to make it larger, then use the arrow keys to move through the gallery.
My old high school teacher and pilot used to repeat the old adage, "There are old pilots, and there are bold pilots; there aren't any old, bold pilots."
I spent a lot of time in the ink-slinging business being a bold photographer, but now that I have achieved the status of an old photographer, I'm not quite as bold. Not too many years ago, I roamed Cape shooting weather photos. This gallery was all taken without backing the van out of the driveway.
Here are some links to weather pictures and stories when I was younger and bolder.