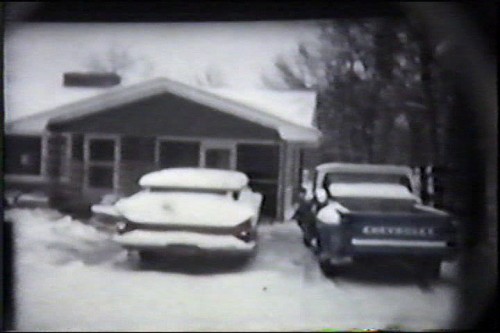 I see that there's a pretty good chance Cape is going to have a white Christmas. I haven't gone back to see if my supposition is true, but it seems like Cape is getting more snow that when I was growing up in the 50s and 60s.
When the first possible hint of snow was in the news – remember, we didn't have The Weather Channel back then – we were nose-glued to the window. We didn't have a lot to go on: there was a weather map in the paper with some squiggly lines, a few radio newscasts and a morning and evening TV news program. We didn't have satellite images and fancy computer models. (Here in Florida, we had one local radio talk show host who said his station had  Dope-ler Radar. Some dope would amble over and look out the window to see if anything was falling out of the sky.)
We kids were hoping that it would snow enough to close the schools. All night long, I'd creep into the living room and look up at the street light in front of the house to see if I could catch a hint of a snowflake. Unfortunately for us, it seemed like the snow always stopped somewhere around Perryville and school would be open. If there was a dusting of white heavier than dandruff on a black suit, we'd whine, "What are they trying to do, get us killed on the road?"
No children were harmed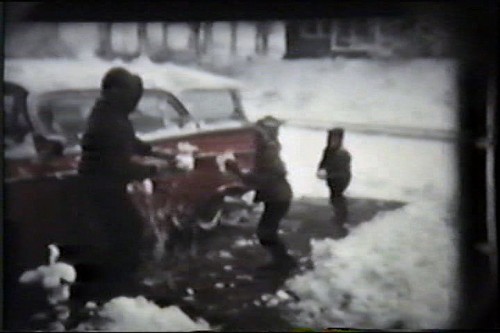 When you look at the video of the snowball fight that produced this still frame, you might wonder how any of the Steinhoff children reached majority, but I assure you that no children were harmed in the making of this movie. I'm pretty sure that Mother exacted some kind of revenge on Dad, though.
Hacking a path to the wood pile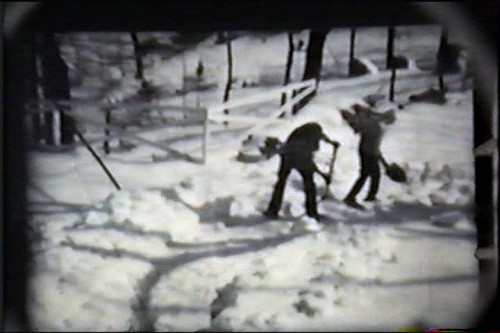 We had a wood fireplace in the basement that heated the room where we spent most of our time. The chimney flue went up the middle of the house, so the basement fire caused the wall between the kitchen and the living room to get toasty warm, helping the furnace stay ahead of the cold. Unfortunately, the wood pile was 75 feet from the basement door. We had to clear a path before we could bring in the wood.
Home movie of snows
Here are several clips of snows that were filmed at our house on Kingsway Drive near Kurre Lane. You can tell by the snow depth that they weren't all taken at the same time, but I don't have an exact date except after 1960. These were taken with an 8mm Bell & Howell movie camera, dubbed onto VHS tape and then converted to a digital format with an ION Audio VCR 2 PC USB VHS Video to Computer Converter.
Those white lines in some of the clips were scratches on the film made forty-plus years ago.
It's Christmas Eve. I suspect that most of you will have better things to do over the next few days, so we're going to slack off. Have a Merry Christmas and a Happy New Year if we don't see you before then.