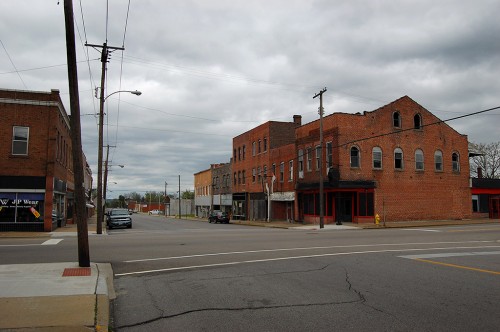 The Cape Girardeau Historic Preservation Commission announced its list of 11 of the city's most endangered buildings in hopes of raising awareness about the building's uncertain futures.
One of the buildings is the old Cape Cut Rate Drug Store at 635 Good Hope, the southeast corner of Good Hope and Sprigg. I've been shooting the building for at least three or four years, but I kept putting off doing a story until I got the photo I wanted. I guess it's time to go with what I've got.
Going to be teen club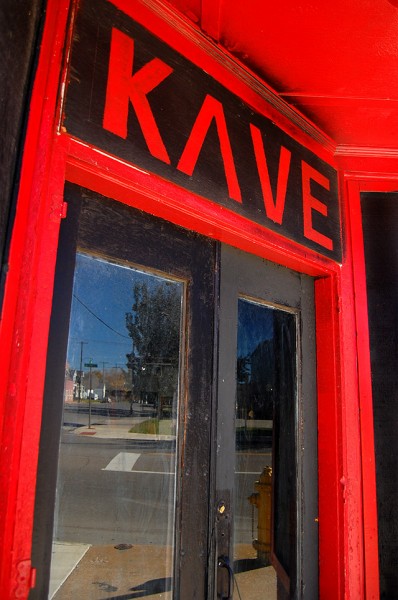 I was on a bike ride a couple of summers ago when I noticed a dumpster in front of the building and some work going on. I stuck my head inside and was told that someone was going to fix it up for use as a teen hangout to give neighborhood kids a place to go. I didn't have the equipment with me to shoot in the dark, so I said I'd come back. That was the last time I saw any activity in the place.
Roof peeling off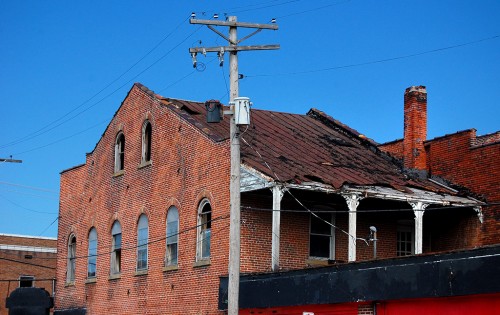 In the few minutes I spent inside the old drug store, I could see that the roof had been leaking for quite some time and that the interior was charred like it had caught fire at some point. I happened by the place on a windy day and say big pieces of roofing material flapping in the wind, so I know where the water came from.
A regular stop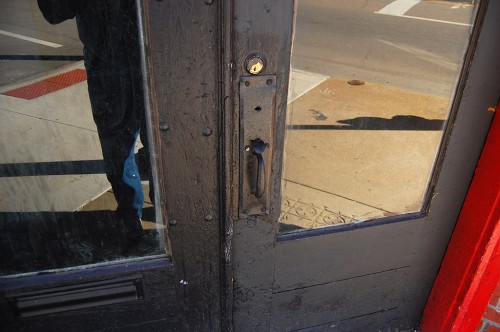 No telling how many times I passed through these doors because we spent a fair amount of time in the Haarig district.
Dad's construction office was in Farmers and Merchants Bank, the place we did our banking.
I got my hair cut by Ed Unger at the Stylerite Barbershop.
We bought our ice from the Pure Ice Company
Suedkum Hardware was better than Disney World. (Or course, Disney World hadn't been invented yet.)
You hoped you weren't sick enough to see Dr. Herbert
If it was REALLY serious, you went to St. Francis Hospital
We could buy clothes at Schades and shop for groceries at Hirsch's Midtown.
At Sprigg and William, in the next block up, you could go to church at St. Mary's, buy a car at Clark Buick and a TV from Lorberg's.
In later years, we'd stop in to see Doris.
What is Haarig?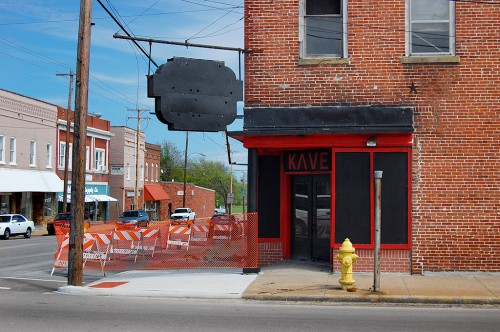 Haarig was the heavily German section of Cape Girardeau. You can read about the history of Harrig and its buildings in this National Register of Historic Places registration form. Here is a list of last year's endangered buildings.
Old Jefferson School has been removed because it was torn down.
635 Good Hope Photo Gallery
Click on any photo to make it larger, then click on sides to move through the gallery.