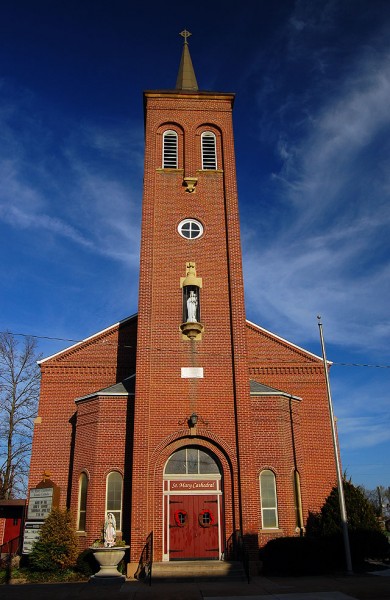 If  you say William and Sprigg to most Cape Girardeans, they'll probably say they think of St. Mary's Cathedral. After all, that's the biggest landmark around there. Lila and I were married in the church in 1969. You can see my deer-in-the-headlights look here.
Wonder how many trucks have hit this?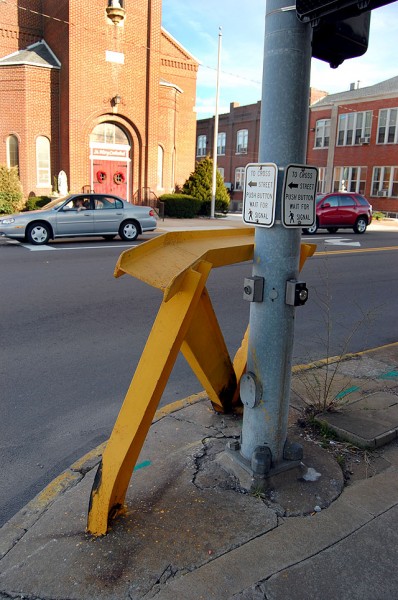 Churches, smurches. My interests run in other directions. I've always been fascinated by this I-beam bumper that protected the traffic signal on the corner. It and the other posts have been scuffed and bent by decades of 18-wheelers having "Oh, bleep!" moments when they cut the turn too short.
Truck route to Mississippi River Bridge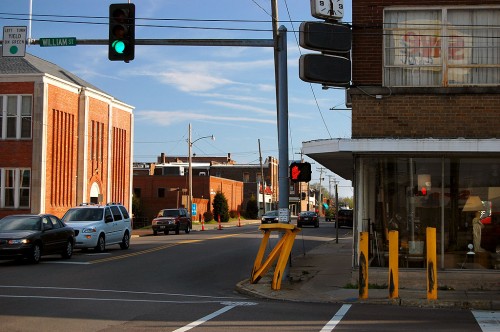 When you look at all the dents and scuffs, you can figure out why so many trucks crossing the Mississippi River Bridge used to slap mirrors. Some of those drivers may have had depth perception problems.
Used to be Clark Buick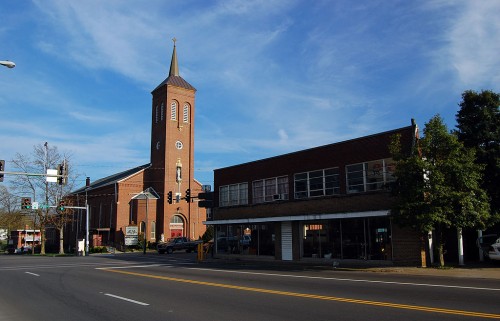 The building on the corner across from the Cathedral was Clark Buick when I was growing up. I think that's where we bought the 1969 Buick LaSabre station wagon that carried us on the Great Steinhoff Florida Vacation in 1960. (That's the same car I inherited when I was in high school.)
The owner's daughter was in some of my classes, but I don't recall her first name nor if we were in Trinity Lutheran School or in Central. The building houses an antique store now, but it was hard to tell if it was still open or not.
Did you buy a TV at Lorberg's?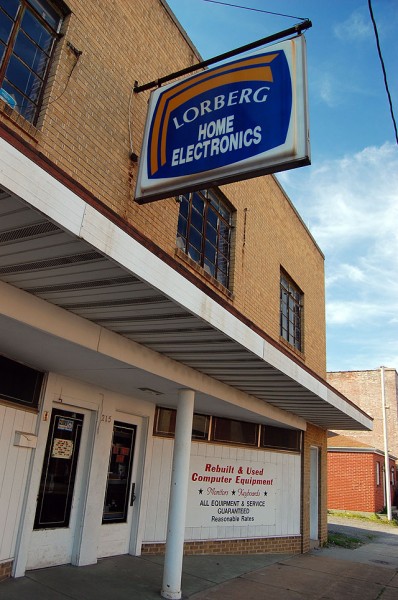 If you bought a television set in the middle 50s, there was a pretty good chance that it came from Lorberg's.
The early sets came with a black ceramic panther with eyes that lit up. Mother thought they looked tacky, as I recall, so I think it was traded for something else or for a discount. I'll have to ask Niece Laurie what that thing would be worth today in her antique shop.
The photo I shot of JFK's funeral was probably taken on our original set.
New construction at St. Mary's School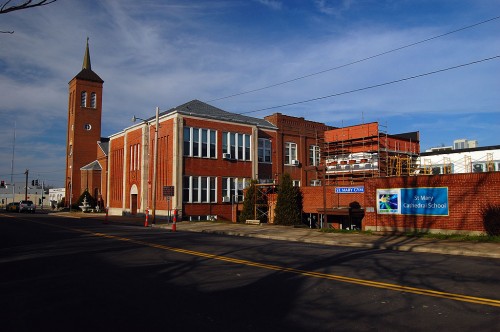 The looks of the neighborhood is changing with new construction going on at St. Mary's Cathedral School. It's nice to see some life coming back to Sprigg and William.