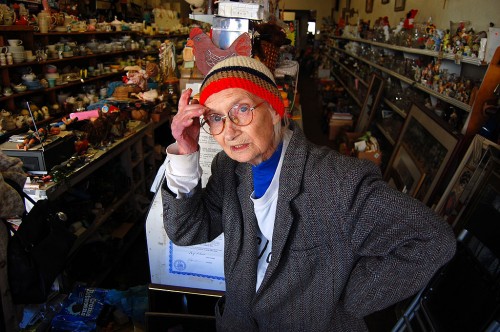 I photographed Doris Bentley at Doris' Antiques at 627 Good Hope on March 29, 2010. She set up her shop in 1981, after coming from Chaffee.
She had gone through a rough patch. She had broken her hip about a year before; when she recovered enough to reopen, she said she had one good week, then a 10-day ice storm. Right after that, the meter reader discovered a leak in her basement.
Doris probably didn't weigh as much as a sack of quarters, but she was fiesty beyond her size. A thug broke into the shop when she was working one night. "All I had was a dollar bill and some change," she said. "I told him it was all I had." He knocked her around a bit.
"You're mine and I want you!!"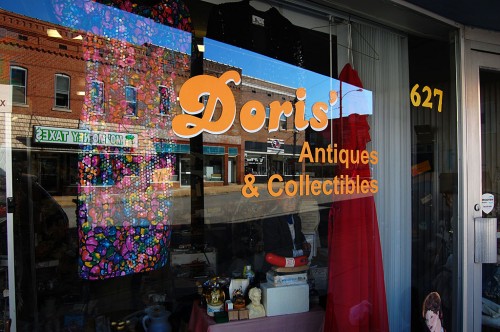 She described her TV interview after the robbery: "I looked right into the camera and said, 'You're mine, and I want you!!'" I don't doubt for a second that she meant it.
The next time couple of times I came back, the store was closed. I asked a nearby merchant if he had any idea how Doris was doing, and he said he thought she was in a nursing home in Springfield, Mo., and probably wouldn't be back.
Absolute Auction April 16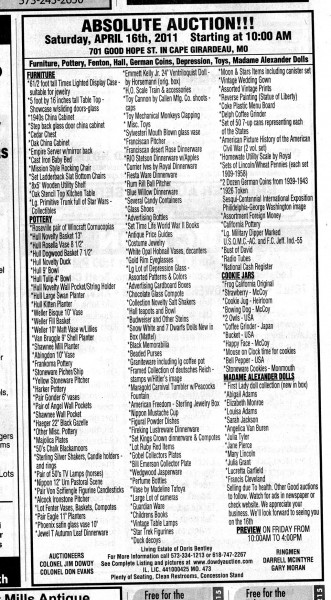 Wednesday's Missourian carried an ad for an absolute auction this weekend where the shop's contents will be sold. Click on it to make it large enough to read.
Brother Mark is an antique shopper who had been in Doris' many times. I asked him to tell me what he knew about her. What follows is his account:
Doris was a female Popeye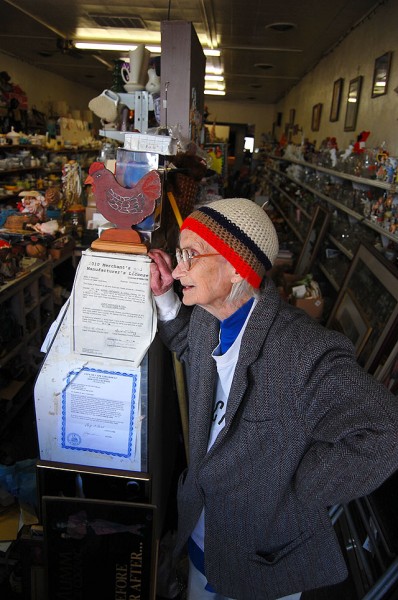 Doris – If there ever was a female Popeye, it would have been Doris. While I doubt that she was ever in the Navy, and I don't think I ever saw her smoke a pipe (but I wouldn't rule that out) and I have no idea if she had any tattoos of anchors on her arms, I wouldn't bet that she didn't. She could be gruff if she didn't think you were good people and the nicest lady if she sized you up as being "square and true".
Is she open or has she closed?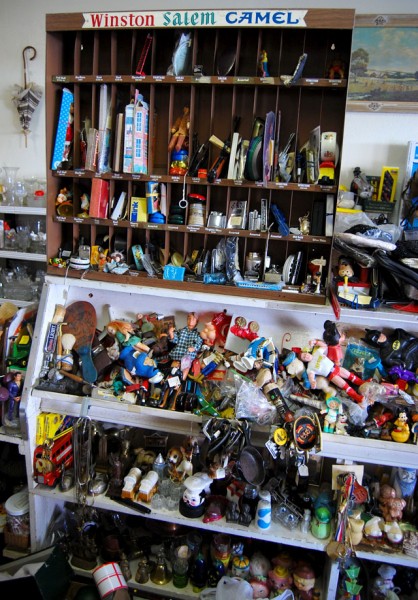 The store – The first thing that comes to my mind anytime that I would go there to shop was, "is she open or has she closed her door for the last time and I missed it?" Turns out, she was always open when she was open. I heard that she had gotten broken into a couple of times and from then on she stayed in the shop in the back and slept with a gun. Don't know for certain if that was true, but it's rumors like that going around that make folks thing twice about breaking in at night.
Aisles were packed with stuff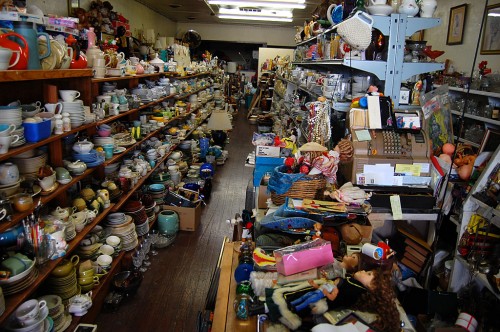 The aisles were packed with stuff. All kinds of stuff. Cheap yard sale stuff sat right next to McCoy pottery for those who could spot it. You wanted old metal ice cube trays that you used to have in the old refrigerator/freezer? She had them along with Tupperware containers, AVON bottles and stuff that I could not figure out how she ever thought she would sell it.
Trash and treasures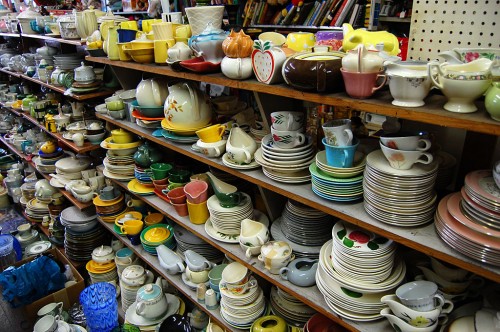 There was trash and there were treasures in the store and you had to either have a sixth sense about finding the good stuff or just be lucky to stumble onto it. Doris was smart in that she knew the value of everything, so you weren't going to walk out under her nose with a Vintage Fiesta AD Demitasse Cup and Saucer for $15.* [Editor's Note: Asterisk decoded below.]
T-I-M-B-E-R!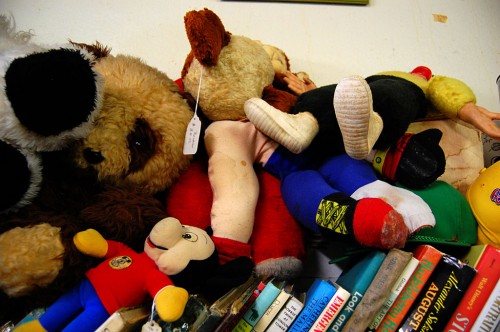 But whenever I walked through her store looking for something that would catch my eye, I was always worried that something from the overstocked shelves would catch onto me and I would end up pulling down everything quicker than you could say "T-I-M-B-E-R!" She had a lot of glassware in the store that made me very nervous.
A picker's delight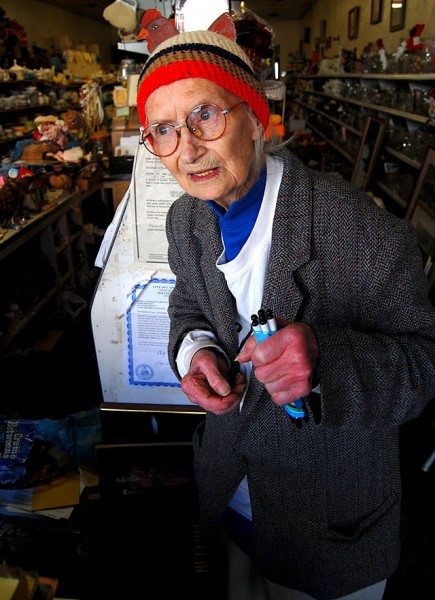 The store was a picker's (not the musical kind) delight in that you could find something, and she would sell it to you, but she wasn't going to lose money in the transaction.
Here's the asterisk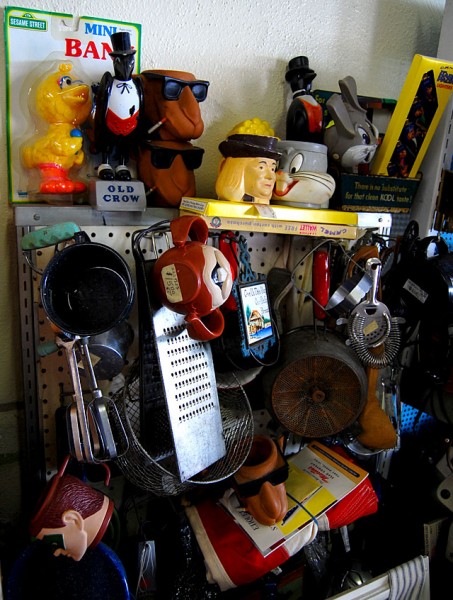 *Vintage Fiesta AD Demitasse Cup and Saucer Set in 50s Forest Green Glaze »
Circa 1951-1959. Stunning example of the very hard to find, vintage, forest green Fiesta After Dinner Demitasse Cup and Saucer. The cup was jiggered on the inside and the slip cast handle had to be attatched by hand – even the foot was hand worked to produce a subtle flare.
Good Hope won't be the same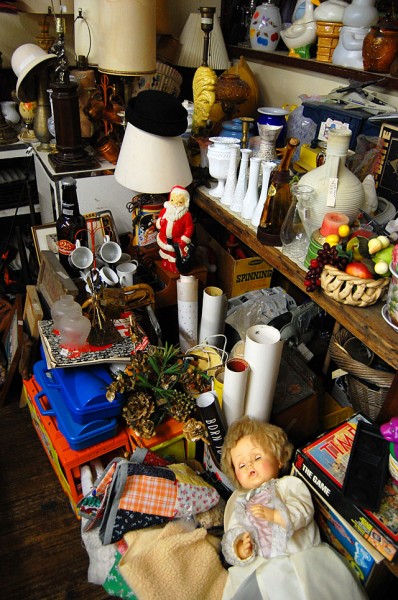 Good Hope and Cape Girardeau won't be the same without Doris and her shop. She was one of a kind.