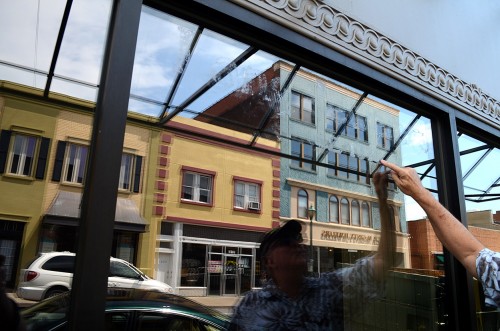 From time to time, I'll go back looking at directories of photos I've run before to see if I missed anything. When I hit one containing photos of Terry Hopkins and Brad Brune smoking cigars on the riverfront and swapping lies, I was about to skip to the next one.
This thumbnail jumped out at me, though. What in the world is in this photo? What is that arm doing? What is he pointing to and why? Click on it to make it larger.
When I blew it up, it all became clear. Terry, whose dad had been in the sign business, was feeling where the lettering for Lang Jewelers had been scraped off the window when it closed after being in business since 1916. The buildings on the west side of Main street reflected just like I was shooting directly at them.
I'd like to call it art, but I have to confess to accident instead.