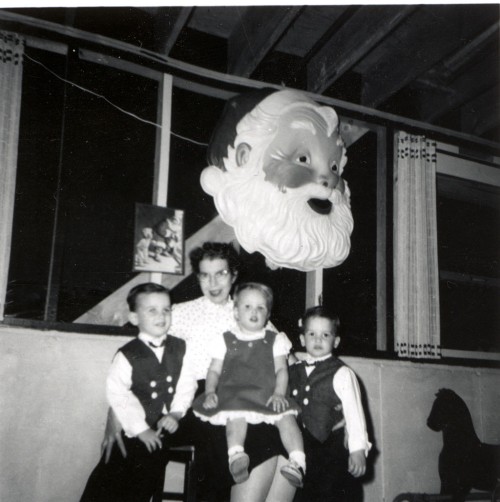 Brother Mark always likes to hit the antique shops when he comes to Cape, so we started at Annie Laurie's. I was doing a pretty good job avoiding temptation when my eye fell upon this 1959ish black and white photo shop owner Laurie Everett had under a Christmas display. It jumped out because it was uncharacteristically sharp and well exposed for a snapshot of that era. It was for sale. Mark paid for it, so it couldn't have been much. (Click on any photo to make it larger.)
Look at the IDs on the back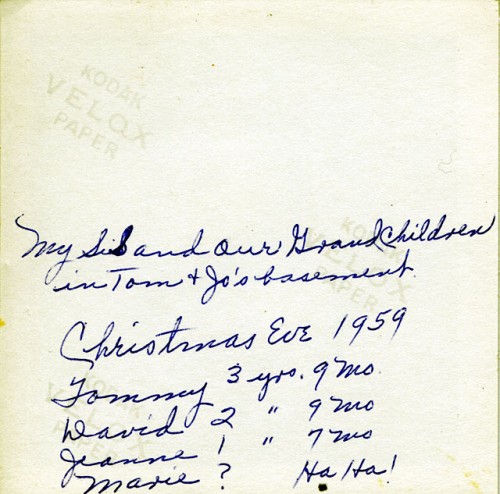 When I flipped it over, I saw that someone had taken the time to document who was in the photo:
My Sis and our Grandchildren in Tom and Jo's basement. Christmas Eve 1959
Tommy – 3 yrs 9 mos
David 2 " m 90s
Jeanne 1″ 7 mos
Marie ? Ha Ha!
Note for the younger generation: "Ha Ha!" was the 1959 way to say LOL.
Throwing away photos is alien to me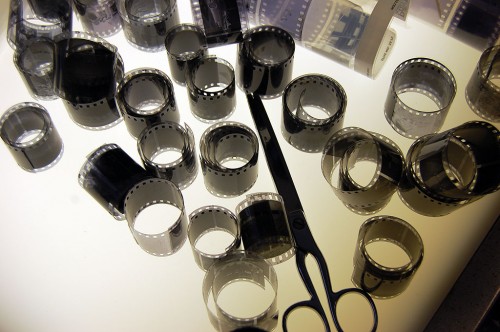 For budget purposes one year, I calculated that the average photographer on my staff used about 30,000 frames of film a year. Back in the day when I was buying my own film in 100-foot rolls and cutting it into 36-exposure rolls (and under the influence of One-Shot Frony), I didn't hit those levels, but it's safe to say that I've shot a lot more film than most folks. (Kodak called someone who bought 12 rolls of film a year a "heavy user.")
I would bet that I probably have all but maybe 100 rolls of those bazillion rolls of film. I may not be able to find an individual photo right away and it may not be properly identified, but it's there someplace. My "coffee can film" contains pictures that are more interesting to me today than the stuff I shot for the paper and filed away in negative sleeves.
How can you throw away your mother?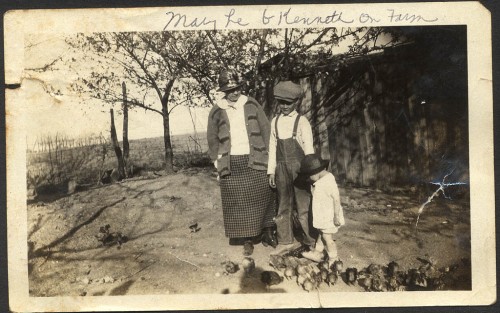 How could you let a photo of your mother when she was about three years old in the midst of a flock of chicks slip away? Particularly since she's with her brother Kenneth, my namesake, who was killed in a car vs. train crash. I sure couldn't.
Other people, obviously, can. I was at a yard sale where I picked up about a dozen Kodak slide trays. When I went to check out, I noticed that the trays were full of slides: weddings, graduations, vacation trips, first car, basically all the facets of the family's life. I pointed it out to the seller and she said, "That's OK. Just throw them away." I eventually DID throw away a lot of them, but I held onto some of the better shots because it would have been a crime not to.
Mother always fills our birthday and holiday cards with family photos she's collected over the years. It's always the best part of the card.
Do you recognize any of these folks?
If so, I have a piece of your family history. I won't even charge you to get it back. Mark's already paid for it.