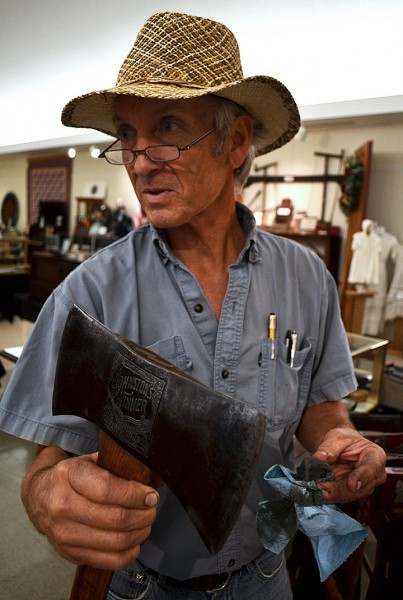 Lyndon Moore and his wife, Margaret, travel all over the country in a truck with six dogs collecting vintage tools and hauling them back home to Bloomfield. The have an exhibit at the Altenburg Lutheran Heritage Center and Museum August 1 through September 25.
Official press release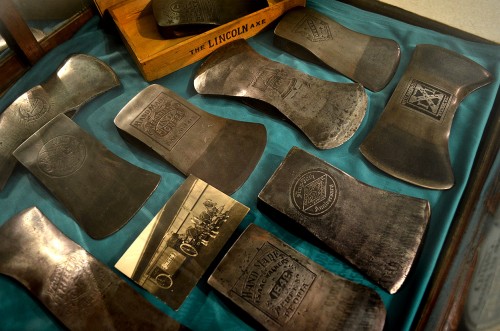 Here's the official press release: The Lutheran Heritage Center & Museum, 75 Church Street, in Altenburg, MO is proud to announce an exhibit opening.  The L&M Tool Collection of Lyndon and Margaret Moore, of Bloomfield, MO, is one of the premiere American tool collections in the country.  This exhibit is a special selection of the L&M Collection featuring tools manufactured in Missouri, rare tools, tools with broad public appeal, and tools used in the early settlement of Missouri.  Also included in the exhibit are rare regional hardware photographs and historic hardware store exhibit cases.  The exhibit will be open every day from Friday, August 1 through September 25 from 10:00 a.m. – 4:00 p.m.  Admission is free.
Pictures and press release can't do it justice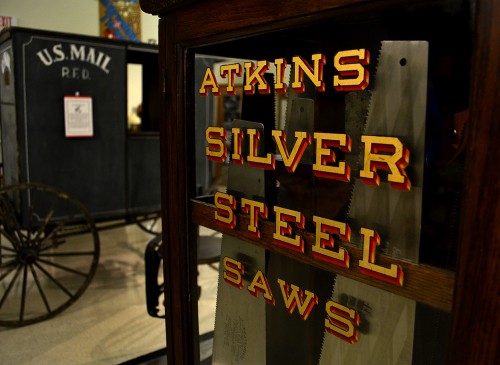 Snapshots and a press release don't do the exhibit justice. Friend Terry Hopkins and I stopped by there Wednesday. I told him to open this saw display case and take a sniff inside.
He reeled back and, with a strange expression on his face, said, "That's Grandpa Hopkins' workshop."
He was right. Some combination of oil and linseed oil or something brought back memories of old-time hardware stores and workshops. I'd love to have a bottle of that fragrance. It's as much a part of my olfactory memories as the smell of diesel fumes and freshly pushed dirt on one of Dad's construction sites.
Lyndon is the real treasure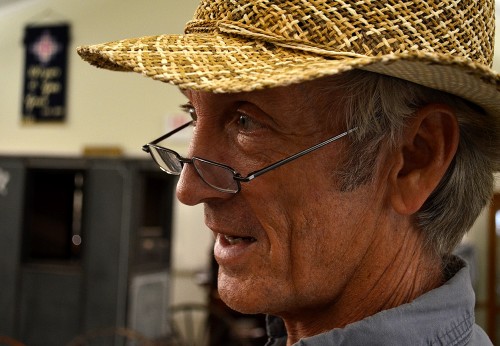 Friend Shari and I happened to be there when Lyndon was in the museum. Director Carla Jordan, staffer Gerard Fiehler, Lyndon, Shari and a couple of other folks sat around eating an excellent carryout lunch from Nickie's Cafe and Sweets. Carla has a way of making strangers instantly feel comfortable with each other.
Lyndon regaled us with a funny tale of scandal in downtown Bloomfield, then switched gears and told us a poignant story of a "pedal car" that got away from him when he was five years old. Forty-some years later he saw that same car, in mint condition, hanging from the rafters in a fellow collector's "piddle shop," and finally acquired it. He said it was a good thing his father couldn't get it for him when he was 5, because he'd have torn it up playing with it.
Carla said Lyndon will be spending a lot of time in the museum. You might be able call ahead to see if he's there. The number is 573-824-6070.
Be prepared to hear story after story about the history of every item in the exhibit, how he acquired it and how it works.
This is not your usual exhibit, trust me.
Gallery of the tool exhibit
The glass cases that house some of the exhibits are as interesting as their contents. You can appreciate the tools for their utility, their artistry or their history. Click on any image to make it larger, then use your arrow keys to move through the gallery.