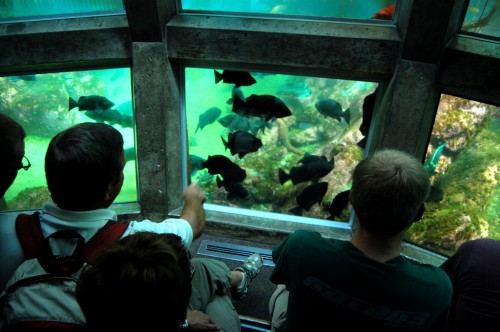 The Seattle Aquarium is a nice place to spend a couple of hours. My only issue is that I kept getting the feeling I was shooting fish in a barrel. That's one of the reasons I don't like theme parks like Walt Disney World in our neck of the woods. They aren't real.
Even though the fish and plants are real, it feels artificial to me, unlike the salmon going up the fish ladder at Crittenden Locks.
Colorful exhibits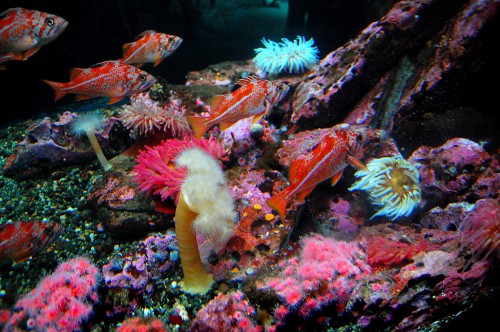 You can't fault the quality of the exhibits. The aquarium features 380 species of birds, fish, invertebrates and marine mammals. I'm most intrigued by the invertebrates, many of which look like living rocks.
Divers doing windows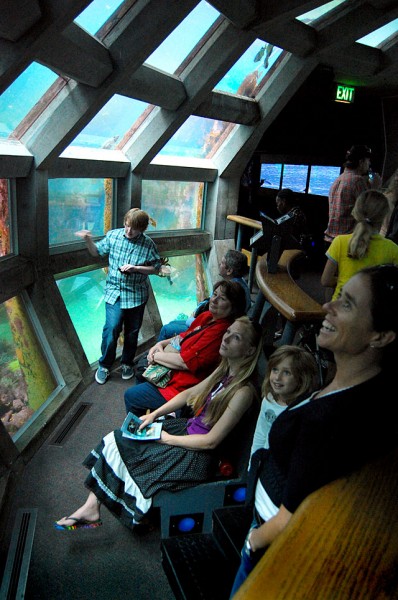 The spectators in the 400,000-gallon underwater dome were more mesmerized by divers cleaning the viewing windows than they were by the fish swimming around.
"Enjoy the sun"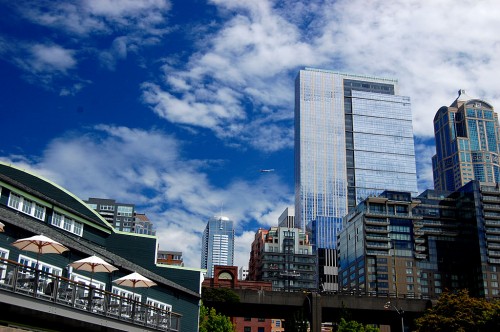 It was a beautiful day, so we spent some time outside the museum. A particularly Seattle phrase is, "Enjoy the sun." Residents will point out that the city gets a bum rap for rain; Boston and Miami, among others, get more inches of rain per year. Seattle, though, can have days and weeks of gray skies, so they appreciate the days when the sun is out.
The first time I looked up and saw a jet looking like it was headed for the building towers, I had an uncomfortable flashback. After a while, though, I realized that they were in the approach pattern for the airport and started looking for them.
Crab cakes best part of Museum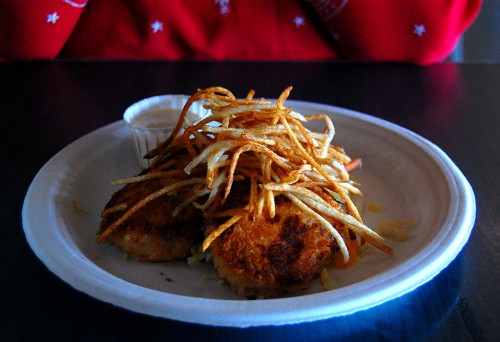 Wife Lila and I wanted to get something to eat before boarding a harbor tour, so we headed up to the Aquarium Cafe for what we expected to be overpriced plastic food served by indifferent help.
We were in for a big surprise. The kid who waited on us was friendly and offered some good menu suggestions. The Dungeness crab cakes served with wilted veggie slaw and potato hay were some of the best I've ever had. The portions were large enough that we could have split the $13.49 order and still felt full.
I'm not sure I've ever had a better bowl of clam chowder, either. Everything I saw the cook prepare made me wish I had a bigger appetite.
Seattle Aquarium photo gallery
Click on any photo to make it larger, then click on the left or right side to move through the gallery.
Other recent Seattle stories