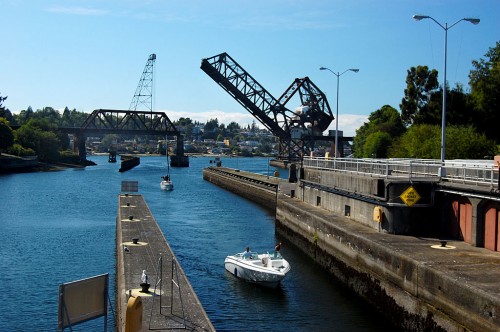 The Hiram M. Crittenden Locks in Seattle can raise a 760 by 80-foot-wide vessel 26 feet from the level of Puget Sound to the level of Salmon Bay in 10 to 15 minutes. There are two parallel locks, one for large vessels and the other for smaller craft.
We showed the adjacent Carl S. English Jr. Botanical Garden yesterday.
Pedestrians can cross locks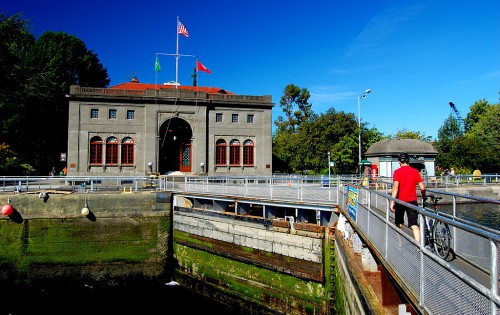 There is considerable pedestrian traffic crossing the locks. Cyclists have to walk their bikes, but I counted a dozen or more using the gardens and park as a shortcut.
Locks form permeable barrier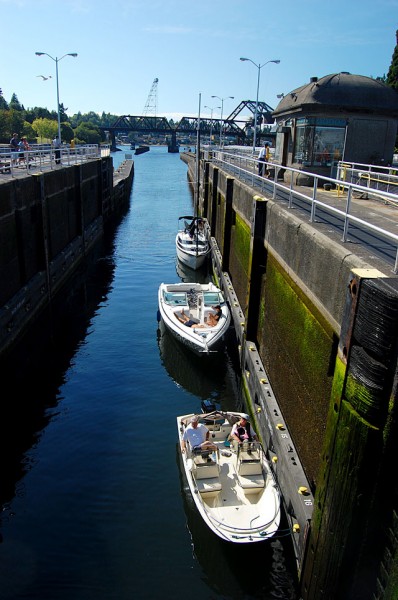 The locks form a permeable barrier between Lake Washington's freshwater ecosystem and the potentially damaging saltwater of Puget Sound. They are designed to allow the passage of vessels while minimizing saltwater intrusion, something we Florida folks understand too well.
Second Renaissance Revival Style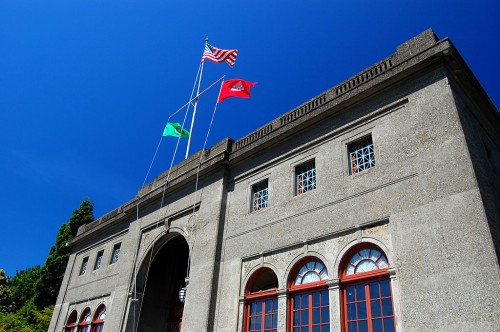 When engineer Hiram M. Crittenden arrived in Seattle in 1906, he saw a shallow canal used for floating logs from Lake Washington to Puget Sound. His notebooks show that he envisioned a set of locks big enough to accommodate The Lusitania, the largest ship of her day.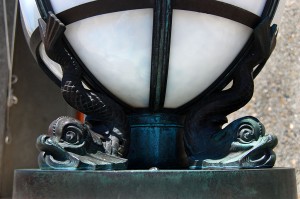 What had begun a shallow log flume became an 8-mile-long canal, 100 feet wide and 30 feet deep, a park brochure says.
The construction of the locks began in 1911. Crittenden retired in ill health before his project was officially dedicated on July 4, 1917.
The administration building was designed in the Second Renaissance Revival Style in 1914. It is on the National Register of Historic Places.
Fish ladder constructed in 1916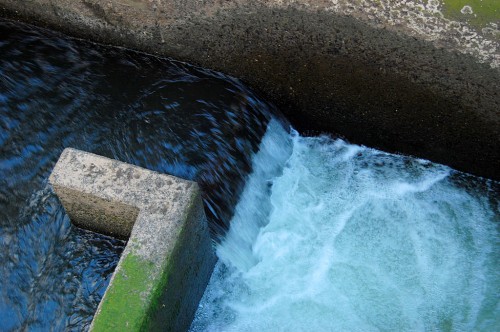 As salmon move upstream from saltwater to the fresh water to spawn, they have to pass the locks and dam. In 1916, the Corps of Engineers constructed a fish ladder consisting of 10 steps.
I've seen and been through enough locks that they didn't interest me that much. The fish ladder, though, plowed new ground.
Ladder replaced in 1976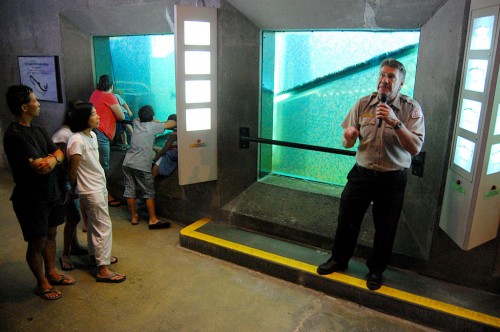 The original fish ladder was replaced with a 21-step ladder and underwater viewing gallery in 1976. Program director Jay Wells had his audience's rapt attention until someone noticed some Sockeye salmon heading up the ladder behind him.
Those babies are HUGE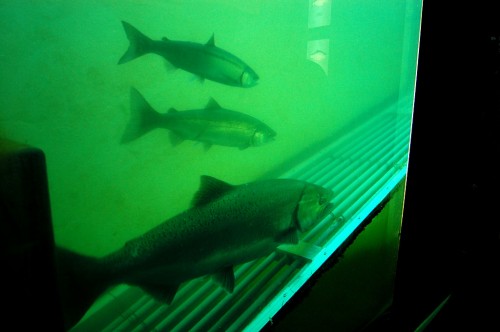 The Sockeye was impressive enough to this 3-Mile Creek fisherman, but then a King came into the chamber.
That's the kind of fish they were tossing around in the photos of the Pike Place Fish Market. We're talking about something the size of a respectable log with fins.
Some of the fish were netted and tagged as they passed through the facility.
Crittenden Locks Photo Gallery
Click on any photo to make it larger, then click on the left or right side to move through the gallery.