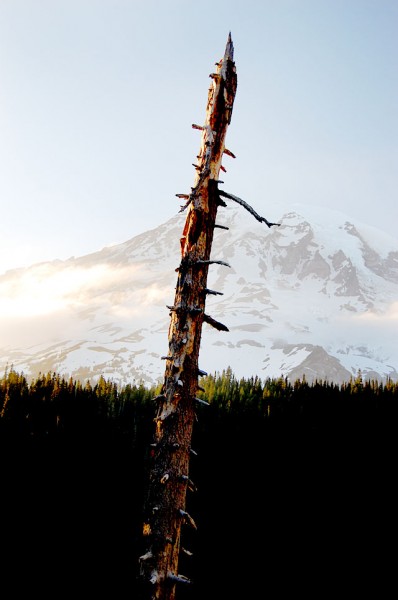 I grew up in Cape, which is in the Central Time Zone. In 1967, and from there on, I've lived in the Eastern Time Zone. That's an hour of sleep I'll never get back.
This week, Wife Lila and I have been in the Pacific Time zone. We get up at Pacific Daily Savings Time, which is four hours behind Eastern Time (7 am in Seattle is like Florida's 10 am). That's the good news.
It feels like 3 in the morning
The bad news is that we just got in from touring Mt. Rainier National Park at 12:30 am, which feels like like 3:30 am. That's why you're getting one picture tonight.
I hope it displays OK. It looks good on the camera's LCD screen, but editing photos on my laptop is a little iffy. I'll have more shots if we get home at a decent hour tomorrow (today).
Photo tip stuff
I was shooting standard wideangle shots of the mountain when I noticed this snag of a tree.  I zoomed in on it and exposed for the bark of the tree, which caused the mountain to "blow out" a little bit. By focusing on the tree, the mountain went slightly out of focus. There was a bit of haze, so it wouldn't have been sharp even if I wanted it to be. There's enough contrast between the rock and the snow to let you know that it's a mountain. The setting sun is just catching the tops of some of the trees, which adds a bit of color and is more interesting than if the bottom half of the photo had gone pure black.