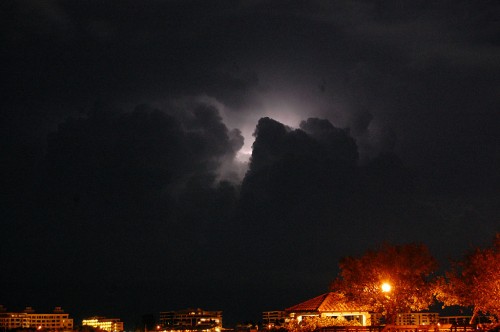 I thought I had seen all the lightning I wanted to see when I was back in Cape last month. Last night, though, Wife Lila and I headed out to see the light show of all light shows over the ocean after a squall line passed over West Palm Beach.
Better than 4th of July fireworks.
It took a few minutes to get there and get set up, so my stills don't reflect what was going on as well as the video below does. I couldn't remember how to put the thing on manual focus in the dark, so it's not as sharp as I'd like. Still, it's a better show that you see on the 4th of July.
Speaking of fireworks
Son Adam and New Mother Carly needed a break, so they dragooned Graham's grandparents (us) into babysitting. It's funny, all of the photos and videos they post of the child show him grinning and gurgling and cooing.
THAT child was hidden away in a closet somewhere. Here's the one they left us. I looked as hard as I could and I couldn't find a mute switch anywhere on his person.