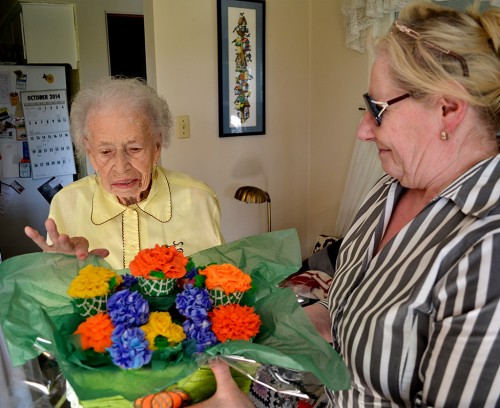 Wife Lila arranged for Mother's Almost Birthday to start off with a delivery of a bouquet of of cupcakes from Class of '66 classmate Marilyn Maevers Miller. Miz Miller is an artist in the kitchen. (If you are interested in any of her handiwork, drop me an email.)
"That's not for eating"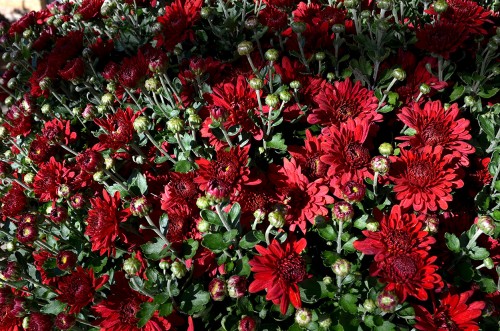 Marilyn also dropped off a huge pot of mums from her garden in Charleston. She saw me eying them hungrily, and quickly let me know they were real, "not for eating."
Only amateurs have birthDAYS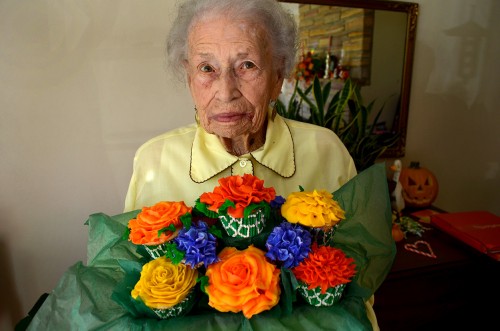 When you're pushing 93, you've had time to figure out how to stretch your birthday into a Birthday Season. Brother Mark and I got her a new TV for her bedroom a couple of weeks ago (that was a selfish move on my part: the old one weighed as much as a Volkswagen and didn't play nicely with the antenna I had installed in her attic). Mark and Wife Robin are driving down for the weekend Friday, and Wife Lila is due from Florida next week.
Some packages from the Western Branch of the Steinhoff arrived marked "Do Not Open Until Your Birthday." Curator Jessica will be here around Halloween, and I am hoping that she'll fill the holes in her suitcase with some of HER fine baked goods to carry on the celebration.
As soon as she sees the taillights of my van pulling out of the driveway, she's thinking about flying out to Tulsa for Thanksgiving. We're hinting strongly that Florida would be a good place to spend Christmas.
So, light a candle on October 17, and let Mother know you blew it out in her honor.
Past Birthday Seasons