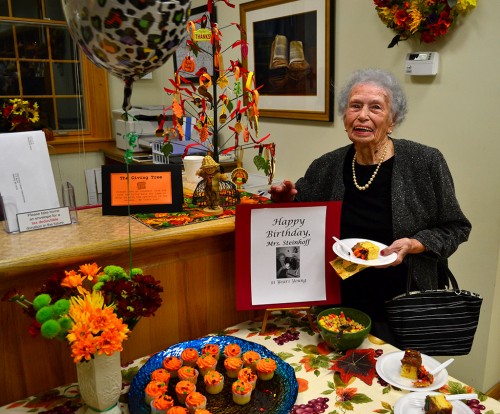 After my preview presentation of Ordinary People in Altenburg Tuesday night, the staff of the Lutheran Heritage Center and Museum surprised Mother with a cake, flowers and balloon, kicking off the start of her 91st Birthday Season. Several of Wife Lila's Class of '66 showed up, including Terry Hopkins, who came all the way from Florida.
Friend Shari and her mother attended. It's not often that someone can say that his first high school girlfriend and his last high school girlfriend are attending an event. Brother Mark came down from St. Louis.
A very receptive group of 37 (if I heard correctly) watched my photos and videos and listened to my war stories. They were actually TOO receptive. My goal was to figure out how to cut about 30 minutes from a presentation I did this summer. Riding Partner Anne warned me that if I played off my audience's reaction, I was going to go long, not short. That's exactly what happened. Now I have 46 minutes to cut. I needed someone to yawn or check their watch to clue me in that the listeners were getting restless.
Thanks to Carla Jordan and her staff for doing a great job hanging my photos, offering hat-stretching compliments and recognizing Mother's Birthday Season. I would go into more detail, but my brain is fried. I don't see how teachers do this kind of thing every day.