I was going to do a bunch of research about Central High School chemistry teacher Tom O'Loughlin, better known to his students as "General O," but I figured you folks could contribute better stories than I could dredge up.
Mercury and explosions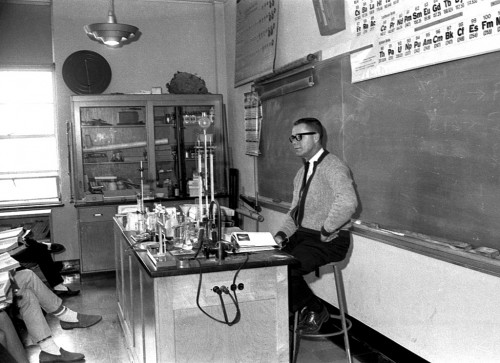 Back in the good old days, there was a ready supply of mercury in the chemistry room that you could play with. It was neat how it would form into tight little globules that you could chase around. A penny dipped in it immediately turned shiny silver like a new dime. If we were warned not to play with it, it was more so it wouldn't be wasted than it was considered hazardous.
Today, mercury is banned from classrooms. Not too long ago, someone spilled a small quantity that had been overlooked; the school was evacuated and the guys in moon suits showed up to decontaminate the place.
Nothing ever exploded or caught in fire when I was in his class, but others were luckier.
General O supported his students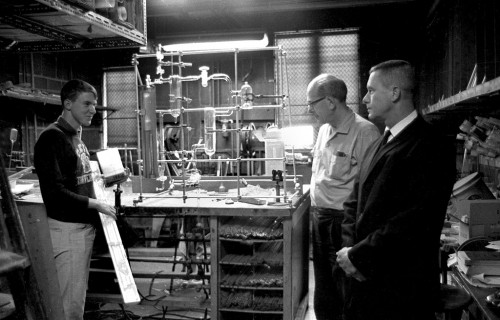 When Jim Stone decided to build a laser for the science fair, way back before you could buy them in every Staples store, Gen. O found money to help subsidize the construction. I've been bugging Jim for months to send me information about that project, but he keeps begging off. Maybe this will get him going.
Here they are picking up some contraption or another in St. Louis. All I remember is freezing on a hay bale in the back of Gen. O's pickup to keep the thing from jostling around while Jim was up front where it was warm. I guess that's a good indicator of who was the rocket scientist.
I didn't know until Ernie Chiles told me that Gen. O had been a bomber pilot in World War II (maybe that's why he was able to maintain his calm in the midst of classroom explosions and hijinks)  and a farmer who recruited students for hard labor.
He and Alene Sadler were the kind of teachers that students remember the rest of their lives.
OK, folks, let the stories roll.