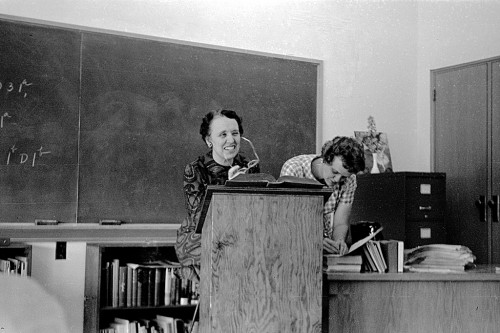 When the Class of 1965 filled out the bio information for the 20th reunion in 1985, 18 students listed Miss Alene Sadler as their most influential teacher.
She was one of the toughest and best teachers I had. Miss Sadler was not one to trifle with lightly. After she marked one of my answers wrong on a test, I brought in  a stack of books the next day to prove my point. She conceded that I was correct, but I had a clear sense that I may have won the battle, but the war was going to be distinctly unpleasant.
Missouri Teacher of the Year
I did a Missourian search, but couldn't find an obit or any current information on Miss Sadler. There were lots of stories going back to 1925 about her musical performances, but little about her teaching. She WAS named Missouri Teacher of the Year in 1964. Looks like we were fortunate enough to catch her in her prime.
Comments from the Class of 65
Charlie Baldwin: She was an excellent instructor who demonstrated the ability to teach subject matter in a very interesting fashion while at the same time developing positive relations with students. She has been a very good role model for me during my career.
Vicky Berry Dereign: The teachers who influenced me were Miss Sadler and Miss Sivia, they set a standard for me after which I have tried to pattern my own teaching. (Humorous memories: "I remember how Kenny Steinhoff used to argue about everything, including the pros and cons of kissing.") [Editor's note: I have no idea what she's talking about.]
Lee Dahringer: …for developing an appreciation of and an interest in effective communication and analytical thought.
Put my brain to work
Peggy Estes Goddard: She was creative and caused me to really put my brain to work.
Connie Hall Schwab: Her efforts helped me to realize that proper English and grammar are essential in every aspect of one's life.
Marsha Harris Vangilder: Taught me to read – just for pleasure.
Alice Lynn Snell: The skills that she stressed have had a lasting effect and have helped much in my career.
Love of students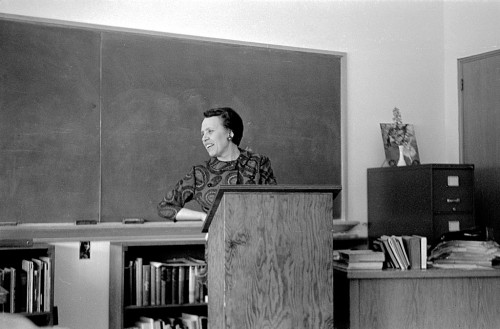 Marsha Marshall Gutshall: Her love of the students and her strong desire to impart knowledge.
Connie Nelson Copsy: She treated us as adults and prepared us for college, while still getting the information across.
Mary Ponder Wyss: I still recall and utilize many of the things learned in her class.
Victoria Roth Hardy: Most influenced by Miss Sadler's exposure to the Humanities and the Arts. [Vicky] had fond memories of Miss Sadler's harp player.
Michael Seabaugh: … for her being able to open up the world in all its glorious depth and breadth.
Ken Steinhoff: She tried to teach me how to express myself clearly on paper.