This photo of the new Vocational Technical School on North Clark behind Central High School ran in The Missourian's 1968 Achievement Edition. The story said 306 students were attending classes there: 300 who were taking some training at Central High School and six who were going to Campus School. There were 206 adults, including both men and women, taking classes in the evening. (Click on the photos to make them larger.)
Drafting room considered best in state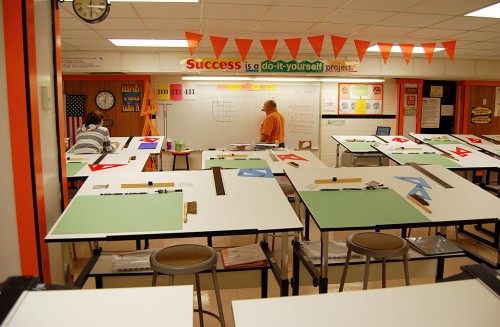 The drafting room was considered to be the best of any school in Missouri. I wonder how it would compare with this one in Central Junior High School (our old Central).
Here are photos of automobile training being handled at Central High school.
Teacher pay below national and state averages
Voters were going to be asked to approve a 35-cent tax levy in the April elections. Supt. Charles E. House said that Missouri teacher salaries were below the national average, and that Cape salaries were below the state average. A graduate of State College with a degree in education and no experience could expect a salary of $5,100 in Cape. The median outside the area would be $5,467; the average would be even higher.
Of course, putting it in perspective, in 1968 I thought that if I ever made $10,000 a year I'd be having caviar and lobster every night.