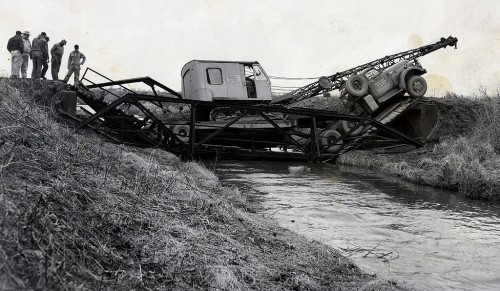 Some days when your job is to FIX the bridge, unexpected things happen. I'm not sure exactly what happened here that caused Steinhoff, Kirkwood & Joiner's truck and dragline to end up in the creek, but I suspect that it had something to do with a 100-lb load trying to cross a 10-lb-rated bridge.
You wonder exactly how many men it takes to look at a heavy piece of equipment in a hole before something productive happens. I'm going to guess action started about the time Dad put down the camera and said, "OK, enough standing around. Let's get to work."
You may have noticed some changes
We've changed the template that controls the look and feel of www.CapeCentralHigh.com. I mentioned before that I thought this was going to be a photo site, which would have looked really good in the template Son Matt recommended. When it changed to one with a lot of writing and comments, we thought this one would look better.
Let's hope it doesn't end up with a bunch of guys standing around looking at a broken bridge.
It's going to take some tweaking
The old format used smaller headline and subhead typefaces. That's why these suddenly look HUGE (and feel like I'm HOLLERING). I'll find a way to fix that. Some things are in a slightly different places. We'll try to get things back to about where they were so you don't bump your shin on the coffee table on the way to the kitchen in the middle of the night.
Geek Talk
For any tech-types out there, this is the Atahualpa theme. I saw that Bob Rogers, a photographer I worked with in Athens, OH, was using it for his blog and I liked the way it looked. (Our original theme was Photocrati Lightbox 1.0.)
If you are interested in travel, cycling, RVing, eating, good photography and fascinating stories, give the newbohemians a read.
Meet the New Bohemians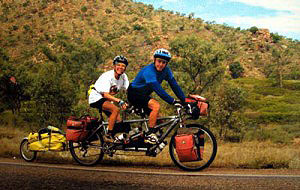 Claire and Robert Rogers (Bob), married 19 years, bookends to the baby boomer generation, are dedicated to getting the most from this adventure of life. To that end, we seek our own fulfillment through adventure travel, creative pursuits, and living as simply as is reasonable.
Our web pages introduce several of our adventures: North America, Canada and Australia, 39,000 miles, carrying all the worldly possessions we would need for up to a year at a time, sleeping in a small tent, spending 24 hours a day together. We crewed on a sailboat in the South Pacific; four months of white-knuckle sailing and lazy days and nights with the mellow islanders of Melanesia, and most recently pedaling across the center of muddy, frozen and beautiful, Iceland.