Fluoroscope in the National Museum of Nuclear Science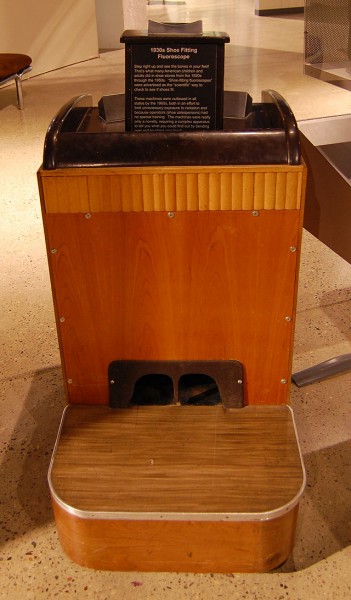 There's been some talk lately about the machines at Buckner Ragsdale and the other downtown shoe stores that would let you see your toes inside your shoes.
[Chuck Blitstein jogged my memory about Gaylor's in an earlier comment. That's where we always went for my Buster Brown shoes.]
As I remembered them, you'd stand up on a platform, stick your feet through a couple of slots, push a button and look through a viewfinder at your toes while your gonads were exposed to massive jolts of X-ray radiation. That explains why Baby Boomers are sterile or why their kids have a third eyes in the middle of their foreheads.
Mother would never let me play on the Fluoroscope
Much to my disappointment, my mother would never let me play on the machine. My boys are equally disappointed that they don't have that third eye, like all of their friends.
When Wife Lila and I took a mini-vacation to New Mexico to celebrate our 40th wedding anniversary, we stopped in at the National Museum of Nuclear Science and History in Albuquerque. There, just before you exited, was one of the see-your-toes machines.
And, no, it wasn't turned on, darn it. My mother wasn't around and this was my chance.