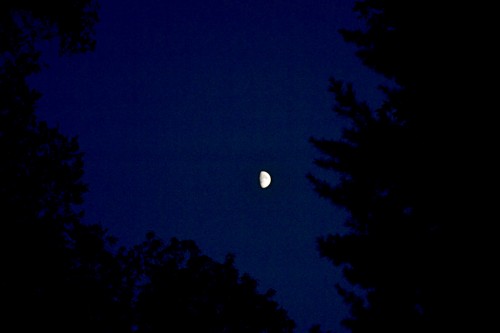 When Mother and I headed out to the store for me to buy some bottles of water to freeze for my road trip back home, the moon was just starting to break over Neighbor Bolton's house.
You can't ignore a good mooning in Cape, so I grabbed my camera, underexposed by about five stops and came up with this. For you photo geeks, I normally use a polarizing filter to darken the sky. In this case, I dialed it back because I liked the little bit of blue hanging around. (Click on it to make it larger.)
If all goes as planned, this will be the next-to-last moonrise I see in Cape. We're supposed to meet a plumber over at the trailer on Kentucky Lake Saturday morning, then I head south.
When I got home, I fired up my trusty Moon Phase Pro ap to find out what I was seeing was the moon 78% full (waxing gibbous).
A bicycle named Nostalgic
I've often thought about naming my bicycle Nostalgic.
That way, when Wife Lila asks were I'm going, I can say with a perfectly straight face, "Out to wax Nostalgic."
Other moon shots